New Jersey 1824 U.S. House of Representatives
Office:

U.S. House of Representatives (Federal)

Title:

U.S. Congressman

Jurisdiction:

Federal
Label:

New Jersey 1824 U.S. House of Representatives

Date:

1824

State:

New Jersey

Type:

General

Iteration:

First Ballot

Office/Role:

U.S. House of Representatives/U.S. Congressman

Candidates:

George Holcombe, Samuel Swan, Lewis Condict, Daniel Garrison, George Cassedy, Ebenezer Tucker, James Matlock, Asa Smith, James Parker, G. D. Wall, Benjamin Bennet, Jeremiah J. Foster, Abraham Ackerman, Henry B. Hagerman, Joseph Hornblower, Gerard Rutgers, Thomas C. Ryerson, William Ten Eycke, Joseph Bullock, Thomas Cadwalader, John Cavanagh, Philemon Dickenson, Peter Merseles, Ebenezer Condit, Samuel Fowler, Robert W. Rutherfurd, Ephraim Green, Jr., J. W. Scott, Ephraim Baleman, J. T. Blackwell, P. J. Clark, J. S. Thompson, Benjamin Cooper, John Clement, Robert L. Armstrong, Garret D. Wall
Candidates:
George Holcombe[1]
Samuel Swan[2]
Lewis Condict[3]
Daniel Garrison[4]
George Cassedy[5]
Ebenezer Tucker[6]
James Matlock
Asa Smith
James Parker
G. D. Wall
Benjamin Bennet
Jeremiah J. Foster
Abraham Ackerman
Henry B. Hagerman
Joseph Hornblower
Gerard Rutgers
Thomas C. Ryerson
William Ten Eycke
Joseph Bullock
Thomas Cadwalader
John Cavanagh
Philemon Dickenson
Peter Merseles
Ebenezer Condit
Samuel Fowler
Robert W. Rutherfurd
Ephraim Green, Jr.
J. W. Scott
Ephraim Baleman
J. T. Blackwell
P. J. Clark
J. S. Thompson
Benjamin Cooper
John Clement
Robert L. Armstrong
Garret D. Wall
Affiliation:
Republican
Republican
Republican
Republican
Republican
Republican
Federalist
Federalist
Federalist
Final Result:
17706
17672
17667
17585
17550
17027
416
19
10
2
2
2
1
1
1
1
1
1
1
1
1
1
1
1
1
1
1
1
1
1
1
1
1
1
1
1

Bergen County

617
618
619
618
578
618
-
-
-
-
-
-
-
-
-
-
-
-
-
-
-
-
-
-
-
-
-
-
-
-
-
-
-
-
-
-

Burlington County

1004
1000
1000
993
999
936
-
-
-
-
-
-
-
-
-
-
-
-
-
-
-
-
-
-
-
-
-
-
-
-
-
-
-
-
-
-

Cape May County

220
220
220
158
220
220
-
-
-
-
-
-
-
-
-
-
-
-
-
-
-
-
-
-
-
-
-
-
-
-
-
-
-
-
-
-

Lower

82
82
82
82
82
82
-
-
-
-
-
-
-
-
-
-
-
-
-
-
-
-
-
-
-
-
-
-
-
-
-
-
-
-
-
-

Middle

54
54
54
53
54
54
-
-
-
-
-
-
-
-
-
-
-
-
-
-
-
-
-
-
-
-
-
-
-
-
-
-
-
-
-
-

Upper

84
84
84
23
84
84
-
-
-
-
-
-
-
-
-
-
-
-
-
-
-
-
-
-
-
-
-
-
-
-
-
-
-
-
-
-

Cumberland County

1614
1621
1618
1609
1618
1598
-
19
-
-
-
-
1
1
1
1
1
1
1
1
1
1
1
-
-
-
-
-
-
-
-
-
-
-
-
-

Deerfield

251
251
251
251
250
250
-
-
-
-
-
-
1
1
1
1
1
1
1
1
1
1
1
-
-
-
-
-
-
-
-
-
-
-
-
-

Downe

202
202
202
202
202
202
-
-
-
-
-
-
-
-
-
-
-
-
-
-
-
-
-
-
-
-
-
-
-
-
-
-
-
-
-
-

Fairfield

213
219
216
213
217
210
-
19
-
-
-
-
-
-
-
-
-
-
-
-
-
-
-
-
-
-
-
-
-
-
-
-
-
-
-
-

Greenwich

112
113
113
112
113
112
-
-
-
-
-
-
-
-
-
-
-
-
-
-
-
-
-
-
-
-
-
-
-
-
-
-
-
-
-
-

Hopewell

227
227
227
222
227
227
-
-
-
-
-
-
-
-
-
-
-
-
-
-
-
-
-
-
-
-
-
-
-
-
-
-
-
-
-
-

Maurice River

310
310
310
310
310
308
-
-
-
-
-
-
-
-
-
-
-
-
-
-
-
-
-
-
-
-
-
-
-
-
-
-
-
-
-
-

Millville

191
191
191
191
191
181
-
-
-
-
-
-
-
-
-
-
-
-
-
-
-
-
-
-
-
-
-
-
-
-
-
-
-
-
-
-

Stoe Creek

108
108
108
108
108
108
-
-
-
-
-
-
-
-
-
-
-
-
-
-
-
-
-
-
-
-
-
-
-
-
-
-
-
-
-
-

Essex County

3199
3201
3189
3200
3087
3164
-
-
-
-
-
-
-
-
-
-
-
-
-
-
-
-
-
-
-
-
-
-
-
-
-
-
-
-
-
-

Gloucester County

[7]
880
880
878
875
880
472
416
-
-
-
-
2
-
-
-
-
-
-
-
-
-
-
-
-
-
-
-
-
-
-
-
-
1
1
1
1

Deptford

110
110
109
110
110
30
86
-
-
-
-
-
-
-
-
-
-
-
-
-
-
-
-
-
-
-
-
-
-
-
-
-
-
-
-
-

Egg Harbour

61
61
60
61
61
61
-
-
-
-
-
-
-
-
-
-
-
-
-
-
-
-
-
-
-
-
-
-
-
-
-
-
-
-
-
-

Franklin

56
56
56
55
56
32
23
-
-
-
-
-
-
-
-
-
-
-
-
-
-
-
-
-
-
-
-
-
-
-
-
-
-
-
-
-

Galloway

39
39
39
39
39
27
12
-
-
-
-
-
-
-
-
-
-
-
-
-
-
-
-
-
-
-
-
-
-
-
-
-
-
-
-
-

Gloucester Town

15
15
15
15
15
10
5
-
-
-
-
-
-
-
-
-
-
-
-
-
-
-
-
-
-
-
-
-
-
-
-
-
-
-
-
-

Gloucester Twnshp

76
76
76
76
76
64
12
-
-
-
-
-
-
-
-
-
-
-
-
-
-
-
-
-
-
-
-
-
-
-
-
-
-
-
-
-

Greenwich

104
104
104
102
104
16
87
-
-
-
-
-
-
-
-
-
-
-
-
-
-
-
-
-
-
-
-
-
-
-
-
-
-
-
-
-

Hamilton

34
34
34
34
34
4
35
-
-
-
-
-
-
-
-
-
-
-
-
-
-
-
-
-
-
-
-
-
-
-
-
-
-
-
-
-

Newton

88
88
87
87
88
62
25
-
-
-
-
2
-
-
-
-
-
-
-
-
-
-
-
-
-
-
-
-
-
-
-
-
1
1
1
1

Waterford

38
38
38
38
38
38
-
-
-
-
-
-
-
-
-
-
-
-
-
-
-
-
-
-
-
-
-
-
-
-
-
-
-
-
-
-

Weymouth

44
44
44
44
44
43
-
-
-
-
-
-
-
-
-
-
-
-
-
-
-
-
-
-
-
-
-
-
-
-
-
-
-
-
-
-

Woolwich

215
215
216
214
215
85
131
-
-
-
-
-
-
-
-
-
-
-
-
-
-
-
-
-
-
-
-
-
-
-
-
-
-
-
-
-

Hunterdon County

[8]
1638
1640
1641
1634
1640
1598
-
-
-
2
1
-
-
-
-
-
-
-
-
-
-
-
-
-
-
-
-
1
1
1
1
1
-
-
-
-

Alexandria

188
188
189
188
188
187
-
-
-
-
-
-
-
-
-
-
-
-
-
-
-
-
-
-
-
-
-
-
-
-
-
-
-
-
-
-

Amwell

354
354
354
354
354
344
-
-
-
-
-
-
-
-
-
-
-
-
-
-
-
-
-
-
-
-
-
-
-
-
-
-
-
-
-
-

Bethlehem

169
169
169
169
169
169
-
-
-
-
-
-
-
-
-
-
-
-
-
-
-
-
-
-
-
-
-
-
-
-
-
-
-
-
-
-

Hopewell

125
125
125
124
125
121
-
-
-
-
-
-
-
-
-
-
-
-
-
-
-
-
-
-
-
-
-
-
-
-
-
-
-
-
-
-

Kingwood

64
64
64
64
64
64
-
-
-
1
1
-
-
-
-
-
-
-
-
-
-
-
-
-
-
-
-
-
1
1
1
1
-
-
-
-

Lawrence

61
61
61
61
61
61
-
-
-
-
-
-
-
-
-
-
-
-
-
-
-
-
-
-
-
-
-
-
-
-
-
-
-
-
-
-

Lebanon

61
61
61
61
61
60
-
-
-
-
-
-
-
-
-
-
-
-
-
-
-
-
-
-
-
-
-
-
-
-
-
-
-
-
-
-

Readington

103
103
103
103
103
103
-
-
-
-
-
-
-
-
-
-
-
-
-
-
-
-
-
-
-
-
-
-
-
-
-
-
-
-
-
-

Tewksbury

114
114
114
114
114
114
-
-
-
-
-
-
-
-
-
-
-
-
-
-
-
-
-
-
-
-
-
-
-
-
-
-
-
-
-
-

Trenton

399
401
401
396
401
375
-
-
-
1
-
-
-
-
-
-
-
-
-
-
-
-
-
-
-
-
-
1
-
-
-
-
-
-
-
-

Middlesex County

1391
1390
1393
1379
1391
1319
-
-
-
-
-
-
-
-
-
-
-
-
-
-
-
-
-
-
-
-
-
-
-
-
-
-
-
-
-
-

Monmouth County

1291
1284
1285
1275
1286
1270
-
-
6
-
1
-
-
-
-
-
-
-
-
-
-
-
-
-
-
-
-
-
-
-
-
-
-
-
-
-

Dover

84
84
84
76
84
84
-
-
6
-
-
-
-
-
-
-
-
-
-
-
-
-
-
-
-
-
-
-
-
-
-
-
-
-
-
-

Freehold

266
264
265
264
265
261
-
-
-
-
-
-
-
-
-
-
-
-
-
-
-
-
-
-
-
-
-
-
-
-
-
-
-
-
-
-

Howell

114
114
114
114
114
114
-
-
-
-
-
-
-
-
-
-
-
-
-
-
-
-
-
-
-
-
-
-
-
-
-
-
-
-
-
-

Middletown

221
222
222
222
222
221
-
-
-
-
1
-
-
-
-
-
-
-
-
-
-
-
-
-
-
-
-
-
-
-
-
-
-
-
-
-

Shrewsbury

211
211
211
211
212
202
-
-
-
-
-
-
-
-
-
-
-
-
-
-
-
-
-
-
-
-
-
-
-
-
-
-
-
-
-
-

Stafford

116
117
117
116
117
114
-
-
-
-
-
-
-
-
-
-
-
-
-
-
-
-
-
-
-
-
-
-
-
-
-
-
-
-
-
-

Upper Freehold

279
272
272
272
272
274
-
-
-
-
-
-
-
-
-
-
-
-
-
-
-
-
-
-
-
-
-
-
-
-
-
-
-
-
-
-

Morris County

1589
1589
1573
1589
1589
1579
-
-
-
-
-
-
-
-
-
-
-
-
-
-
-
-
-
-
-
-
-
-
-
-
-
-
-
-
-
-

Salem County

1461
1458
1461
1455
1461
1459
-
-
-
-
-
-
-
-
-
-
-
-
-
-
-
-
-
-
-
-
-
-
-
-
-
-
-
-
-
-

Somerset County

1001
999
1000
1000
1000
997
-
-
-
-
-
-
-
-
-
-
-
-
-
-
-
-
-
-
-
-
-
-
-
-
-
-
-
-
-
-

Sussex County

1801
1772
1790
1800
1801
1797
-
-
4
-
-
-
-
-
-
-
-
-
-
-
-
-
-
1
1
1
1
-
-
-
-
-
-
-
-
-

Byram

54
54
54
54
54
54
-
-
-
-
-
-
-
-
-
-
-
-
-
-
-
-
-
-
-
-
-
-
-
-
-
-
-
-
-
-

Frankford

137
137
137
137
137
137
-
-
-
-
-
-
-
-
-
-
-
-
-
-
-
-
-
-
-
-
-
-
-
-
-
-
-
-
-
-

Greenwich

256
256
254
256
256
256
-
-
-
-
-
-
-
-
-
-
-
-
-
-
-
-
-
-
-
-
-
-
-
-
-
-
-
-
-
-

Hardiston

103
103
103
103
103
103
-
-
-
-
-
-
-
-
-
-
-
-
-
-
-
-
-
-
-
-
-
-
-
-
-
-
-
-
-
-

Hardwick

136
136
136
136
136
136
-
-
-
-
-
-
-
-
-
-
-
-
-
-
-
-
-
-
-
-
-
-
-
-
-
-
-
-
-
-

Independence

117
117
112
117
117
117
-
-
4
-
-
-
-
-
-
-
-
-
-
-
-
-
-
-
-
1
1
-
-
-
-
-
-
-
-
-

Knowlton

88
88
87
88
88
88
-
-
-
-
-
-
-
-
-
-
-
-
-
-
-
-
-
-
-
-
-
-
-
-
-
-
-
-
-
-

Mansfield

163
163
165
163
163
163
-
-
-
-
-
-
-
-
-
-
-
-
-
-
-
-
-
-
-
-
-
-
-
-
-
-
-
-
-
-

Montague

24
-
24
24
24
24
-
-
-
-
-
-
-
-
-
-
-
-
-
-
-
-
-
-
-
-
-
-
-
-
-
-
-
-
-
-

Newton

147
142
146
146
147
145
-
-
-
-
-
-
-
-
-
-
-
-
-
-
-
-
-
-
-
-
-
-
-
-
-
-
-
-
-
-

Oxford

218
218
218
218
218
218
-
-
-
-
-
-
-
-
-
-
-
-
-
-
-
-
-
-
-
-
-
-
-
-
-
-
-
-
-
-

Sandyston

78
78
78
78
78
78
-
-
-
-
-
-
-
-
-
-
-
-
-
-
-
-
-
-
-
-
-
-
-
-
-
-
-
-
-
-

Vernon

73
73
71
73
73
73
-
-
-
-
-
-
-
-
-
-
-
-
-
-
-
-
-
-
-
-
-
-
-
-
-
-
-
-
-
-

Wallpack

30
30
30
30
30
30
-
-
-
-
-
-
-
-
-
-
-
-
-
-
-
-
-
-
-
-
-
-
-
-
-
-
-
-
-
-

Wantage

177
177
175
177
177
175
-
-
-
-
-
-
-
-
-
-
-
-
-
-
-
-
-
1
1
-
-
-
-
-
-
-
-
-
-
-
Notes:
References:
Original Election Returns. New Jersey State Library, Trenton.
Village Herald, and Weekly Advertiser (Woodbury, NJ). November 10, 1824.
The True American (Trenton, NJ). November 27, 1824.
Page Images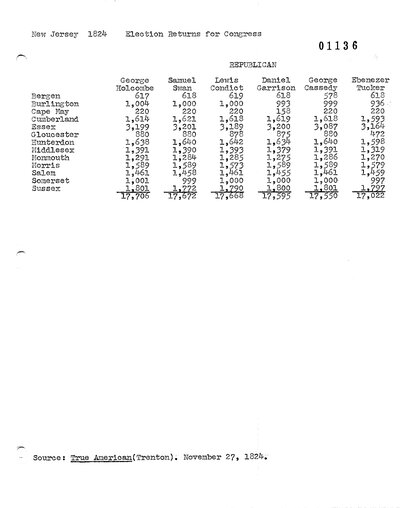 These election records were released on 11 January 2012. Versions numbers are assigned by state. Alabama, Arkansas, Delaware, Florida, Georgia, Illinois, Indiana, Kentucky, Louisiana, Maine, Maryland, Michigan, Missouri, North Carolina, Ohio, Rhode Island, South Carolina, Tennessee and Virginia are complete and are in Version 1.0. All other states are in a Beta version. For more information go to the about page.