New Jersey 1810 U.S. House of Representatives
Office:

U.S. House of Representatives (Federal)

Title:

U.S. Congressman

Jurisdiction:

Federal
Label:

New Jersey 1810 U.S. House of Representatives

Date:

1810

State:

New Jersey

Type:

General

Iteration:

First Ballot

Office/Role:

U.S. House of Representatives/U.S. Congressman

Candidates:

Adam Boyd, Lewis Condict, George C. Maxwell, Jacob Hufty, Thomas Newbold, James Morgan, Aaron Ogden, William Coxe, John Neilson, Richard Stockton, Thomas Sinnickson, John Beatty, John Doughty, Jacob Thomson, James Parker, James Schureman, William Campfield, John L. Howell, Ebenezer Elmer, Samuel Bayard, J. Sipison, John Simpson, James H. Imlay, D. Stuart, J. A. Westervelt, John Linn
Candidates:
Adam Boyd[1]
Lewis Condict[2]
George C. Maxwell[3]
Jacob Hufty[4]
Thomas Newbold[5]
James Morgan[6]
Aaron Ogden
William Coxe
John Neilson
Richard Stockton
Thomas Sinnickson
John Beatty
John Doughty
Jacob Thomson
James Parker
James Schureman
William Campfield
John L. Howell
Ebenezer Elmer
Samuel Bayard
J. Sipison
John Simpson
James H. Imlay
D. Stuart
J. A. Westervelt
John Linn
Affiliation:
Republican
Republican
Republican
Republican
Republican
Republican
Federalist
Federalist
Federalist
Federalist
Federalist
Federalist
Federalist
Federalist
Federalist
Federalist
Federalist
Final Result: [7]
13734
13720
13696
13629
13602
13509
524
341
315
233
195
190
107
57
39
26
22
19
14
8
6
2
2
1
1
1

Bergen County

694
676
636
639
639
632
-
-
-
-
-
-
-
-
-
-
-
-
-
-
-
-
-
-
-
-

Burlington County

673
634
632
634
634
633
-
-
-
-
-
-
-
-
-
-
-
-
-
-
-
-
-
-
-
-

Cape May County

96
95
95
95
95
95
-
-
-
-
-
-
-
-
-
-
-
-
-
-
-
-
-
-
-
-

Cumberland County

[8]
620
609
615
620
612
614
21
16
1
18
7
21
-
-
-
2
-
15
11
-
-
2
1
-
-
-

Deerfield

100
99
98
97
98
98
-
-
-
-
-
-
-
-
-
-
-
-
-
-
-
-
-
-
-
-

Downe

65
65
65
65
65
65
-
-
-
-
-
-
-
-
-
-
-
-
-
-
-
-
-
-
-
-

Fairfield

166
159
164
169
162
166
-
-
-
-
-
-
-
-
-
-
-
-
-
-
-
-
-
-
-
-

Greewich

21
21
21
21
21
21
15
14
-
15
1
15
-
-
-
-
-
15
11
-
-
2
1
-
-
-

Hopewell

86
85
86
85
86
86
2
2
1
-
2
2
-
-
-
2
-
-
-
-
-
-
-
-
-
-

Maurice River

77
76
77
78
77
77
-
-
-
-
-
-
-
-
-
-
-
-
-
-
-
-
-
-
-
-

Millville

82
81
81
82
81
78
-
-
-
-
-
-
-
-
-
-
-
-
-
-
-
-
-
-
-
-

Stoe Creek

23
23
23
23
22
23
4
-
-
3
4
4
-
-
-
-
-
-
-
-
-
-
-
-
-
-

Essex County

1892
1889
1875
1875
1859
1856
41
35
32
-
-
31
36
-
-
-
-
-
-
-
-
-
-
-
-
-

Gloucester County

[9]
1326
1321
1325
1325
1320
1306
-
-
-
-
-
-
-
-
-
-
-
-
-
-
-
-
-
-
-
-

Deptford

234
234
234
234
233
234
-
-
-
-
-
-
-
-
-
-
-
-
-
-
-
-
-
-
-
-

Egg Harbour

183
183
183
183
183
181
-
-
-
-
-
-
-
-
-
-
-
-
-
-
-
-
-
-
-
-

Galloway

216
216
216
216
216
216
-
-
-
-
-
-
-
-
-
-
-
-
-
-
-
-
-
-
-
-

Town of Gloucester

5
5
5
5
5
5
-
-
-
-
-
-
-
-
-
-
-
-
-
-
-
-
-
-
-
-

Gloucester

146
141
146
146
144
146
-
-
-
-
-
-
-
-
-
-
-
-
-
-
-
-
-
-
-
-

Greenwich

152
153
153
152
151
152
-
-
-
-
-
-
-
-
-
-
-
-
-
-
-
-
-
-
-
-

Newton

80
80
78
80
77
79
-
-
-
-
-
-
-
-
-
-
-
-
-
-
-
-
-
-
-
-

Waterford

154
153
153
153
154
153
-
-
-
-
-
-
-
-
-
-
-
-
-
-
-
-
-
-
-
-

Weymouth

60
60
60
59
60
60
-
-
-
-
-
-
-
-
-
-
-
-
-
-
-
-
-
-
-
-

Woolwich

96
96
98
97
97
80
-
-
-
-
-
-
-
-
-
-
-
-
-
-
-
-
-
-
-
-

Hunterdon County

1267
1259
1264
1264
1263
1257
10
8
6
12
-
9
-
-
-
7
2
4
3
8
-
-
-
-
-
1

Alexandria

138
137
139
138
138
138
-
-
4
4
-
4
-
-
-
-
-
4
-
-
-
-
-
-
-
-

Amwell

428
425
438
426
425
421
8
6
-
8
-
3
-
-
-
7
-
-
-
8
-
-
-
-
-
-

Bethlehem

122
119
123
121
121
121
-
-
-
-
-
-
-
-
-
-
-
-
-
-
-
-
-
-
-
-

Hopewell

100
99
100
99
98
99
-
-
-
-
-
-
-
-
-
-
-
-
-
-
-
-
-
-
-
-

Kingwood

150
151
142
152
152
152
-
-
-
-
-
-
-
-
-
-
-
-
1
-
-
-
-
-
-
-

Lebanon

89
89
86
87
88
88
-
-
-
-
-
-
-
-
-
-
-
-
-
-
-
-
-
-
-
-

Maidenhead

18
18
18
18
18
18
-
-
-
-
-
-
-
-
-
-
-
-
-
-
-
-
-
-
-
-

Readington

66
66
65
67
67
66
-
-
-
-
-
-
-
-
-
-
-
-
-
-
-
-
-
-
-
-

Tewksbury

98
97
96
98
98
97
2
2
2
-
-
2
-
-
-
-
2
-
2
-
-
-
-
-
-
-

Trenton

58
58
57
58
58
57
-
-
-
-
-
-
-
-
-
-
-
-
-
-
-
-
-
-
-
1

Middlesex County

999
1001
990
993
1000
991
-
-
-
-
-
-
-
-
-
-
-
-
-
-
-
-
-
-
-
-

Monmouth County

1653
1655
1652
1653
1656
1650
1
-
-
1
-
1
-
-
1
1
-
-
-
-
-
-
1
-
-
-

Dover

94
97
97
97
97
97
-
-
-
-
-
-
-
-
-
-
-
-
-
-
-
-
-
-
-
-

Freehold

466
466
465
466
466
465
-
-
-
-
-
-
-
-
-
-
-
-
-
-
-
-
-
-
-
-

Howell

197
197
193
194
197
193
-
-
-
-
-
-
-
-
-
-
-
-
-
-
-
-
-
-
-
-

Middletown

434
433
435
435
435
435
1
-
-
1
-
1
-
-
1
1
-
-
-
-
-
-
1
-
-
-

Shrewsbury

243
243
243
243
243
242
-
-
-
-
-
-
-
-
-
-
-
-
-
-
-
-
-
-
-
-

Stafford

51
51
51
51
51
51
-
-
-
-
-
-
-
-
-
-
-
-
-
-
-
-
-
-
-
-

Upper Freehold

168
168
168
167
167
167
-
-
-
-
-
-
-
-
-
-
-
-
-
-
-
-
-
-
-
-

Morris County

1497
1521
1542
1534
1565
1489
111
11
7
-
-
17
19
-
-
-
6
-
-
-
-
-
-
-
-
-

Salem County

926
924
923
928
915
908
-
-
-
-
-
-
-
-
-
-
-
-
-
-
-
-
-
-
-
-

Somerset County

563
597
573
559
562
554
-
-
-
-
-
-
-
-
-
-
-
-
-
-
-
-
-
-
-
-

Sussex County

1528
1539
1574
1510
1482
1524
105
57
54
5
-
56
52
57
38
16
14
-
-
-
6
-
-
1
1
-

Byram

42
42
42
42
42
42
-
-
-
-
-
-
-
-
-
-
-
-
-
-
-
-
-
-
-
-

Frankford

35
34
34
32
35
35
-
-
-
-
-
-
-
-
-
-
-
-
-
-
-
-
-
-
-
-

Greenwich

167
170
172
167
163
170
7
5
6
1
-
2
5
-
-
1
5
-
-
-
6
-
-
-
-
-

Hardiston

149
149
149
149
149
149
-
-
-
-
-
-
-
-
-
-
-
-
-
-
-
-
-
-
-
-

Hardwick

172
188
170
171
170
171
52
49
43
1
-
50
41
11
33
11
5
-
-
-
-
-
-
-
-
-

Independence

72
72
76
72
72
71
3
-
-
-
-
-
3
-
-
-
3
-
-
-
-
-
-
-
-
-

Knowlton

167
167
185
166
167
166
3
-
-
-
-
1
-
2
-
-
1
-
-
-
-
-
-
-
-
-

Mansfield

116
115
143
116
115
116
-
-
-
-
-
-
-
-
-
-
-
-
-
-
-
-
-
-
-
-

Montigue

59
59
59
59
59
59
2
-
-
-
-
-
-
2
-
-
-
-
-
-
-
-
-
-
-
-

Newton

97
97
97
93
96
95
4
3
3
-
-
3
3
1
1
-
-
-
-
-
-
-
-
-
-
-

Oxford

132
131
132
130
132
132
-
-
-
-
-
-
-
-
-
-
-
-
-
-
-
-
-
-
-
-

Sandyston

48
43
44
43
9
47
10
-
2
3
-
-
-
10
4
3
-
-
-
-
-
-
-
-
-
-

Vernon

137
137
137
137
137
137
-
-
-
-
-
-
-
-
-
-
-
-
-
-
-
-
-
-
-
-

Wallpack

6
6
6
6
7
6
24
-
-
-
-
-
-
31
-
1
-
-
-
-
-
-
-
1
1
-

Wantage

129
129
128
127
129
128
-
-
-
-
-
-
-
-
-
-
-
-
-
-
-
-
-
-
-
-
Notes:
References:
Original Election Returns. New Jersey State Library, Trenton.
New Jersey Privy Council Records. Vol. II.
The Centinel of Freedom (Newark, NJ). October 16, 1810.
Palladium of Liberty (Morristown, NJ). October 16, 1810.
The Democratic Press (Philadelphia, PA). October 29, 1810.
The True American (Trenton, NJ). October 29, 1810.
Page Images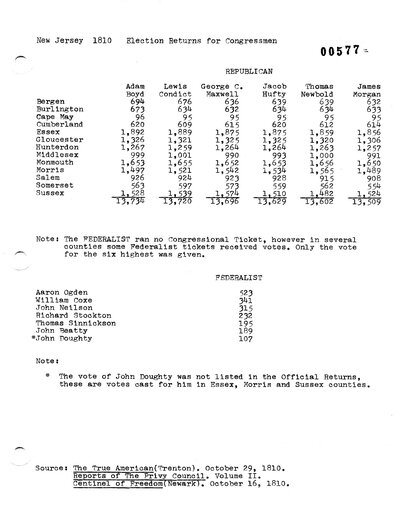 These election records were released on 11 January 2012. Versions numbers are assigned by state. Alabama, Arkansas, Delaware, Florida, Georgia, Illinois, Indiana, Kentucky, Louisiana, Maine, Maryland, Michigan, Missouri, North Carolina, Ohio, Rhode Island, South Carolina, Tennessee and Virginia are complete and are in Version 1.0. All other states are in a Beta version. For more information go to the about page.