New York 1813 U.S. House of Representatives, District 15, Special
Office:

U.S. House of Representatives (Federal)

Title:

U.S. Congressman

Jurisdiction:

Federal
Label:

New York 1813 U.S. House of Representatives, District 15, Special

Date:

1813

State:

New York

Type:

Special

Iteration:

First Ballot

Office/Role:

U.S. House of Representatives/U.S. Congressman

Candidates:

Isaac Williams, Jr., John M. Bowers, Abraham DeWitt, James Williams, John H. Avery, Joel Hatch, Lewis Lothrop, Jabez D. Hammond, John Kaple
Candidates:
Isaac Williams, Jr.[1]
John M. Bowers
Abraham DeWitt
James Williams
John H. Avery
Joel Hatch
Lewis Lothrop
Jabez D. Hammond
John Kaple
Affiliation:
Republican
Federalist
Final Result: [2][3][4][5][6]
4563
4357
10
6
6
2
2
2
2

District of Fifteen

4563
4357
10
6
6
2
2
2
2

Broome County

495
616
5
-
3
-
-
-
-

Town of Berkshire

26
99
2
-
-
-
-
-
-

Town of Chenango

33
112
2
-
1
-
-
-
-

Town of Lisle

[7]
214
103
-
-
-
-
-
-
-

Town of Tioga

[8]
71
35
1
-
2
-
-
-
-

Town of Union

70
78
-
-
-
-
-
-
-

Town of Windsor

[9]
81
189
-
-
-
-
-
-
-

Chenango County

1611
1129
-
3
-
1
1
-
-

Town of Columbus

[10][11]
90
71
-
-
-
-
-
-
-

Town of Coventry

59
88
-
-
-
-
-
-
-

Town of German

[12]
147
74
-
-
-
-
-
-
-

Town of Greene

91
65
-
-
-
11
-
-
-

Town of Jericho

[13]
138
28
-
-
-
-
-
-
-

Town of New Berlin

163
100
-
-
-
-
-
-
-

Town of Norwich

233
89
-
-
-
-
-
-
-

Town of Oxford

[14][15]
274
98
-
-
-
-
-
-
-

Town of Pharsalia

23
22
-
-
-
-
-
-
-

Town of Plymouth

[16]
89
65
-
-
-
-
-
-
-

Town of Preston

98
53
-
-
-
-
-
-
-

Town of Sherburne

[17]
71
238
-
3
-
-
1
-
-

Town of Smithville

97
54
-
-
-
-
-
-
-

Town of Smyrna

38
84
-
-
-
-
-
-
-

Otsego County

2029
2613
-
-
-
-
-
2
2

Town of Burlington

194
125
-
-
-
-
-
-
-

Town of Butternuts

194
153
-
-
-
-
-
-
-

Town of Cherry Valley

119
243
-
-
-
-
-
2
2

Town of Decatur

49
67
-
-
-
-
-
-
-

Town of Edmeston

118
47
-
-
-
-
-
-
-

Town of Exeter

[18]
91
70
-
-
-
-
-
-
-

Town of Hartwick

180
146
-
-
-
-
-
-
-

Town of Laurens

[19]
99
129
-
-
-
-
-
-
-

Town of Maryland

106
58
-
-
-
-
-
-
-

Town of Middlefield

56
267
-
-
-
-
-
-
-

Town of Milford

[20]
135
126
-
-
-
-
-
-
-

Town of New Lisbon

167
89
-
-
-
-
-
-
-

Town of Otego

95
55
-
-
-
-
-
-
-

Town of Otsego

177
329
-
-
-
-
-
-
-

Town of Pittsfield

70
24
-
-
-
-
-
-
-

Town of Plainfield

75
137
-
-
-
-
-
-
-

Town of Richfield

135
144
-
-
-
-
-
-
-

Town of Springfield

58
199
-
-
-
-
-
-
-

Town of Unadilla

127
57
-
-
-
-
-
-
-

Town of Westford

[21]
96
91
-
-
-
-
-
-
-

Town of Worcester

109
57
-
-
-
-
-
-
-
Notes:
References:
Journal of the New York Assembly, 1813. 10-11.
House of Representatives Committee Report on Contested Election. 220-221.
Manuscript Return in Documents of Contested Election.
The Broome County Patriot (Binghamton, NY). May 11, 1813.
Otsego Herald (Cooperstown, NY). May 15, 1813.
Otsego Republican Press (Cherry Valley, NY). May 21, 1813.
The Columbian (New York, NY). June 11, 1813.
The Alexandria Herald (Alexandria, VA). June 16, 1813.
Northern Whig (Hudson, NY). June 22, 1813.
Page Images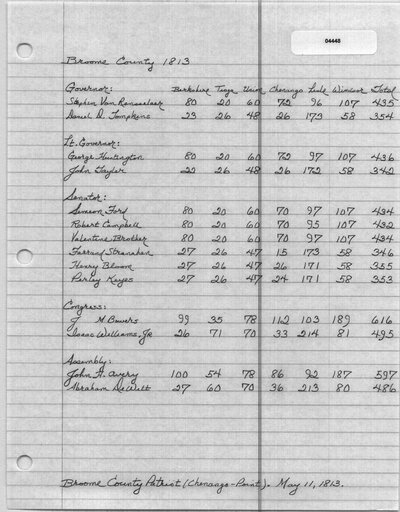 These election records were released on 11 January 2012. Versions numbers are assigned by state. Alabama, Arkansas, Delaware, Florida, Georgia, Illinois, Indiana, Kentucky, Louisiana, Maine, Maryland, Michigan, Missouri, North Carolina, Ohio, Rhode Island, South Carolina, Tennessee and Virginia are complete and are in Version 1.0. All other states are in a Beta version. For more information go to the about page.