New York 1821 U.S. House of Representatives, District 19
Office:

U.S. House of Representatives (Federal)

Title:

U.S. Congressman

Jurisdiction:

Federal
Label:

New York 1821 U.S. House of Representatives, District 19

Date:

1821

State:

New York

Type:

General

Iteration:

First Ballot

Office/Role:

U.S. House of Representatives/U.S. Congressman

Candidates:

Elisha Litchfield, George Hall, Samuel M. Hopkins, Stephen Bates, John MacWhorter, Daniel Sherwood, Josehus Barker, Sylvester Gardner, James Geddes, David Munro
Candidates:
Elisha Litchfield[1]
George Hall
Samuel M. Hopkins
Stephen Bates
John MacWhorter
Daniel Sherwood
Josehus Barker
Sylvester Gardner
James Geddes
David Munro
Affiliation:
Republican
Clintonian/Federalist
Federalist
Final Result:
3208
3046
3
2
1
1
1
1
1
1

District of Nineteen

3208
3046
3
2
1
1
1
1
1
1

Cortland County

952
738
3
2
1
1
-
-
-
-

Town of Cincinnatus

66
60
-
-
-
-
-
-
-
-

Town of Freetown

63
4
-
-
-
-
-
-
-
-

Town of Harrison

66
5
-
-
-
-
-
-
-
-

Town of Homer

176
324
1
1
1
1
-
-
-
-

Town of Preble

90
47
2
1
-
-
-
-
-
-

Town of Scott

51
35
-
-
-
-
-
-
-
-

Town of Solon

83
34
-
-
-
-
-
-
-
-

Town of Truxton

200
149
-
-
-
-
-
-
-
-

Town of Virgil

141
58
-
-
-
-
-
-
-
-

Town of Willet

16
22
-
-
-
-
-
-
-
-

Onondaga County

[2]
2103
2162
-
-
-
-
1
1
1
1

Town of Camilius

354
326
-
-
-
-
-
-
-
-

Town of Cicero

97
26
-
-
-
-
-
-
-
-

Town of Fabius

145
157
-
-
-
-
-
-
-
-

Town of Lysander

60
148
-
-
-
-
-
-
-
-

Town of Macellus

273
330
-
-
-
-
-
-
-
-

Town of Manilus

242
202
-
-
-
-
-
-
-
-

Town of Onondaga

207
305
-
-
-
-
-
-
-
-

Town of Otisco

45
203
-
-
-
-
-
-
-
-

Town of Pompey

411
254
-
-
-
-
-
-
-
-

Town of Salina

127
113
-
-
-
-
-
-
-
-

Town of Spafford

85
48
-
-
-
-
-
-
-
-

Town of Tully

57
49
-
-
-
-
-
-
-
-

Oswego County

153
146
-
-
-
-
-
-
-
-

Town of Granby

35
23
-
-
-
-
-
-
-
-

Town of Hannibal

69
60
-
-
-
-
-
-
-
-

Town of Oswego

49
63
-
-
-
-
-
-
-
-
References:
Original Election Returns.
Cortland Republican (Cortland, NY). May 2, 1821.
Onondaga Register (Onondaga, NY). May 9, 1821.
Oswego Palladium (Oswego, NY). May 11, 1821.
The Albany Argus (Albany, NY). May 29, 1821.
Page Images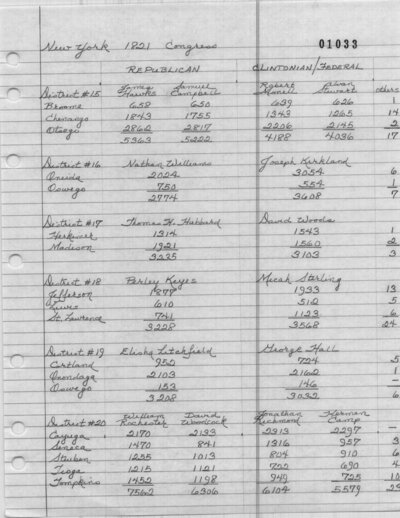 These election records were released on 11 January 2012. Versions numbers are assigned by state. Alabama, Arkansas, Delaware, Florida, Georgia, Illinois, Indiana, Kentucky, Louisiana, Maine, Maryland, Michigan, Missouri, North Carolina, Ohio, Rhode Island, South Carolina, Tennessee and Virginia are complete and are in Version 1.0. All other states are in a Beta version. For more information go to the about page.