Massachusetts 1808 U.S. House of Representatives, Hampshire North District
Office:

U.S. House of Representatives (Federal)

Title:

U.S. Congressman

Jurisdiction:

Federal
Label:

Massachusetts 1808 U.S. House of Representatives, Hampshire North District

Date:

1808

State:

Massachusetts

Type:

General

Iteration:

First Ballot

Office/Role:

U.S. House of Representatives/U.S. Congressman

Candidates:

Samuel Taggart, Solomon Snead, Isaac Abercrombie, Elijah Barnard, Benjamin Smith, Stephen Webster
Candidates:
Samuel Taggart[1]
Solomon Snead
Isaac Abercrombie
Elijah Barnard
Benjamin Smith
Stephen Webster
Affiliation:
Federalist
Republican
Republican
Final Result:
2062
949
1
1
1
1

District of Hampshire North

2062
949
1
1
1
1

Hampshire County

2062
949
1
1
1
1

Town of Amherst

113
12
-
-
-
-

Town of Ashfield

95
40
-
-
-
-

Town of Barnardston

26
45
-
-
-
-

Town of Buckland

70
28
-
-
-
-

Town of Charlemont

57
9
-
-
-
-

Town of Chesterfield

67
46
-
-
-
-

Town of Colrain

52
10
-
-
-
-

Town of Conway

97
93
-
-
-
-

Town of Cummington

64
38
-
-
-
-

Town of Deerfield

117
-
-
-
-
-

Town of Gill

50
10
-
-
-
-

Town of Goshen

45
-
-
-
-
-

Town of Greenfield

71
26
-
-
1
-

Town of Greenwich

78
59
-
-
-
-

Town of Hatfield

[2]
59
40
-
-
-
-

Town of Hawley

75
8
-
-
-
-

Town of Heath

63
5
-
-
-
-

Town of Leverett

40
43
-
-
-
-

Town of Leyden

38
61
-
-
-
-

Town of Montague

71
16
-
-
-
-

Town of New Salem

82
50
-
-
-
1

Town of Northfield

37
57
-
-
-
-

Town of Orange

25
56
-
-
-
-

Town of Pelham

49
39
1
1
-
-

Town of Plainfield

46
9
-
-
-
-

Town of Rowe

35
6
-
-
-
-

Town of Shelburne

103
12
-
-
-
-

Town of Shutesbury

47
11
-
-
-
-

Town of Sunderland

43
13
-
-
-
-

Town of Warwick

78
52
-
-
-
-

Town of Wendell

52
-
-
-
-
-

Town of Whately

59
44
-
-
-
-

Town of Williamsburgh

58
11
-
-
-
-
References:
Original Election Returns. Massachusetts State Archives, Boston.
Hatfield Town Records. Vol. I. 509.
Page Images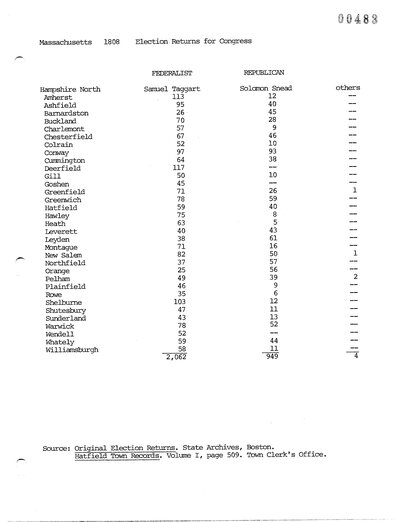 These election records were released on 11 January 2012. Versions numbers are assigned by state. Alabama, Arkansas, Delaware, Florida, Georgia, Illinois, Indiana, Kentucky, Louisiana, Maine, Maryland, Michigan, Missouri, North Carolina, Ohio, Rhode Island, South Carolina, Tennessee and Virginia are complete and are in Version 1.0. All other states are in a Beta version. For more information go to the about page.