New York 1822 U.S. House of Representatives, District 29
Office:

U.S. House of Representatives (Federal)

Title:

U.S. Congressman

Jurisdiction:

Federal
Label:

New York 1822 U.S. House of Representatives, District 29

Date:

1822

State:

New York

Type:

General

Iteration:

First Ballot

Office/Role:

U.S. House of Representatives/U.S. Congressman

Candidates:

Parmenio Adams, Isaac Wilson, Whitney Jones Farnsworth, Benedict Brooks, Thaddeus Joy, Henry Tisdale, Ethan B. Allen, Richard Brown, Chauncey L. Sheldon, Leicester Stone, Isaac Sutherland
| Candidates: | Parmenio Adams | Isaac Wilson[1] | Whitney Jones Farnsworth | Benedict Brooks | Thaddeus Joy | Henry Tisdale | Ethan B. Allen | Richard Brown | Chauncey L. Sheldon | Leicester Stone | Isaac Sutherland |
| --- | --- | --- | --- | --- | --- | --- | --- | --- | --- | --- | --- |
| Affiliation: | Clintonian/Federalist | Republican | | | | | | | | | |
| Final Result: [2] | 2072 | 2071 | 5 | 2 | 2 | 2 | 1 | 1 | 1 | 1 | 1 |
| District of Twenty Nine | 2072 | 2071 | 5 | 2 | 2 | 2 | 1 | 1 | 1 | 1 | 1 |
| Genesee County | 2072 | 2071 | 5 | 2 | 2 | 2 | 1 | 1 | 1 | 1 | 1 |
| Town of Alexander | 47 | 51 | - | - | - | - | - | - | - | - | - |
| Town of Attica | 98 | 123 | - | - | - | - | - | - | - | - | - |
| Town of Barre | 61 | 69 | 5 | - | - | - | - | - | - | - | - |
| Town of Batavia | 255 | 94 | - | - | - | 1 | - | - | - | 1 | 1 |
| Town of Bennington | 42 | 85 | - | - | - | - | - | - | - | - | - |
| Town of Bergen | 46 | 65 | - | - | - | - | - | - | - | - | - |
| Town of Bethany | 125 | 77 | - | - | - | - | - | - | - | - | - |
| Town of Byron | 60 | 27 | - | - | - | - | - | - | - | - | - |
| Town of Castile | 8 | 74 | - | - | - | - | - | - | - | - | - |
| Town of China | 67 | 67 | - | - | - | - | - | - | - | - | - |
| Town of Clarendon | 46 | 83 | - | - | - | - | - | - | - | - | - |
| Town of Covington | 31 | 79 | - | - | - | - | - | - | - | - | - |
| Town of Elba | 85 | 9 | - | - | - | - | - | 1 | - | - | - |
| Town of Gaines | 66 | 42 | - | - | - | - | - | - | - | - | - |
| Town of Gainesville | 35 | 84 | - | - | - | - | - | - | 1 | - | - |
| Town of LeRoy | 146 | 130 | - | 2 | 2 | - | 1 | - | - | - | - |
| Town of Middlebury | 69 | 142 | - | - | - | - | - | - | - | - | - |
| Town of Murray | 64 | 97 | - | - | - | - | - | - | - | - | - |
| Town of Orangeville | 61 | 64 | - | - | - | - | - | - | - | - | - |
| Town of Pembroke | 194 | 122 | - | - | - | - | - | - | - | - | - |
| Town of Perry | 60 | 81 | - | - | - | - | - | - | - | - | - |
| Town of Ridgeway | 104 | 61 | - | - | - | - | - | - | - | - | - |
| Town of Shelby | 29 | 78 | - | - | - | - | - | - | - | - | - |
| Town of Sheldon | 65 | 60 | - | - | - | - | - | - | - | - | - |
| Town of Stafford | 149 | 85 | - | - | - | - | - | - | - | - | - |
| Town of Warsaw | 64 | 144 | - | - | - | - | - | - | - | - | - |
| Town of Yates | - | - | - | - | - | - | - | - | - | - | - |
Notes:
[2]
The election in the 29th District was contested by Parmenio Adams and he was eventually awarded the congressional seat. The vote for Isaac Wilson in the town of China was incorrectly reported. It should have been 45 instead of 67, thus making his vote 2071. In Attica the vote for Parmenio Adams was given as 98 when it should have been 93. The returns given above are the correct totals as determined by the Congressional Committee on Elections. Results as first reported in the Official Canvass of votes and later challenged are: Isaac Wilson 2093 votes, Parmenio Adams 2077 votes.
References:
Report of the Committee on Election. 18th Congress, 1st Session. 15.
Spirit of the Times (Batavia, NY). November 22, 1822.
The Albany Argus (Albany, NY). December 6, 1822.
Page Images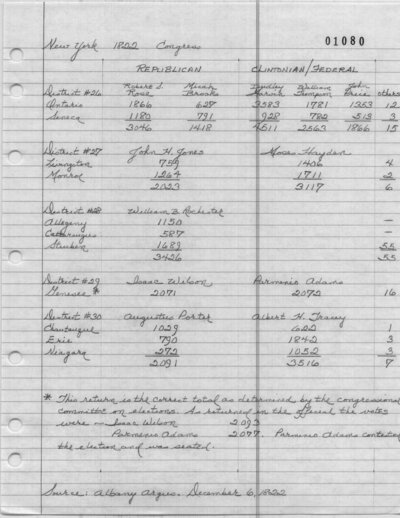 These election records were released on 11 January 2012. Versions numbers are assigned by state. Alabama, Arkansas, Delaware, Florida, Georgia, Illinois, Indiana, Kentucky, Louisiana, Maine, Maryland, Michigan, Missouri, North Carolina, Ohio, Rhode Island, South Carolina, Tennessee and Virginia are complete and are in Version 1.0. All other states are in a Beta version. For more information go to the about page.