Georgia 1800 U.S. House of Representatives
Office:

U.S. House of Representatives (Federal)

Title:

U.S. Congressman

Jurisdiction:

Federal
Label:

Georgia 1800 U.S. House of Representatives

Date:

1800

State:

Georgia

Type:

General

Iteration:

First Ballot

Office/Role:

U.S. House of Representatives/U.S. Congressman

Candidates:

James Jones, Benjamin Taliaferro, Francis Willis, William Stevens, James Cochran, James Gibson, John Milledge, Robert Abercrombie, Abraham Baldwin, Thomas P. Carnes, John London, Daniel Ouensels, Joseph Plumer, Jesse Scruggs
Candidates:
James Jones[1]
Benjamin Taliaferro[2]
Francis Willis
William Stevens
James Cochran
James Gibson
John Milledge
Robert Abercrombie
Abraham Baldwin
Thomas P. Carnes
John London
Daniel Ouensels
Joseph Plumer
Jesse Scruggs
Affiliation:
Federalist
Final Result: [3][4]
8616
7568
1791
29
2
2
2
1
1
1
1
1
1
1

Bryan County

32
32
-
-
-
-
-
-
-
-
-
-
-
-

Bulloch County

132
116
-
-
-
-
-
-
-
-
-
-
-
-

Burke County

543
453
9
-
-
-
-
-
1
-
-
1
1
-

Camden County

-
-
-
-
-
-
-
-
-
-
-
-
-
-

Chatham County

178
167
3
-
-
-
-
-
-
-
-
-
-
-

Columbia County

496
465
41
-
-
-
-
-
-
-
-
-
-
-

Effingham County

107
102
-
-
-
2
-
-
-
-
1
-
-
1

Elbert County

518
514
145
-
-
-
-
-
-
-
-
-
-
-

Franklin County

437
362
65
-
-
-
-
-
-
-
-
-
-
-

Glynn County

-
-
-
-
-
-
-
-
-
-
-
-
-
-

Greene County

606
685
145
-
-
-
-
-
-
-
-
-
-
-

Hancock County

[5]
791
748
35
-
-
-
-
-
-
-
-
-
-
-

Jackson County

655
173
580
-
-
-
-
-
-
-
-
-
-
-

Jefferson County

[6]
554
427
119
-
-
-
1
-
-
-
-
-
-
-

Liberty County

100
100
-
-
2
-
-
-
-
-
-
-
-
-

Lincoln County

277
264
48
-
-
-
-
-
-
-
-
-
-
-

McIntosh County

44
2
37
-
-
-
-
-
-
-
-
-
-
-

Montgomery County

112
112
-
-
-
-
-
-
-
-
-
-
-
-

Oglethorpe County

568
551
15
-
-
-
-
-
-
-
-
-
-
-

Richmond County

334
296
80
-
-
-
-
-
-
-
-
-
-
-

Scriven County

250
250
-
-
-
-
-
-
-
-
-
-
-
-

Warren County

393
298
98
29
-
-
1
1
-
1
-
-
-
-

Washington County

698
674
15
-
-
-
-
-
-
-
-
-
-
-

Wilkes County

791
777
356
-
-
-
-
-
-
-
-
-
-
-
Notes:
References:
Georgia Executive Minutes, 1800.
The State Gazette, and Louisville Journal (Louisville, GA). October 7, 1800.
Gazette of the United States, and Daily Advertiser (Philadelphia, PA). October 29, 1800.
The True American and Commercial Advertiser (Philadelphia, PA). October 30, 1800.
Columbian Museum and Savannah Advertiser (Savannah, GA). November 11, 1800.
The Times (Charleston, SC). November 13, 1800.
City Gazette and Daily Advertiser (Charleston, SC). November 14, 1800.
Georgia. The Augusta Chronicle and Gazette of the State (Augusta, GA). 1800.
Handwritten vote totals for Georgia counties. 1800.
Page Images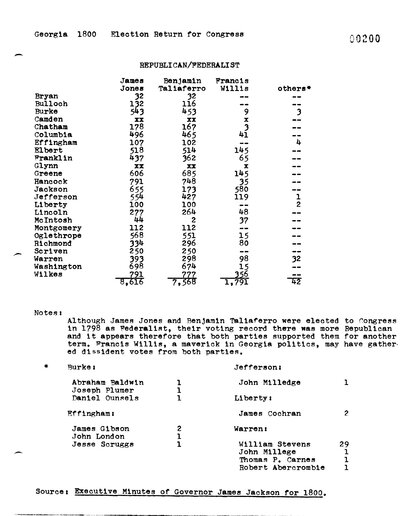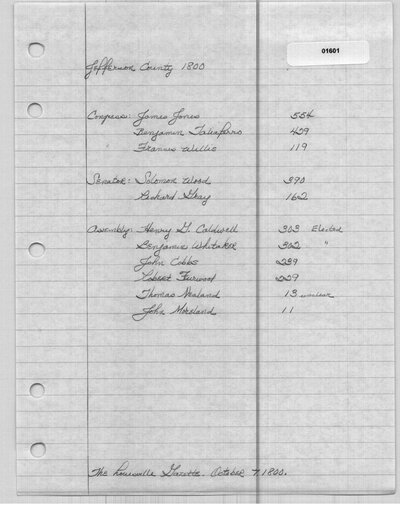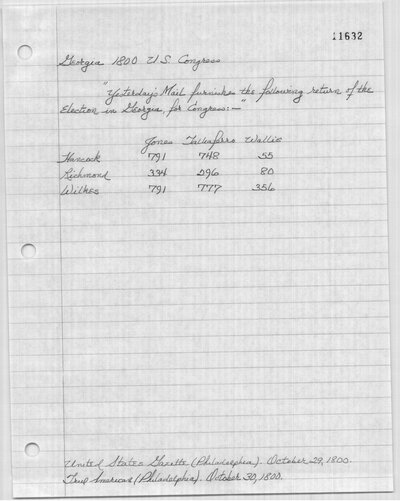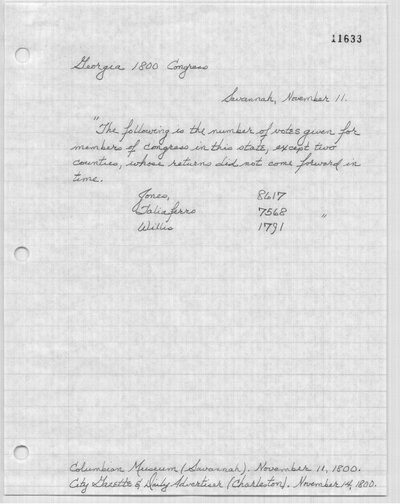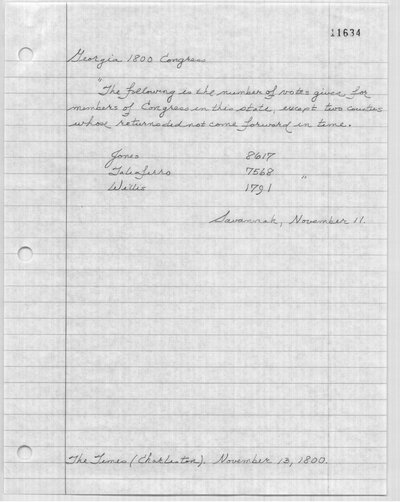 These election records were released on 11 January 2012. Versions numbers are assigned by state. Alabama, Arkansas, Delaware, Florida, Georgia, Illinois, Indiana, Kentucky, Louisiana, Maine, Maryland, Michigan, Missouri, North Carolina, Ohio, Rhode Island, South Carolina, Tennessee and Virginia are complete and are in Version 1.0. All other states are in a Beta version. For more information go to the about page.