Vermont 1814 U.S. House of Representatives
Office:

U.S. House of Representatives (Federal)

Title:

U.S. Congressman

Jurisdiction:

Federal
Label:

Vermont 1814 U.S. House of Representatives

Date:

1814

State:

Vermont

Type:

General

Iteration:

First Ballot

Office/Role:

U.S. House of Representatives/U.S. Congressman

Candidates:

Chauncey Langdon, Asa Lyon, Charles Marsh, Daniel Chipman, John Noyes, Luther Jewitt, Ezra Butler, Richard Skinner, William C. Bradley, James Fisk, William Strong, Charles Rich, Paul Brigham, Jonas Galusha, Daniel Dana, Levi Barnard, George Robinson, Richard L. Smith, James Tarbox, Joel Butler, John W. Chandler, Dudley Chase, Asa Eaton, Aaron Leland, William Skinner, Asa Aaron, John Adams, Nicholas Bayless, Ezra Bliss, William C. Chamberlain, William Chandler, Joel Dolittle, Samuel Elliot, William A. Griswold, William Hall, Jr., Norman Hendell, Titus Hutchinson, Daniel Marsh, Isaac Nichols, Jr., Daniel Norton, Samuel Pearson, Nathan Robinson, Horatio Seymour, Benjamin Skinner, James Strong, Richard Strong, Benjamin Swan, Robert Temple, Oliver Whipple, James Whitelaw, Joseph Woodworth
Candidates:
Chauncey Langdon[1]
Asa Lyon[2]
Charles Marsh[3]
Daniel Chipman[4]
John Noyes[5]
Luther Jewitt[6]
Ezra Butler
Richard Skinner
William C. Bradley
James Fisk
William Strong
Charles Rich
Paul Brigham
Jonas Galusha
Daniel Dana
Levi Barnard
George Robinson
Richard L. Smith
James Tarbox
Joel Butler
John W. Chandler
Dudley Chase
Asa Eaton
Aaron Leland
William Skinner
Asa Aaron
John Adams
Nicholas Bayless
Ezra Bliss
William C. Chamberlain
William Chandler
Joel Dolittle
Samuel Elliot
William A. Griswold
William Hall, Jr.
Norman Hendell
Titus Hutchinson
Daniel Marsh
Isaac Nichols, Jr.
Daniel Norton
Samuel Pearson
Nathan Robinson
Horatio Seymour
Benjamin Skinner
James Strong
Richard Strong
Benjamin Swan
Robert Temple
Oliver Whipple
James Whitelaw
Joseph Woodworth
Affiliation:
Federalist
Federalist
Federalist
Federalist
Federalist
Federalist
Republican
Republican
Republican
Republican
Republican
Republican
Republican
Republican
Federalist
Republican
Republican
Federalist
Federalist
Republican
Federalist
Republican
Republican
Republican
Final Result: [7][8][9][10][11][12]
17805
17796
17796
17794
17790
17784
17048
17047
17044
17043
17040
17031
5
5
4
3
3
3
3
2
2
2
2
2
2
1
1
1
1
1
1
1
1
1
1
1
1
1
1
1
1
1
1
1
1
1
1
1
1
1
1

Addison County

1823
1826
1820
1825
1824
1822
1569
1569
1570
1571
1571
1560
-
-
-
-
-
-
-
-
-
2
-
-
-
-
-
1
-
-
-
-
-
-
1
-
-
-
-
-
-
-
1
-
1
-
-
-
-
-
-

Town of Addison

63
63
63
63
63
63
127
127
127
127
127
127
-
-
-
-
-
-
-
-
-
-
-
-
-
-
-
-
-
-
-
-
-
-
-
-
-
-
-
-
-
-
-
-
-
-
-
-
-
-
-

Town of Bridport

147
147
147
147
147
147
143
143
143
143
143
143
-
-
-
-
-
-
-
-
-
-
-
-
-
-
-
-
-
-
-
-
-
-
-
-
-
-
-
-
-
-
-
-
-
-
-
-
-
-
-

Town of Bristol

110
111
111
112
111
111
91
90
91
91
91
90
-
-
-
-
-
-
-
-
-
-
-
-
-
-
-
-
-
-
-
-
-
-
-
-
-
-
-
-
-
-
-
-
-
-
-
-
-
-
-

Town of Cornwall

120
120
120
120
119
120
98
99
99
99
99
98
-
-
-
-
-
-
-
-
-
-
-
-
-
-
-
-
-
-
-
-
-
-
-
-
-
-
-
-
-
-
-
-
-
-
-
-
-
-
-

Town of Ferrisburgh

91
91
91
91
91
91
99
99
99
99
99
99
-
-
-
-
-
-
-
-
-
-
-
-
-
-
-
-
-
-
-
-
-
-
-
-
-
-
-
-
-
-
-
-
-
-
-
-
-
-
-

Town of Goshen

2
2
2
2
2
2
17
17
17
17
17
17
-
-
-
-
-
-
-
-
-
-
-
-
-
-
-
-
-
-
-
-
-
-
-
-
-
-
-
-
-
-
-
-
-
-
-
-
-
-
-

Town of Hancock

34
34
29
34
33
30
35
36
36
36
36
34
-
-
-
-
-
-
-
-
-
-
-
-
-
-
-
1
-
-
-
-
-
-
1
-
-
-
-
-
-
-
-
-
-
-
-
-
-
-
-

Town of Kingston

26
27
26
26
27
27
18
17
17
18
17
18
-
-
-
-
-
-
-
-
-
-
-
-
-
-
-
-
-
-
-
-
-
-
-
-
-
-
-
-
-
-
-
-
-
-
-
-
-
-
-

Town of Leicester

26
26
26
26
26
26
68
68
68
68
68
68
-
-
-
-
-
-
-
-
-
-
-
-
-
-
-
-
-
-
-
-
-
-
-
-
-
-
-
-
-
-
-
-
-
-
-
-
-
-
-

Town of Lincoln

1
1
1
1
1
1
13
13
13
13
13
13
-
-
-
-
-
-
-
-
-
-
-
-
-
-
-
-
-
-
-
-
-
-
-
-
-
-
-
-
-
-
-
-
-
-
-
-
-
-
-

Town of Middlebury

289
289
289
288
289
289
122
123
122
123
123
120
-
-
-
-
-
-
-
-
-
-
-
-
-
-
-
-
-
-
-
-
-
-
-
-
-
-
-
-
-
-
-
-
-
-
-
-
-
-
-

Town of Monkton

[13]
177
177
177
177
177
177
40
40
40
39
40
40
-
-
-
-
-
-
-
-
-
-
-
-
-
-
-
-
-
-
-
-
-
-
-
-
-
-
-
-
-
-
-
-
1
-
-
-
-
-
-

Town of New Haven

166
166
166
166
166
166
140
140
140
140
140
140
-
-
-
-
-
-
-
-
-
-
-
-
-
-
-
-
-
-
-
-
-
-
-
-
-
-
-
-
-
-
-
-
-
-
-
-
-
-
-

Town of Panton

6
6
6
6
6
6
72
72
72
72
72
72
-
-
-
-
-
-
-
-
-
-
-
-
-
-
-
-
-
-
-
-
-
-
-
-
-
-
-
-
-
-
-
-
-
-
-
-
-
-
-

Town of Salisbury

95
95
95
95
95
95
74
74
74
74
74
74
-
-
-
-
-
-
-
-
-
-
-
-
-
-
-
-
-
-
-
-
-
-
-
-
-
-
-
-
-
-
-
-
-
-
-
-
-
-
-

Town of Shoreham

118
118
118
118
118
118
182
181
182
182
182
177
-
-
-
-
-
-
-
-
-
2
-
-
-
-
-
-
-
-
-
-
-
-
-
-
-
-
-
-
-
-
1
-
-
-
-
-
-
-
-

Town of Starksboro

101
101
101
101
101
101
12
12
12
12
12
12
-
-
-
-
-
-
-
-
-
-
-
-
-
-
-
-
-
-
-
-
-
-
-
-
-
-
-
-
-
-
-
-
-
-
-
-
-
-
-

City of Vergennes

141
141
141
141
141
141
49
49
49
49
49
49
-
-
-
-
-
-
-
-
-
-
-
-
-
-
-
-
-
-
-
-
-
-
-
-
-
-
-
-
-
-
-
-
-
-
-
-
-
-
-

Town of Warren

16
16
16
16
16
16
30
30
30
30
30
30
-
-
-
-
-
-
-
-
-
-
-
-
-
-
-
-
-
-
-
-
-
-
-
-
-
-
-
-
-
-
-
-
-
-
-
-
-
-
-

Town of Weybridge

74
74
74
74
74
74
72
72
72
72
72
72
-
-
-
-
-
-
-
-
-
-
-
-
-
-
-
-
-
-
-
-
-
-
-
-
-
-
-
-
-
-
-
-
-
-
-
-
-
-
-

Town of Whiting

20
21
21
21
21
21
67
67
67
67
67
67
-
-
-
-
-
-
-
-
-
-
-
-
-
-
-
-
-
-
-
-
-
-
-
-
-
-
-
-
-
-
-
-
-
-
-
-
-
-
-

Bennington County

1201
1201
1202
1199
1202
1202
1339
1337
1335
1335
1335
1338
-
-
-
-
-
-
-
-
-
-
-
-
-
-
-
-
-
-
1
1
-
-
-
1
1
1
-
-
-
-
-
1
-
-
1
-
-
-
-

Town of Arlington

169
168
169
169
169
169
70
70
70
70
69
70
-
-
-
-
-
-
-
-
-
-
-
-
-
-
-
-
-
-
-
-
-
-
-
1
-
-
-
-
-
-
-
-
-
-
-
-
-
-
-

Town of Bennington

248
248
247
247
248
248
228
228
226
228
227
229
-
-
-
-
-
-
-
-
-
-
-
-
-
-
-
-
-
-
1
-
-
-
-
-
1
1
-
-
-
-
-
-
-
-
-
-
-
-
-

Town of Dorset

96
97
97
97
97
97
114
114
114
114
114
114
-
-
-
-
-
-
-
-
-
-
-
-
-
-
-
-
-
-
-
-
-
-
-
-
-
-
-
-
-
-
-
-
-
-
-
-
-
-
-

Town of Landgrove

21
21
21
21
21
21
19
19
19
19
19
19
-
-
-
-
-
-
-
-
-
-
-
-
-
-
-
-
-
-
-
-
-
-
-
-
-
-
-
-
-
-
-
-
-
-
-
-
-
-
-

Town of Manchester

116
116
116
116
116
116
148
147
148
148
148
148
-
-
-
-
-
-
-
-
-
-
-
-
-
-
-
-
-
-
-
-
-
-
-
-
-
-
-
-
-
-
-
-
-
-
-
-
-
-
-

Town of Peru

16
16
16
16
16
16
23
23
23
23
23
23
-
-
-
-
-
-
-
-
-
-
-
-
-
-
-
-
-
-
-
-
-
-
-
-
-
-
-
-
-
-
-
-
-
-
-
-
-
-
-

Town of Pownal

121
121
121
121
121
121
154
154
154
154
154
154
-
-
-
-
-
-
-
-
-
-
-
-
-
-
-
-
-
-
-
-
-
-
-
-
-
-
-
-
-
-
-
-
-
-
-
-
-
-
-

Town of Readsboro

16
16
16
16
16
16
15
15
15
15
15
15
-
-
-
-
-
-
-
-
-
-
-
-
-
-
-
-
-
-
-
-
-
-
-
-
-
-
-
-
-
-
-
-
-
-
-
-
-
-
-

Town of Rupert

41
41
42
41
41
41
222
220
222
222
222
222
-
-
-
-
-
-
-
-
-
-
-
-
-
-
-
-
-
-
-
-
-
-
-
-
-
-
-
-
-
-
-
-
-
-
-
-
-
-
-

Town of Sandgate

134
134
134
134
134
134
34
34
34
34
34
34
-
-
-
-
-
-
-
-
-
-
-
-
-
-
-
-
-
-
-
-
-
-
-
-
-
-
-
-
-
-
-
-
-
-
-
-
-
-
-

Town of Shaftsbury

93
91
92
91
92
92
210
210
209
209
209
209
-
-
-
-
-
-
-
-
-
-
-
-
-
-
-
-
-
-
-
1
-
-
-
-
-
-
-
-
-
-
-
-
-
-
1
-
-
-
-

Town of Stamford

26
26
26
26
26
26
29
29
29
29
29
29
-
-
-
-
-
-
-
-
-
-
-
-
-
-
-
-
-
-
-
-
-
-
-
-
-
-
-
-
-
-
-
-
-
-
-
-
-
-
-

Town of Sunderland

19
19
19
18
19
19
52
52
52
50
52
52
-
-
-
-
-
-
-
-
-
-
-
-
-
-
-
-
-
-
-
-
-
-
-
-
-
-
-
-
-
-
-
1
-
-
-
-
-
-
-

Town of Windhall

57
57
56
56
57
56
9
9
9
9
9
9
-
-
-
-
-
-
-
-
-
-
-
-
-
-
-
-
-
-
-
-
-
-
-
-
-
-
-
-
-
-
-
-
-
-
-
-
-
-
-

Town of Woodford

28
30
30
30
29
30
12
13
11
11
11
11
-
-
-
-
-
-
-
-
-
-
-
-
-
-
-
-
-
-
-
-
-
-
-
-
-
-
-
-
-
-
-
-
-
-
-
-
-
-
-

Caledonia County

1143
1139
1140
1139
1138
1132
1048
1047
1047
1047
1043
1047
-
-
-
3
-
-
-
-
2
-
-
-
-
-
-
-
-
-
-
-
-
-
-
-
-
-
-
-
-
-
-
-
-
-
-
-
-
1
-

Town of Barnet

167
167
168
167
167
167
40
40
40
41
40
39
-
-
-
-
-
-
-
-
-
-
-
-
-
-
-
-
-
-
-
-
-
-
-
-
-
-
-
-
-
-
-
-
-
-
-
-
-
-
-

Town of Burke

21
21
21
21
21
21
65
65
65
65
65
65
-
-
-
-
-
-
-
-
-
-
-
-
-
-
-
-
-
-
-
-
-
-
-
-
-
-
-
-
-
-
-
-
-
-
-
-
-
-
-

Town of Cabot

70
70
70
70
70
70
46
46
46
46
46
46
-
-
-
-
-
-
-
-
-
-
-
-
-
-
-
-
-
-
-
-
-
-
-
-
-
-
-
-
-
-
-
-
-
-
-
-
-
-
-

Town of Danville

90
90
90
90
90
92
259
259
259
257
259
259
-
-
-
-
-
-
-
-
-
-
-
-
-
-
-
-
-
-
-
-
-
-
-
-
-
-
-
-
-
-
-
-
-
-
-
-
-
-
-

Town of Groton

39
39
39
39
39
39
26
26
26
26
26
26
-
-
-
-
-
-
-
-
-
-
-
-
-
-
-
-
-
-
-
-
-
-
-
-
-
-
-
-
-
-
-
-
-
-
-
-
-
-
-

Town of Hardwick

81
81
81
81
81
81
53
52
53
53
53
53
-
-
-
-
-
-
-
-
-
-
-
-
-
-
-
-
-
-
-
-
-
-
-
-
-
-
-
-
-
-
-
-
-
-
-
-
-
-
-

Town of Kirby

13
13
13
13
13
13
35
35
35
35
35
35
-
-
-
-
-
-
-
-
-
-
-
-
-
-
-
-
-
-
-
-
-
-
-
-
-
-
-
-
-
-
-
-
-
-
-
-
-
-
-

Town of Lyndon

50
50
50
50
50
49
105
105
105
105
105
105
-
-
-
-
-
-
-
-
1
-
-
-
-
-
-
-
-
-
-
-
-
-
-
-
-
-
-
-
-
-
-
-
-
-
-
-
-
-
-

Town of Peacham

171
171
171
171
171
171
20
20
20
20
20
20
-
-
-
-
-
-
-
-
-
-
-
-
-
-
-
-
-
-
-
-
-
-
-
-
-
-
-
-
-
-
-
-
-
-
-
-
-
-
-

Town of Ryegate

56
56
56
56
56
56
47
47
47
47
47
47
-
-
-
-
-
-
-
-
-
-
-
-
-
-
-
-
-
-
-
-
-
-
-
-
-
-
-
-
-
-
-
-
-
-
-
-
-
-
-

Town of Saint Johnsbury

132
132
133
132
132
127
43
43
42
43
42
43
-
-
-
3
-
-
-
-
1
-
-
-
-
-
-
-
-
-
-
-
-
-
-
-
-
-
-
-
-
-
-
-
-
-
-
-
-
-
-

Town of Sheffield

27
27
27
27
27
27
43
43
43
43
43
43
-
-
-
-
-
-
-
-
-
-
-
-
-
-
-
-
-
-
-
-
-
-
-
-
-
-
-
-
-
-
-
-
-
-
-
-
-
-
-

Town of Sutton

4
4
4
4
4
4
61
61
61
61
61
61
-
-
-
-
-
-
-
-
-
-
-
-
-
-
-
-
-
-
-
-
-
-
-
-
-
-
-
-
-
-
-
-
-
-
-
-
-
-
-

Town of Walden

46
46
46
46
46
46
46
46
46
46
46
46
-
-
-
-
-
-
-
-
-
-
-
-
-
-
-
-
-
-
-
-
-
-
-
-
-
-
-
-
-
-
-
-
-
-
-
-
-
-
-

Town of Waterford

134
130
129
130
129
127
37
37
37
37
33
37
-
-
-
-
-
-
-
-
-
-
-
-
-
-
-
-
-
-
-
-
-
-
-
-
-
-
-
-
-
-
-
-
-
-
-
-
-
1
-

Town of Wheelock

33
33
33
33
33
33
85
85
85
85
85
85
-
-
-
-
-
-
-
-
-
-
-
-
-
-
-
-
-
-
-
-
-
-
-
-
-
-
-
-
-
-
-
-
-
-
-
-
-
-
-

Town of Woodbury

9
9
9
9
9
9
37
37
37
37
37
37
-
-
-
-
-
-
-
-
-
-
-
-
-
-
-
-
-
-
-
-
-
-
-
-
-
-
-
-
-
-
-
-
-
-
-
-
-
-
-

Chittenden County

1482
1480
1482
1481
1482
1482
1047
1047
1047
1047
1047
1046
-
-
1
-
2
-
-
-
-
-
-
-
-
-
-
-
-
-
-
-
-
-
-
-
-
-
-
1
-
-
-
-
-
-
-
-
-
-
-

Town of Bolton

3
3
3
3
3
3
33
33
33
33
33
33
-
-
-
-
-
-
-
-
-
-
-
-
-
-
-
-
-
-
-
-
-
-
-
-
-
-
-
-
-
-
-
-
-
-
-
-
-
-
-

Town of Burlington

280
280
280
280
280
280
106
106
106
106
106
106
-
-
-
-
-
-
-
-
-
-
-
-
-
-
-
-
-
-
-
-
-
-
-
-
-
-
-
-
-
-
-
-
-
-
-
-
-
-
-

Town of Charlotte

141
141
141
141
141
141
110
110
110
110
110
110
-
-
-
-
-
-
-
-
-
-
-
-
-
-
-
-
-
-
-
-
-
-
-
-
-
-
-
-
-
-
-
-
-
-
-
-
-
-
-

Town of Colchester

41
41
41
41
41
41
75
75
75
75
75
75
-
-
-
-
-
-
-
-
-
-
-
-
-
-
-
-
-
-
-
-
-
-
-
-
-
-
-
-
-
-
-
-
-
-
-
-
-
-
-

Town of Essex

66
66
66
66
66
66
118
119
119
119
119
119
-
-
-
-
1
-
-
-
-
-
-
-
-
-
-
-
-
-
-
-
-
-
-
-
-
-
-
-
-
-
-
-
-
-
-
-
-
-
-

Town of Hinesburgh

[14]
144
144
144
144
144
144
54
54
54
54
54
54
-
-
-
-
-
-
-
-
-
-
-
-
-
-
-
-
-
-
-
-
-
-
-
-
-
-
-
1
-
-
-
-
-
-
-
-
-
-
-

Town of Huntington

48
48
48
48
48
48
62
62
62
62
62
62
-
-
-
-
-
-
-
-
-
-
-
-
-
-
-
-
-
-
-
-
-
-
-
-
-
-
-
-
-
-
-
-
-
-
-
-
-
-
-

Town of Jericho

89
89
89
89
89
89
112
112
112
112
112
112
-
-
-
-
-
-
-
-
-
-
-
-
-
-
-
-
-
-
-
-
-
-
-
-
-
-
-
-
-
-
-
-
-
-
-
-
-
-
-

Town of Milton

168
167
168
168
168
168
80
80
80
80
80
80
-
-
-
-
1
-
-
-
-
-
-
-
-
-
-
-
-
-
-
-
-
-
-
-
-
-
-
-
-
-
-
-
-
-
-
-
-
-
-

Town of Richmond

88
88
88
87
88
88
90
90
90
90
90
90
-
-
1
-
-
-
-
-
-
-
-
-
-
-
-
-
-
-
-
-
-
-
-
-
-
-
-
-
-
-
-
-
-
-
-
-
-
-
-

Town of Saint George

21
21
21
21
21
21
-
-
-
-
-
-
-
-
-
-
-
-
-
-
-
-
-
-
-
-
-
-
-
-
-
-
-
-
-
-
-
-
-
-
-
-
-
-
-
-
-
-
-
-
-

Town of Shelburn

125
125
125
125
125
125
50
50
50
50
50
50
-
-
-
-
-
-
-
-
-
-
-
-
-
-
-
-
-
-
-
-
-
-
-
-
-
-
-
-
-
-
-
-
-
-
-
-
-
-
-

Town of Underhill

19
19
19
19
19
19
50
50
50
50
50
50
-
-
-
-
-
-
-
-
-
-
-
-
-
-
-
-
-
-
-
-
-
-
-
-
-
-
-
-
-
-
-
-
-
-
-
-
-
-
-

Town of Westford

88
88
88
88
88
88
69
69
69
69
69
68
-
-
-
-
-
-
-
-
-
-
-
-
-
-
-
-
-
-
-
-
-
-
-
-
-
-
-
-
-
-
-
-
-
-
-
-
-
-
-

Town of Williston

161
160
161
161
161
161
38
37
37
37
37
37
-
-
-
-
-
-
-
-
-
-
-
-
-
-
-
-
-
-
-
-
-
-
-
-
-
-
-
-
-
-
-
-
-
-
-
-
-
-
-

Essex County

249
249
249
249
250
249
218
218
218
218
218
218
-
-
-
-
-
-
-
-
-
-
-
-
-
-
-
-
-
-
-
-
-
-
-
-
-
-
-
-
-
-
-
-
-
-
-
-
-
-
-

Town of Brunswick

-
-
-
-
-
-
19
19
19
19
19
19
-
-
-
-
-
-
-
-
-
-
-
-
-
-
-
-
-
-
-
-
-
-
-
-
-
-
-
-
-
-
-
-
-
-
-
-
-
-
-

Town of Canaan

14
14
14
14
14
14
23
23
23
23
23
23
-
-
-
-
-
-
-
-
-
-
-
-
-
-
-
-
-
-
-
-
-
-
-
-
-
-
-
-
-
-
-
-
-
-
-
-
-
-
-

Town of Concord

59
59
59
59
60
59
34
34
34
34
34
34
-
-
-
-
-
-
-
-
-
-
-
-
-
-
-
-
-
-
-
-
-
-
-
-
-
-
-
-
-
-
-
-
-
-
-
-
-
-
-

Town of Granby

[15]
8
8
8
8
8
8
3
3
3
3
3
3
-
-
-
-
-
-
-
-
-
-
-
-
-
-
-
-
-
-
-
-
-
-
-
-
-
-
-
-
-
-
-
-
-
-
-
-
-
-
-

Town of Guildhall

48
48
48
48
48
48
35
35
35
35
35
35
-
-
-
-
-
-
-
-
-
-
-
-
-
-
-
-
-
-
-
-
-
-
-
-
-
-
-
-
-
-
-
-
-
-
-
-
-
-
-

Town of Lemington

12
12
12
12
12
12
9
9
9
9
9
9
-
-
-
-
-
-
-
-
-
-
-
-
-
-
-
-
-
-
-
-
-
-
-
-
-
-
-
-
-
-
-
-
-
-
-
-
-
-
-

Town of Lunenburg

97
97
97
97
97
97
36
36
36
36
36
36
-
-
-
-
-
-
-
-
-
-
-
-
-
-
-
-
-
-
-
-
-
-
-
-
-
-
-
-
-
-
-
-
-
-
-
-
-
-
-

Town of Maidstone

2
2
2
2
2
2
23
23
23
23
23
23
-
-
-
-
-
-
-
-
-
-
-
-
-
-
-
-
-
-
-
-
-
-
-
-
-
-
-
-
-
-
-
-
-
-
-
-
-
-
-

Town of Minehead

8
8
8
8
8
8
11
11
11
11
11
11
-
-
-
-
-
-
-
-
-
-
-
-
-
-
-
-
-
-
-
-
-
-
-
-
-
-
-
-
-
-
-
-
-
-
-
-
-
-
-

Town of Newark

1
1
1
1
1
1
25
25
25
25
25
25
-
-
-
-
-
-
-
-
-
-
-
-
-
-
-
-
-
-
-
-
-
-
-
-
-
-
-
-
-
-
-
-
-
-
-
-
-
-
-

Franklin County

1510
1510
1511
1511
1509
1510
904
905
904
904
904
904
-
-
-
-
-
-
-
-
-
-
-
-
-
-
1
-
-
1
-
-
-
-
-
-
-
-
-
-
-
-
-
-
-
-
-
-
-
-
-

Town of Bakersfield

118
118
118
118
118
118
33
33
33
33
33
33
-
-
-
-
-
-
-
-
-
-
-
-
-
-
-
-
-
-
-
-
-
-
-
-
-
-
-
-
-
-
-
-
-
-
-
-
-
-
-

Town of Belvidere

[16]
17
17
18
18
18
17
17
17
17
16
16
16
-
-
-
-
-
-
-
-
-
-
-
-
-
-
-
-
-
-
-
-
-
-
-
-
-
-
-
-
-
-
-
-
-
-
-
-
-
-
-

Town of Berkshire

[17]
61
61
61
61
61
61
35
35
34
35
35
35
-
-
-
-
-
-
-
-
-
-
-
-
-
-
-
-
-
1
-
-
-
-
-
-
-
-
-
-
-
-
-
-
-
-
-
-
-
-
-

Town of Cambridge

80
80
80
80
80
80
98
98
98
98
98
98
-
-
-
-
-
-
-
-
-
-
-
-
-
-
-
-
-
-
-
-
-
-
-
-
-
-
-
-
-
-
-
-
-
-
-
-
-
-
-

Town of Enosburgh

67
67
67
67
67
67
44
44
44
44
44
44
-
-
-
-
-
-
-
-
-
-
-
-
-
-
1
-
-
-
-
-
-
-
-
-
-
-
-
-
-
-
-
-
-
-
-
-
-
-
-

Town of Fairfax

151
151
151
151
151
151
57
57
57
57
57
57
-
-
-
-
-
-
-
-
-
-
-
-
-
-
-
-
-
-
-
-
-
-
-
-
-
-
-
-
-
-
-
-
-
-
-
-
-
-
-

Town of Fairfield

179
179
179
179
179
179
65
65
65
65
65
65
-
-
-
-
-
-
-
-
-
-
-
-
-
-
-
-
-
-
-
-
-
-
-
-
-
-
-
-
-
-
-
-
-
-
-
-
-
-
-

Town of Fletcher

37
37
37
37
37
37
41
41
41
41
41
41
-
-
-
-
-
-
-
-
-
-
-
-
-
-
-
-
-
-
-
-
-
-
-
-
-
-
-
-
-
-
-
-
-
-
-
-
-
-
-

Town of Georgia

[18]
121
121
121
121
121
121
146
147
147
147
147
147
-
-
-
-
-
-
-
-
-
-
-
-
-
-
-
-
-
-
-
-
-
-
-
-
-
-
-
-
-
-
-
-
-
-
-
-
-
-
-

Town of Highgate

118
118
118
118
118
118
40
40
40
40
40
40
-
-
-
-
-
-
-
-
-
-
-
-
-
-
-
-
-
-
-
-
-
-
-
-
-
-
-
-
-
-
-
-
-
-
-
-
-
-
-

Town of Huntsburgh

47
47
47
47
45
47
12
12
12
12
12
12
-
-
-
-
-
-
-
-
-
-
-
-
-
-
-
-
-
-
-
-
-
-
-
-
-
-
-
-
-
-
-
-
-
-
-
-
-
-
-

Town of Johnson

17
17
17
17
17
17
70
70
70
70
70
70
-
-
-
-
-
-
-
-
-
-
-
-
-
-
-
-
-
-
-
-
-
-
-
-
-
-
-
-
-
-
-
-
-
-
-
-
-
-
-

Town of Montgomery

27
27
27
27
27
27
8
8
8
8
8
8
-
-
-
-
-
-
-
-
-
-
-
-
-
-
-
-
-
-
-
-
-
-
-
-
-
-
-
-
-
-
-
-
-
-
-
-
-
-
-

Town of Richford

45
45
45
45
45
45
8
8
8
8
8
8
-
-
-
-
-
-
-
-
-
-
-
-
-
-
-
-
-
-
-
-
-
-
-
-
-
-
-
-
-
-
-
-
-
-
-
-
-
-
-

Town of Saint Albans

165
165
165
165
165
165
104
104
104
104
104
104
-
-
-
-
-
-
-
-
-
-
-
-
-
-
-
-
-
-
-
-
-
-
-
-
-
-
-
-
-
-
-
-
-
-
-
-
-
-
-

Town of Sheldon

97
97
97
97
97
97
14
14
14
14
14
14
-
-
-
-
-
-
-
-
-
-
-
-
-
-
-
-
-
-
-
-
-
-
-
-
-
-
-
-
-
-
-
-
-
-
-
-
-
-
-

Town of Sterling

11
11
11
11
11
11
9
9
9
9
9
9
-
-
-
-
-
-
-
-
-
-
-
-
-
-
-
-
-
-
-
-
-
-
-
-
-
-
-
-
-
-
-
-
-
-
-
-
-
-
-

Town of Swanton

152
152
152
152
152
152
103
103
103
103
103
103
-
-
-
-
-
-
-
-
-
-
-
-
-
-
-
-
-
-
-
-
-
-
-
-
-
-
-
-
-
-
-
-
-
-
-
-
-
-
-

Grande Isle County

322
321
322
322
322
322
106
106
106
106
106
106
-
-
-
-
1
-
-
-
-
-
-
-
-
-
-
-
-
-
-
-
-
-
-
-
-
-
-
-
-
-
-
-
-
-
-
-
-
-
-

Town of Alburg

98
98
98
98
98
98
10
10
10
10
10
10
-
-
-
-
-
-
-
-
-
-
-
-
-
-
-
-
-
-
-
-
-
-
-
-
-
-
-
-
-
-
-
-
-
-
-
-
-
-
-

Town of Middle Hero

64
63
64
64
64
64
20
20
20
20
20
20
-
-
-
-
1
-
-
-
-
-
-
-
-
-
-
-
-
-
-
-
-
-
-
-
-
-
-
-
-
-
-
-
-
-
-
-
-
-
-

Town of North Hero

46
46
46
46
46
46
22
22
22
22
22
22
-
-
-
-
-
-
-
-
-
-
-
-
-
-
-
-
-
-
-
-
-
-
-
-
-
-
-
-
-
-
-
-
-
-
-
-
-
-
-

Town of South Hero

87
87
87
87
87
87
31
31
31
31
31
31
-
-
-
-
-
-
-
-
-
-
-
-
-
-
-
-
-
-
-
-
-
-
-
-
-
-
-
-
-
-
-
-
-
-
-
-
-
-
-

Town of Vineyard

27
27
27
27
27
27
23
23
23
23
23
23
-
-
-
-
-
-
-
-
-
-
-
-
-
-
-
-
-
-
-
-
-
-
-
-
-
-
-
-
-
-
-
-
-
-
-
-
-
-
-

Jefferson County

897
897
898
898
897
897
959
962
963
959
963
963
-
-
-
-
-
-
1
-
-
-
-
-
-
-
-
-
-
-
-
-
-
1
-
-
-
-
-
-
-
1
-
-
-
-
-
-
-
-
-

Town of Barre

88
88
88
88
88
88
220
220
220
220
220
220
-
-
-
-
-
-
-
-
-
-
-
-
-
-
-
-
-
-
-
-
-
-
-
-
-
-
-
-
-
-
-
-
-
-
-
-
-
-
-

Town of Berlin

104
104
104
104
104
104
85
85
85
85
85
85
-
-
-
-
-
-
-
-
-
-
-
-
-
-
-
-
-
-
-
-
-
-
-
-
-
-
-
-
-
-
-
-
-
-
-
-
-
-
-

Town of Calais

[19]
27
27
27
27
27
27
83
84
84
84
84
84
-
-
-
-
-
-
-
-
-
-
-
-
-
-
-
-
-
-
-
-
-
-
-
-
-
-
-
-
-
-
-
-
-
-
-
-
-
-
-

Town of Duxbury

40
40
40
40
40
40
37
37
37
37
37
37
-
-
-
-
-
-
-
-
-
-
-
-
-
-
-
-
-
-
-
-
-
-
-
-
-
-
-
-
-
-
-
-
-
-
-
-
-
-
-

Town of Fayston

19
19
20
20
19
19
5
4
5
4
5
5
-
-
-
-
-
-
-
-
-
-
-
-
-
-
-
-
-
-
-
-
-
-
-
-
-
-
-
-
-
-
-
-
-
-
-
-
-
-
-

Town of Marshfield

54
54
54
54
54
54
39
40
40
40
40
40
-
-
-
-
-
-
-
-
-
-
-
-
-
-
-
-
-
-
-
-
-
-
-
-
-
-
-
-
-
-
-
-
-
-
-
-
-
-
-

Town of Middlesex

53
53
53
53
53
53
40
40
40
40
40
40
-
-
-
-
-
-
-
-
-
-
-
-
-
-
-
-
-
-
-
-
-
-
-
-
-
-
-
-
-
-
-
-
-
-
-
-
-
-
-

Town of Montpelier

157
157
157
157
157
157
156
156
156
154
156
156
-
-
-
-
-
-
-
-
-
-
-
-
-
-
-
-
-
-
-
-
-
1
-
-
-
-
-
-
-
-
-
-
-
-
-
-
-
-
-

Town of Moretown

[20]
44
44
44
44
44
44
31
31
31
30
31
31
-
-
-
-
-
-
1
-
-
-
-
-
-
-
-
-
-
-
-
-
-
-
-
-
-
-
-
-
-
-
-
-
-
-
-
-
-
-
-

Town of Northfield

21
21
21
21
21
21
52
52
52
52
52
52
-
-
-
-
-
-
-
-
-
-
-
-
-
-
-
-
-
-
-
-
-
-
-
-
-
-
-
-
-
-
-
-
-
-
-
-
-
-
-

Town of Plainfield

39
39
39
39
39
39
42
42
42
42
42
42
-
-
-
-
-
-
-
-
-
-
-
-
-
-
-
-
-
-
-
-
-
-
-
-
-
-
-
-
-
-
-
-
-
-
-
-
-
-
-

Town of Stow

32
32
32
32
32
32
70
70
70
70
70
70
-
-
-
-
-
-
-
-
-
-
-
-
-
-
-
-
-
-
-
-
-
-
-
-
-
-
-
-
-
1
-
-
-
-
-
-
-
-
-

Town of Waitsfield

97
97
97
97
97
97
29
29
29
29
29
29
-
-
-
-
-
-
-
-
-
-
-
-
-
-
-
-
-
-
-
-
-
-
-
-
-
-
-
-
-
-
-
-
-
-
-
-
-
-
-

Town of Waterbury

119
119
119
119
119
119
64
66
66
66
66
66
-
-
-
-
-
-
-
-
-
-
-
-
-
-
-
-
-
-
-
-
-
-
-
-
-
-
-
-
-
-
-
-
-
-
-
-
-
-
-

Town of Worcester

3
3
3
3
3
3
6
6
6
6
6
6
-
-
-
-
-
-
-
-
-
-
-
-
-
-
-
-
-
-
-
-
-
-
-
-
-
-
-
-
-
-
-
-
-
-
-
-
-
-
-

Orange County

1478
1480
1479
1477
1476
1476
2050
2054
2052
2054
2053
2048
5
4
1
-
-
-
-
2
-
-
-
-
1
-
-
-
1
-
-
-
-
-
-
-
-
-
1
-
-
-
-
-
-
-
-
-
-
-
-

Town of Bradford

72
72
72
72
72
72
99
99
99
99
97
99
5
4
-
-
-
-
-
-
-
-
-
-
1
-
-
-
-
-
-
-
-
-
-
-
-
-
-
-
-
-
-
-
-
-
-
-
-
-
-

Town of Braintree

64
64
64
64
64
64
83
83
83
83
83
83
-
-
-
-
-
-
-
-
-
-
-
-
-
-
-
-
-
-
-
-
-
-
-
-
-
-
1
-
-
-
-
-
-
-
-
-
-
-
-

Town of Brookfield

160
160
160
160
160
160
99
99
99
99
99
99
-
-
-
-
-
-
-
-
-
-
-
-
-
-
-
-
-
-
-
-
-
-
-
-
-
-
-
-
-
-
-
-
-
-
-
-
-
-
-

Town of Chelsea

133
133
133
133
133
133
127
128
128
128
128
128
-
-
-
-
-
-
-
-
-
-
-
-
-
-
-
-
1
-
-
-
-
-
-
-
-
-
-
-
-
-
-
-
-
-
-
-
-
-
-

Town of Corinth

152
152
152
152
152
152
141
141
141
141
141
141
-
-
-
-
-
-
-
-
-
-
-
-
-
-
-
-
-
-
-
-
-
-
-
-
-
-
-
-
-
-
-
-
-
-
-
-
-
-
-

Town of Fairlee

54
54
54
54
54
54
112
112
112
112
112
112
-
-
-
-
-
-
-
-
-
-
-
-
-
-
-
-
-
-
-
-
-
-
-
-
-
-
-
-
-
-
-
-
-
-
-
-
-
-
-

Town of Newbury

121
121
121
121
121
121
100
100
100
100
100
100
-
-
-
-
-
-
-
-
-
-
-
-
-
-
-
-
-
-
-
-
-
-
-
-
-
-
-
-
-
-
-
-
-
-
-
-
-
-
-

Town of Orange

41
41
41
41
41
41
46
46
46
46
46
46
-
-
-
-
-
-
-
-
-
-
-
-
-
-
-
-
-
-
-
-
-
-
-
-
-
-
-
-
-
-
-
-
-
-
-
-
-
-
-

Town of Randolph

178
177
177
178
177
177
232
233
233
233
233
233
-
-
-
-
-
-
-
-
-
-
-
-
-
-
-
-
-
-
-
-
-
-
-
-
-
-
-
-
-
-
-
-
-
-
-
-
-
-
-

Town of Roxbury

14
14
14
14
14
14
48
50
50
50
50
50
-
-
-
-
-
-
-
2
-
-
-
-
-
-
-
-
-
-
-
-
-
-
-
-
-
-
-
-
-
-
-
-
-
-
-
-
-
-
-

Town of Strafford

25
25
25
25
25
25
236
236
236
236
236
236
-
-
-
-
-
-
-
-
-
-
-
-
-
-
-
-
-
-
-
-
-
-
-
-
-
-
-
-
-
-
-
-
-
-
-
-
-
-
-

Town of Thetford

124
125
125
124
125
124
139
139
139
138
139
135
-
-
-
-
-
-
-
-
-
-
-
-
-
-
-
-
-
-
-
-
-
-
-
-
-
-
-
-
-
-
-
-
-
-
-
-
-
-
-

Town of Topsham

31
31
31
31
31
31
78
78
78
78
78
78
-
-
-
-
-
-
-
-
-
-
-
-
-
-
-
-
-
-
-
-
-
-
-
-
-
-
-
-
-
-
-
-
-
-
-
-
-
-
-

Town of Tunbridge

99
99
99
98
99
98
163
163
163
163
163
163
-
-
1
-
-
-
-
-
-
-
-
-
-
-
-
-
-
-
-
-
-
-
-
-
-
-
-
-
-
-
-
-
-
-
-
-
-
-
-

Town of Vershire

25
27
26
25
23
25
153
153
151
154
154
151
-
-
-
-
-
-
-
-
-
-
-
-
-
-
-
-
-
-
-
-
-
-
-
-
-
-
-
-
-
-
-
-
-
-
-
-
-
-
-

Town of Washington

53
53
53
53
53
53
97
97
97
97
97
97
-
-
-
-
-
-
-
-
-
-
-
-
-
-
-
-
-
-
-
-
-
-
-
-
-
-
-
-
-
-
-
-
-
-
-
-
-
-
-

Town of Williamstown

132
132
132
132
132
132
97
97
97
97
97
97
-
-
-
-
-
-
-
-
-
-
-
-
-
-
-
-
-
-
-
-
-
-
-
-
-
-
-
-
-
-
-
-
-
-
-
-
-
-
-

Orleans County

575
575
575
575
575
575
426
426
426
426
426
424
-
-
-
-
-
-
-
-
-
-
-
-
-
-
-
-
-
-
-
-
-
-
-
-
-
-
-
-
-
-
-
-
-
-
-
-
-
-
-

Town of Barton

48
48
48
48
48
48
23
23
23
23
23
23
-
-
-
-
-
-
-
-
-
-
-
-
-
-
-
-
-
-
-
-
-
-
-
-
-
-
-
-
-
-
-
-
-
-
-
-
-
-
-

Town of Browington

45
45
45
45
45
45
3
3
3
3
3
3
-
-
-
-
-
-
-
-
-
-
-
-
-
-
-
-
-
-
-
-
-
-
-
-
-
-
-
-
-
-
-
-
-
-
-
-
-
-
-

Town of Coventry

27
27
27
27
27
27
18
18
18
18
18
18
-
-
-
-
-
-
-
-
-
-
-
-
-
-
-
-
-
-
-
-
-
-
-
-
-
-
-
-
-
-
-
-
-
-
-
-
-
-
-

Town of Craftsbury

61
61
61
61
61
61
36
36
36
37
36
36
-
-
-
-
-
-
-
-
-
-
-
-
-
-
-
-
-
-
-
-
-
-
-
-
-
-
-
-
-
-
-
-
-
-
-
-
-
-
-

Town of Derby

68
68
68
68
68
68
22
22
22
21
22
22
-
-
-
-
-
-
-
-
-
-
-
-
-
-
-
-
-
-
-
-
-
-
-
-
-
-
-
-
-
-
-
-
-
-
-
-
-
-
-

Town of Duncansborough

16
16
16
16
16
16
-
-
-
-
-
-
-
-
-
-
-
-
-
-
-
-
-
-
-
-
-
-
-
-
-
-
-
-
-
-
-
-
-
-
-
-
-
-
-
-
-
-
-
-
-

Town of Eden

20
20
20
20
20
20
13
13
13
13
13
13
-
-
-
-
-
-
-
-
-
-
-
-
-
-
-
-
-
-
-
-
-
-
-
-
-
-
-
-
-
-
-
-
-
-
-
-
-
-
-

Town of Elmore

5
5
5
5
5
5
18
18
18
18
18
18
-
-
-
-
-
-
-
-
-
-
-
-
-
-
-
-
-
-
-
-
-
-
-
-
-
-
-
-
-
-
-
-
-
-
-
-
-
-
-

Town of Glover

45
45
45
45
45
45
31
31
31
31
31
31
-
-
-
-
-
-
-
-
-
-
-
-
-
-
-
-
-
-
-
-
-
-
-
-
-
-
-
-
-
-
-
-
-
-
-
-
-
-
-

Town of Greensborough

60
60
60
60
60
60
49
49
49
49
49
49
-
-
-
-
-
-
-
-
-
-
-
-
-
-
-
-
-
-
-
-
-
-
-
-
-
-
-
-
-
-
-
-
-
-
-
-
-
-
-

Town of Holland

11
11
11
11
11
11
5
5
5
5
5
5
-
-
-
-
-
-
-
-
-
-
-
-
-
-
-
-
-
-
-
-
-
-
-
-
-
-
-
-
-
-
-
-
-
-
-
-
-
-
-

Town of Hyde Park

[21]
33
33
33
33
33
33
21
21
21
21
21
19
-
-
-
-
-
-
-
-
-
-
-
-
-
-
-
-
-
-
-
-
-
-
-
-
-
-
-
-
-
-
-
-
-
-
-
-
-
-
-

Town of Irasburg

28
28
28
28
28
28
45
45
45
45
45
45
-
-
-
-
-
-
-
-
-
-
-
-
-
-
-
-
-
-
-
-
-
-
-
-
-
-
-
-
-
-
-
-
-
-
-
-
-
-
-

Town of Kellyvale

17
17
17
17
17
17
1
1
1
1
1
1
-
-
-
-
-
-
-
-
-
-
-
-
-
-
-
-
-
-
-
-
-
-
-
-
-
-
-
-
-
-
-
-
-
-
-
-
-
-
-

Town of Lutterloh

5
5
5
5
5
5
15
15
15
15
15
15
-
-
-
-
-
-
-
-
-
-
-
-
-
-
-
-
-
-
-
-
-
-
-
-
-
-
-
-
-
-
-
-
-
-
-
-
-
-
-

Town of Morgan

11
11
11
11
11
11
10
10
10
10
10
10
-
-
-
-
-
-
-
-
-
-
-
-
-
-
-
-
-
-
-
-
-
-
-
-
-
-
-
-
-
-
-
-
-
-
-
-
-
-
-

Town of Morristown

28
28
28
28
28
28
67
67
67
67
67
67
-
-
-
-
-
-
-
-
-
-
-
-
-
-
-
-
-
-
-
-
-
-
-
-
-
-
-
-
-
-
-
-
-
-
-
-
-
-
-

Town of Navy

[22]
11
11
11
11
11
11
6
6
6
6
6
6
-
-
-
-
-
-
-
-
-
-
-
-
-
-
-
-
-
-
-
-
-
-
-
-
-
-
-
-
-
-
-
-
-
-
-
-
-
-
-

Town of Troy

8
8
8
8
8
8
18
18
18
18
18
18
-
-
-
-
-
-
-
-
-
-
-
-
-
-
-
-
-
-
-
-
-
-
-
-
-
-
-
-
-
-
-
-
-
-
-
-
-
-
-

Town of Westfield

13
13
13
13
13
13
15
15
15
15
15
15
-
-
-
-
-
-
-
-
-
-
-
-
-
-
-
-
-
-
-
-
-
-
-
-
-
-
-
-
-
-
-
-
-
-
-
-
-
-
-

Town of Wolcott

15
15
15
15
15
15
10
10
10
10
10
10
-
-
-
-
-
-
-
-
-
-
-
-
-
-
-
-
-
-
-
-
-
-
-
-
-
-
-
-
-
-
-
-
-
-
-
-
-
-
-

Rutland County

1990
1989
1984
1988
1986
1985
2571
2568
2567
2571
2567
2569
-
1
-
-
-
3
-
-
-
-
2
-
-
-
-
-
-
-
-
-
-
-
-
-
-
-
-
-
1
-
-
-
-
-
-
1
-
-
1

Town of Benson

137
137
137
137
137
137
117
117
117
117
117
117
-
-
-
-
-
-
-
-
-
-
-
-
-
-
-
-
-
-
-
-
-
-
-
-
-
-
-
-
-
-
-
-
-
-
-
-
-
-
-

Town of Brandon

147
147
147
147
147
147
92
92
92
92
92
92
-
-
-
-
-
-
-
-
-
-
-
-
-
-
-
-
-
-
-
-
-
-
-
-
-
-
-
-
-
-
-
-
-
-
-
-
-
-
-

Town of Castleton

155
153
155
154
155
155
105
105
105
105
105
105
-
-
-
-
-
-
-
-
-
-
2
-
-
-
-
-
-
-
-
-
-
-
-
-
-
-
-
-
-
-
-
-
-
-
-
-
-
-
-

Town of Chittenden

31
31
31
31
31
31
29
29
29
29
29
29
-
-
-
-
-
-
-
-
-
-
-
-
-
-
-
-
-
-
-
-
-
-
-
-
-
-
-
-
-
-
-
-
-
-
-
-
-
-
-

Town of Clarendon

97
97
97
97
97
97
152
149
152
152
152
152
-
-
-
-
-
3
-
-
-
-
-
-
-
-
-
-
-
-
-
-
-
-
-
-
-
-
-
-
-
-
-
-
-
-
-
-
-
-
-

Town of Danby

70
69
69
70
69
69
103
103
103
103
103
103
-
-
-
-
-
-
-
-
-
-
-
-
-
-
-
-
-
-
-
-
-
-
-
-
-
-
-
-
-
-
-
-
-
-
-
-
-
-
-

Town of Fairhaven

125
125
124
125
124
124
91
91
90
90
90
91
-
-
-
-
-
-
-
-
-
-
-
-
-
-
-
-
-
-
-
-
-
-
-
-
-
-
-
-
-
-
-
-
-
-
-
-
-
-
-

Town of Hubbarton

43
43
42
42
41
42
88
88
87
88
87
87
-
-
-
-
-
-
-
-
-
-
-
-
-
-
-
-
-
-
-
-
-
-
-
-
-
-
-
-
1
-
-
-
-
-
-
-
-
-
-

Town of Ira

8
8
8
8
8
8
80
80
80
80
80
80
-
-
-
-
-
-
-
-
-
-
-
-
-
-
-
-
-
-
-
-
-
-
-
-
-
-
-
-
-
-
-
-
-
-
-
-
-
-
-

Town of Middletown

105
105
105
105
105
105
109
109
109
109
109
109
-
-
-
-
-
-
-
-
-
-
-
-
-
-
-
-
-
-
-
-
-
-
-
-
-
-
-
-
-
-
-
-
-
-
-
-
-
-
-

Town of Mount Holly

17
17
17
17
17
17
104
104
104
104
104
104
-
1
-
-
-
-
-
-
-
-
-
-
-
-
-
-
-
-
-
-
-
-
-
-
-
-
-
-
-
-
-
-
-
-
-
-
-
-
-

Town of Mount Tabor

12
12
12
12
12
12
14
14
14
14
14
14
-
-
-
-
-
-
-
-
-
-
-
-
-
-
-
-
-
-
-
-
-
-
-
-
-
-
-
-
-
-
-
-
-
-
-
-
-
-
-

Town of Orwell

67
67
67
67
67
67
253
253
253
253
253
253
-
-
-
-
-
-
-
-
-
-
-
-
-
-
-
-
-
-
-
-
-
-
-
-
-
-
-
-
-
-
-
-
-
-
-
-
-
-
-

Town of Parkerstown

11
11
11
11
11
11
8
8
8
8
8
8
-
-
-
-
-
-
-
-
-
-
-
-
-
-
-
-
-
-
-
-
-
-
-
-
-
-
-
-
-
-
-
-
-
-
-
-
-
-
-

Town of Pawlett

139
139
139
139
139
139
199
199
199
199
198
199
-
-
-
-
-
-
-
-
-
-
-
-
-
-
-
-
-
-
-
-
-
-
-
-
-
-
-
-
-
-
-
-
-
-
-
-
-
-
-

Town of Philadelphia

15
15
14
15
15
15
23
23
23
24
23
23
-
-
-
-
-
-
-
-
-
-
-
-
-
-
-
-
-
-
-
-
-
-
-
-
-
-
-
-
-
-
-
-
-
-
-
-
-
-
-

Town of Pittsfield

18
18
18
18
18
18
45
45
45
45
45
45
-
-
-
-
-
-
-
-
-
-
-
-
-
-
-
-
-
-
-
-
-
-
-
-
-
-
-
-
-
-
-
-
-
-
-
-
-
-
-

Town of Pittsford

[23]
128
130
128
128
128
127
143
143
142
143
142
143
-
-
-
-
-
-
-
-
-
-
-
-
-
-
-
-
-
-
-
-
-
-
-
-
-
-
-
-
-
-
-
-
-
-
-
-
-
-
1

Town of Poultny

118
118
118
118
118
118
163
163
163
163
163
162
-
-
-
-
-
-
-
-
-
-
-
-
-
-
-
-
-
-
-
-
-
-
-
-
-
-
-
-
-
-
-
-
-
-
-
1
-
-
-

Town of Rutland

[24]
216
216
215
216
216
216
141
141
140
141
141
141
-
-
-
-
-
-
-
-
-
-
-
-
-
-
-
-
-
-
-
-
-
-
-
-
-
-
-
-
-
-
-
-
-
-
-
-
-
-
-

Town of Sherburne

3
3
3
3
3
3
29
29
29
29
29
29
-
-
-
-
-
-
-
-
-
-
-
-
-
-
-
-
-
-
-
-
-
-
-
-
-
-
-
-
-
-
-
-
-
-
-
-
-
-
-

Town of Shrewsbury

26
26
26
26
26
25
109
109
109
109
109
109
-
-
-
-
-
-
-
-
-
-
-
-
-
-
-
-
-
-
-
-
-
-
-
-
-
-
-
-
-
-
-
-
-
-
-
-
-
-
-

Town of Sudbury

19
19
18
19
19
19
121
121
121
121
121
121
-
-
-
-
-
-
-
-
-
-
-
-
-
-
-
-
-
-
-
-
-
-
-
-
-
-
-
-
-
-
-
-
-
-
-
-
-
-
-

Town of Tinmouth

108
108
108
108
108
108
57
57
57
57
57
57
-
-
-
-
-
-
-
-
-
-
-
-
-
-
-
-
-
-
-
-
-
-
-
-
-
-
-
-
-
-
-
-
-
-
-
-
-
-
-

Town of Wallingford

137
137
137
137
137
137
80
80
80
80
80
80
-
-
-
-
-
-
-
-
-
-
-
-
-
-
-
-
-
-
-
-
-
-
-
-
-
-
-
-
-
-
-
-
-
-
-
-
-
-
-

Town of Wells

38
38
38
38
38
38
116
116
116
116
116
116
-
-
-
-
-
-
-
-
-
-
-
-
-
-
-
-
-
-
-
-
-
-
-
-
-
-
-
-
-
-
-
-
-
-
-
-
-
-
-

Windham County

2971
2966
2970
2971
2967
2970
1404
1403
1403
1401
1399
1402
-
-
-
-
-
-
-
-
-
-
-
2
-
1
-
-
-
-
-
-
1
-
-
-
-
-
-
-
-
-
-
-
-
-
-
-
-
-
-

Town of Acton

[25]
-
-
-
-
-
-
-
-
-
-
-
-
-
-
-
-
-
-
-
-
-
-
-
-
-
-
-
-
-
-
-
-
-
-
-
-
-
-
-
-
-
-
-
-
-
-
-
-
-
-
-

Town of Athens

88
87
87
87
88
87
55
54
55
53
53
53
-
-
-
-
-
-
-
-
-
-
-
2
-
-
-
-
-
-
-
-
-
-
-
-
-
-
-
-
-
-
-
-
-
-
-
-
-
-
-

Town of Brattleboro

350
349
349
350
348
350
24
24
23
24
20
24
-
-
-
-
-
-
-
-
-
-
-
-
-
-
-
-
-
-
-
-
-
-
-
-
-
-
-
-
-
-
-
-
-
-
-
-
-
-
-

Town of Brookline

[26]
-
-
-
-
-
-
-
-
-
-
-
-
-
-
-
-
-
-
-
-
-
-
-
-
-
-
-
-
-
-
-
-
-
-
-
-
-
-
-
-
-
-
-
-
-
-
-
-
-
-
-

Town of Dover

[27]
74
74
74
74
74
74
52
52
52
52
52
52
-
-
-
-
-
-
-
-
-
-
-
-
-
-
-
-
-
-
-
-
-
-
-
-
-
-
-
-
-
-
-
-
-
-
-
-
-
-
-

Town of Dummerston

[28]
240
240
240
240
240
240
51
51
51
51
51
51
-
-
-
-
-
-
-
-
-
-
-
-
-
-
-
-
-
-
-
-
-
-
-
-
-
-
-
-
-
-
-
-
-
-
-
-
-
-
-

Town of Grafton

[29]
136
136
136
136
135
136
90
90
90
90
90
90
-
-
-
-
-
-
-
-
-
-
-
-
-
-
-
-
-
-
-
-
-
-
-
-
-
-
-
-
-
-
-
-
-
-
-
-
-
-
-

Town of Guilford

92
92
92
92
92
92
183
183
183
183
183
183
-
-
-
-
-
-
-
-
-
-
-
-
-
-
-
-
-
-
-
-
-
-
-
-
-
-
-
-
-
-
-
-
-
-
-
-
-
-
-

Town of Halifax

148
148
148
148
148
148
92
92
92
92
92
92
-
-
-
-
-
-
-
-
-
-
-
-
-
-
-
-
-
-
-
-
-
-
-
-
-
-
-
-
-
-
-
-
-
-
-
-
-
-
-

Town of Jamaica

133
133
133
133
133
133
13
13
13
13
13
13
-
-
-
-
-
-
-
-
-
-
-
-
-
-
-
-
-
-
-
-
-
-
-
-
-
-
-
-
-
-
-
-
-
-
-
-
-
-
-

Town of Londonderry

39
39
39
39
39
39
64
64
64
64
64
64
-
-
-
-
-
-
-
-
-
-
-
-
-
-
-
-
-
-
-
-
-
-
-
-
-
-
-
-
-
-
-
-
-
-
-
-
-
-
-

Town of Marlboro

115
116
116
116
116
116
64
64
63
64
64
64
-
-
-
-
-
-
-
-
-
-
-
-
-
-
-
-
-
-
-
-
-
-
-
-
-
-
-
-
-
-
-
-
-
-
-
-
-
-
-

Town of Newfane

182
182
182
182
181
182
41
41
41
41
41
41
-
-
-
-
-
-
-
-
-
-
-
-
-
-
-
-
-
-
-
-
1
-
-
-
-
-
-
-
-
-
-
-
-
-
-
-
-
-
-

Town of Putney

192
191
192
192
191
191
73
73
74
73
73
73
-
-
-
-
-
-
-
-
-
-
-
-
-
1
-
-
-
-
-
-
-
-
-
-
-
-
-
-
-
-
-
-
-
-
-
-
-
-
-

Town of Rockingham

162
162
162
162
162
162
150
150
150
150
150
150
-
-
-
-
-
-
-
-
-
-
-
-
-
-
-
-
-
-
-
-
-
-
-
-
-
-
-
-
-
-
-
-
-
-
-
-
-
-
-

Town of Somerset

13
13
13
13
13
13
18
18
18
18
18
18
-
-
-
-
-
-
-
-
-
-
-
-
-
-
-
-
-
-
-
-
-
-
-
-
-
-
-
-
-
-
-
-
-
-
-
-
-
-
-

Town of Stratton

35
35
35
35
35
35
6
6
6
6
6
6
-
-
-
-
-
-
-
-
-
-
-
-
-
-
-
-
-
-
-
-
-
-
-
-
-
-
-
-
-
-
-
-
-
-
-
-
-
-
-

Town of Townshend

203
200
203
203
203
203
28
27
28
26
28
27
-
-
-
-
-
-
-
-
-
-
-
-
-
-
-
-
-
-
-
-
-
-
-
-
-
-
-
-
-
-
-
-
-
-
-
-
-
-
-

Town of Vernon

94
94
94
94
94
94
16
16
16
16
16
16
-
-
-
-
-
-
-
-
-
-
-
-
-
-
-
-
-
-
-
-
-
-
-
-
-
-
-
-
-
-
-
-
-
-
-
-
-
-
-

Town of Wardsboro

143
143
143
143
143
143
35
35
35
35
35
35
-
-
-
-
-
-
-
-
-
-
-
-
-
-
-
-
-
-
-
-
-
-
-
-
-
-
-
-
-
-
-
-
-
-
-
-
-
-
-

Town of Westminster

191
191
191
191
191
191
162
162
161
162
162
162
-
-
-
-
-
-
-
-
-
-
-
-
-
-
-
-
-
-
-
-
-
-
-
-
-
-
-
-
-
-
-
-
-
-
-
-
-
-
-

Town of Whitingham

113
113
113
113
113
113
89
89
89
89
89
89
-
-
-
-
-
-
-
-
-
-
-
-
-
-
-
-
-
-
-
-
-
-
-
-
-
-
-
-
-
-
-
-
-
-
-
-
-
-
-

Town of Wilmington

187
187
187
187
187
187
17
17
17
17
17
17
-
-
-
-
-
-
-
-
-
-
-
-
-
-
-
-
-
-
-
-
-
-
-
-
-
-
-
-
-
-
-
-
-
-
-
-
-
-
-

Town of Windham

41
41
41
41
41
41
81
82
82
82
82
82
-
-
-
-
-
-
-
-
-
-
-
-
-
-
-
-
-
-
-
-
-
-
-
-
-
-
-
-
-
-
-
-
-
-
-
-
-
-
-

Windsor County

2164
2163
2164
2159
2162
2162
3407
3405
3406
3404
3408
3406
-
-
2
-
-
-
2
-
-
-
-
-
1
-
-
-
-
-
-
-
-
-
-
-
-
-
-
-
-
-
-
-
-
1
-
-
1
-
-

Town of Andover

38
38
38
38
38
38
152
151
152
152
152
152
-
-
-
-
-
-
-
-
-
-
-
-
-
-
-
-
-
-
-
-
-
-
-
-
-
-
-
-
-
-
-
-
-
1
-
-
-
-
-

Town of Baltimore

[30]
-
-
-
-
-
-
-
-
-
-
-
-
-
-
-
-
-
-
-
-
-
-
-
-
-
-
-
-
-
-
-
-
-
-
-
-
-
-
-
-
-
-
-
-
-
-
-
-
-
-
-

Town of Barnard

92
92
92
92
92
92
180
182
181
181
182
181
-
-
-
-
-
-
-
-
-
-
-
-
-
-
-
-
-
-
-
-
-
-
-
-
-
-
-
-
-
-
-
-
-
-
-
-
-
-
-

Town of Bethel

40
40
40
40
40
40
144
144
144
144
144
144
-
-
-
-
-
-
-
-
-
-
-
-
-
-
-
-
-
-
-
-
-
-
-
-
-
-
-
-
-
-
-
-
-
-
-
-
-
-
-

Town of Bridgewater

48
48
48
48
48
48
126
126
126
126
126
126
-
-
-
-
-
-
-
-
-
-
-
-
-
-
-
-
-
-
-
-
-
-
-
-
-
-
-
-
-
-
-
-
-
-
-
-
-
-
-

Town of Cavendish

[31]
33
33
33
33
32
33
244
244
245
244
244
244
-
-
-
-
-
-
-
-
-
-
-
-
-
-
-
-
-
-
-
-
-
-
-
-
-
-
-
-
-
-
-
-
-
-
-
-
-
-
-

Town of Chester

[32]
184
184
184
184
184
184
179
179
178
179
179
179
-
-
-
-
-
-
-
-
-
-
-
-
-
-
-
-
-
-
-
-
-
-
-
-
-
-
-
-
-
-
-
-
-
-
-
-
-
-
-

Town of Hartford

172
171
172
171
171
171
154
153
154
154
154
153
-
-
-
-
-
-
-
-
-
-
-
-
-
-
-
-
-
-
-
-
-
-
-
-
-
-
-
-
-
-
-
-
-
-
-
-
-
-
-

Town of Hartland

99
99
98
98
99
99
259
259
259
259
259
259
-
-
-
-
-
-
-
-
-
-
-
-
-
-
-
-
-
-
-
-
-
-
-
-
-
-
-
-
-
-
-
-
-
-
-
-
-
-
-

Town of Ludlow

43
43
43
43
43
43
96
96
96
96
96
96
-
-
-
-
-
-
-
-
-
-
-
-
-
-
-
-
-
-
-
-
-
-
-
-
-
-
-
-
-
-
-
-
-
-
-
-
-
-
-

Town of Norwich

112
112
112
112
112
112
162
162
162
162
162
162
-
-
-
-
-
-
-
-
-
-
-
-
-
-
-
-
-
-
-
-
-
-
-
-
-
-
-
-
-
-
-
-
-
-
-
-
-
-
-

Town of Plymouth

52
52
52
52
52
52
69
69
69
69
69
69
-
-
-
-
-
-
-
-
-
-
-
-
-
-
-
-
-
-
-
-
-
-
-
-
-
-
-
-
-
-
-
-
-
-
-
-
-
-
-

Town of Pomfret

22
23
22
22
23
23
204
203
203
201
204
204
-
-
-
-
-
-
2
-
-
-
-
-
-
-
-
-
-
-
-
-
-
-
-
-
-
-
-
-
-
-
-
-
-
-
-
-
-
-
-

Town of Reading

131
131
131
131
131
131
116
116
116
116
116
116
-
-
-
-
-
-
-
-
-
-
-
-
-
-
-
-
-
-
-
-
-
-
-
-
-
-
-
-
-
-
-
-
-
-
-
-
-
-
-

Town of Rochester

102
102
103
102
102
102
60
60
59
59
60
60
-
-
-
-
-
-
-
-
-
-
-
-
-
-
-
-
-
-
-
-
-
-
-
-
-
-
-
-
-
-
-
-
-
-
-
-
-
-
-

Town of Royalton

161
161
161
161
161
161
117
117
117
117
117
117
-
-
-
-
-
-
-
-
-
-
-
-
-
-
-
-
-
-
-
-
-
-
-
-
-
-
-
-
-
-
-
-
-
-
-
-
-
-
-

Town of Sharon

128
128
128
128
128
128
101
101
101
101
101
101
-
-
-
-
-
-
-
-
-
-
-
-
-
-
-
-
-
-
-
-
-
-
-
-
-
-
-
-
-
-
-
-
-
-
-
-
-
-
-

Town of Springfield

170
170
170
170
170
170
174
174
174
174
174
173
-
-
-
-
-
-
-
-
-
-
-
-
-
-
-
-
-
-
-
-
-
-
-
-
-
-
-
-
-
-
-
-
-
-
-
-
-
-
-

Town of Stockbridge

[33]
4
4
4
4
4
4
95
95
95
95
95
95
-
-
-
-
-
-
-
-
-
-
-
-
-
-
-
-
-
-
-
-
-
-
-
-
-
-
-
-
-
-
-
-
-
-
-
-
-
-
-

Town of Weathersfield

240
240
240
238
240
239
108
108
108
108
108
108
-
-
2
-
-
-
-
-
-
-
-
-
-
-
-
-
-
-
-
-
-
-
-
-
-
-
-
-
-
-
-
-
-
-
-
-
1
-
-

Town of Weston

[34]
-
-
-
-
-
-
-
-
-
-
-
-
-
-
-
-
-
-
-
-
-
-
-
-
-
-
-
-
-
-
-
-
-
-
-
-
-
-
-
-
-
-
-
-
-
-
-
-
-
-
-

Town of Windsor

200
199
200
199
199
199
300
299
300
300
300
300
-
-
-
-
-
-
-
-
-
-
-
-
1
-
-
-
-
-
-
-
-
-
-
-
-
-
-
-
-
-
-
-
-
-
-
-
-
-
-

Town of Woodstock

93
93
93
93
93
93
367
367
367
367
366
367
-
-
-
-
-
-
-
-
-
-
-
-
-
-
-
-
-
-
-
-
-
-
-
-
-
-
-
-
-
-
-
-
-
-
-
-
-
-
-
Notes:
References:
Original Election Returns. Vermont State Archives, Middlesex.
Brattleboro Town Records.
Bridgewater Town Records.
Georgia Town Records.
Granby Town Records.
Groton Town Records.
Halifax Town Records.
Kellyvale Town Records.
Navy Town Records.
Philadelphia Town Records.
Somerset Town Records.
Topsham Town Records.
Townshend Town Records.
Wardsboro Town Records.
The Washingtonian (Windsor, VT). October 20, 1814.
The Watchman (Montpelier, VT). October 20, 1814.
Spooner's Vermont Journal (Windsor, VT). October 22, 1814.
The Washingtonian (Windsor, VT). October 24, 1814.
The Vermont Mirror (Middlebury, VT). October 26, 1814.
Columbian Centinel. Massachusetts Federalist (Boston, MA). October 29, 1814.
National Intelligencer (Washington, DC). November 5, 1814.
Page Images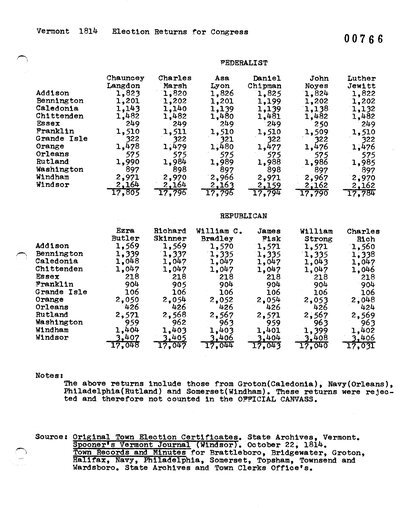 These election records were released on 11 January 2012. Versions numbers are assigned by state. Alabama, Arkansas, Delaware, Florida, Georgia, Illinois, Indiana, Kentucky, Louisiana, Maine, Maryland, Michigan, Missouri, North Carolina, Ohio, Rhode Island, South Carolina, Tennessee and Virginia are complete and are in Version 1.0. All other states are in a Beta version. For more information go to the about page.