Georgia 1813 U.S. House of Representatives, Special
Office:

U.S. House of Representatives (Federal)

Title:

U.S. Congressman

Jurisdiction:

Federal
Label:

Georgia 1813 U.S. House of Representatives, Special

Date:

1813

State:

Georgia

Type:

Special

Iteration:

First Ballot

Office/Role:

U.S. House of Representatives/U.S. Congressman

Candidates:

Alfred Cuthbert, Benjamin Skrine, William Terrell, John M. Dooly
Candidates:
Alfred Cuthbert[1]
Benjamin Skrine
William Terrell
John M. Dooly
Affiliation:
Final Result: [2][3][4]
2251
1512
1263
1233

Baldwin County

87
73
83
68

Bulloch County

22
-
-
-

Burke County

102
57
2
49

Bryan County

23
-
1
-

Camden County

44
-
-
-

Chatham County

390
-
18
2

Clarke County

97
2
36
26

Columbia County

81
20
11
39

Effingham County

20
1
-
-

Elbert County

35
1
62
42

Emanuel County

4
26
-
-

Franklin County

53
-
23
127

Glynn County

[5]
20
-
2
-

Greene County

4
3
183
26

Hancock County

6
25
352
6

Jackson County

87
-
12
16

Jasper County

6
21
43
34

Jefferson County

34
168
13
1

Jones County

22
226
71
55

Laurens County

19
138
-
-

Liberty County

64
-
4
-

Lincoln County

27
-
4
300

Madison County

90
-
-
-

McIntosh County

16
-
-
72

Montgomery County

32
1
1
-

Morgan County

59
17
55
19

Oglethorpe County

113
2
103
40

Pulaski County

17
89
1
10

Putnam County

[6]
195
15
36
14

Randolph County

-
-
-
-

Richmond County

176
8
6
19

Screven County

70
10
-
-

Tattnall County

38
-
-
-

Telfair County

25
-
-
-

Twiggs County

20
127
1
1

Warren County

50
160
23
6

Washington County

7
281
5
2

Wayne County

31
-
-
-

Wilkes County

21
2
107
257

Wilkinson County

[7]
64
39
7
2
Notes:
References:
Georgia Executive Minutes, 1813.
Georgia Journal (Milledgeville, GA). December 15, 1813.
The Republican and Savannah Evening Ledger (Savannah, GA). January 4, 1814.
Page Images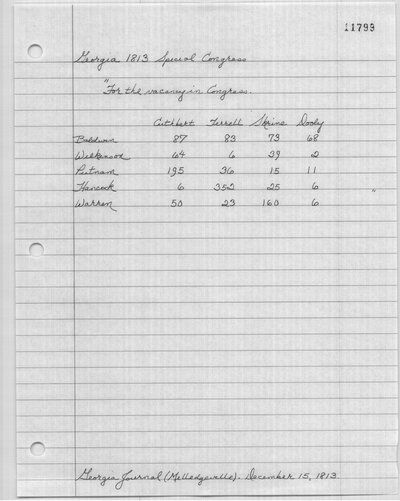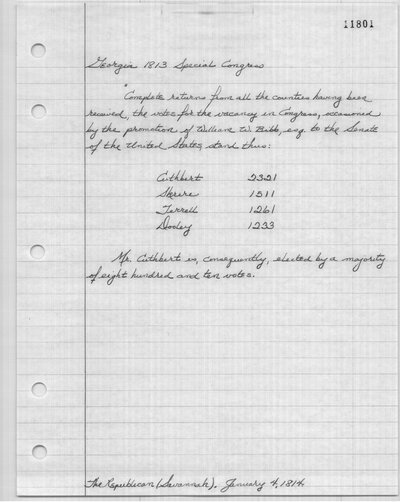 These election records were released on 11 January 2012. Versions numbers are assigned by state. Alabama, Arkansas, Delaware, Florida, Georgia, Illinois, Indiana, Kentucky, Louisiana, Maine, Maryland, Michigan, Missouri, North Carolina, Ohio, Rhode Island, South Carolina, Tennessee and Virginia are complete and are in Version 1.0. All other states are in a Beta version. For more information go to the about page.