Massachusetts 1802 U.S. House of Representatives, Worcester South District
Office:

U.S. House of Representatives (Federal)

Title:

U.S. Congressman

Jurisdiction:

Federal
Label:

Massachusetts 1802 U.S. House of Representatives, Worcester South District

Date:

1802

State:

Massachusetts

Type:

General

Iteration:

First Ballot

Office/Role:

U.S. House of Representatives/U.S. Congressman

Candidates:

Seth Hastings, Edward Bangs, Elijah Brigham, John Spurr, John Robinson, Francis Blake, Joseph Sumner
Candidates:
Seth Hastings[1]
Edward Bangs
Elijah Brigham
John Spurr
John Robinson
Francis Blake
Joseph Sumner
Affiliation:
Federalist
Republican
Final Result: [2]
1391
834
4
3
2
1
1

District of Worcester South

1391
834
4
3
2
1
1

Worcester County

1391
834
4
3
2
1
1

Town of Brookfield

178
81
-
-
-
-
-

Town of Charlton

83
27
-
-
-
-
-

Town of Douglas

60
6
-
-
-
-
-

Town of Dudley

65
3
-
3
-
-
-

Town of Grafton

34
65
-
-
-
-
-

Town of Leicester

76
34
-
-
-
-
-

Town of Mendon

46
60
-
-
-
-
-

Town of Milford

19
49
-
-
-
-
-

Town of New Braintree

[3]
65
4
-
-
-
-
-

Town of Northborough

55
5
-
-
-
-
-

Town of Northbridge

41
6
-
-
-
-
-

Town of Oxford

34
17
-
-
-
-
-

Town of Shrewsbury

93
48
-
-
-
-
1

Town of Southborough

52
4
-
-
-
1
-

Town of Spencer

62
14
-
-
-
-
-

Town of Sturbridge

82
18
-
-
-
-
-

Town of Sutton

77
111
2
-
-
-
-

Town of Upton

28
26
-
-
-
-
-

Town of Uxbridge

71
26
-
-
-
-
-

Town of Ward

17
40
-
-
-
-
-

Town of Westborough

39
36
2
-
2
-
-

Town of Western

38
24
-
-
-
-
-

Town of Worcester

76
130
-
-
-
-
-
Notes:
[2]
"Hon. SETH HASTINGS, (Anti-Republican) chosen ... We cannot forbear, on this occasion, to notice with regret and disappointment, the torpid indifference among the Republicans, which has prevailed in most of the towns in this District. In the single town of Worcester, it is ascertained that nearly an hundred Republican votes were lost. Our antagonists are challenged to name a dozen of their party, who were not at their posts. The same criminal inattention on the one side--the same vigilant assiduity on the other, may be remarked in the returns from almost every other town in the District. In some we notice with much satisfaction, the symptoms of an awakening among the people. In Brookfield, where but a few years since, every glimmering spark of Republicanism was smothered by the overbearing influence of a few individuals, it appears not to be kindling to a flame, and 'the growing brighter and brighter even unto the perfect day.' Where, but a few years since, scarcely a solitary Republican vote could be found, there are now upwards of EIGHTY, who dare to claim the character of Freemen. In Western, we have also seen with pleasure, the rapid growth of the principles for which we are contending.--In Barre, Petersham, and several other towns in the Northern district, the result has been equally flattering. On the whole we are convinced that nothing has been wanting but exertion, to carry the republican candidate in the Southern district. We have not been vanquished by the strength of federalism, but by our own sluggishness and disgraceful indifference. While we are thus 'dead in the sin of omission,' it is in vain to struggle 'against the powers of darkness!' PAUL may plant,--and APOLLO may water, but the vigilance and attention of the people, will alone give us the increase!" The National Aegis (Worcester, MA). November 3, 1802.
[3]
The votes from New Braintree were not included in the Official Election Returns.
References:
Original Election Returns. Massachusetts State Archives, Boston.
New Braintree Town Records.
The National Aegis (Worcester, MA). November 3, 1802.
New-England Palladium (Boston, MA). November 5, 1802.
Columbian Centinel. Massachusetts Federalist (Boston, MA). November 6, 1802.
Columbian Centinel. Massachusetts Federalist (Boston, MA). November 10, 1802.
Columbian Minerva (Dedham, MA). November 16, 1802.
Page Images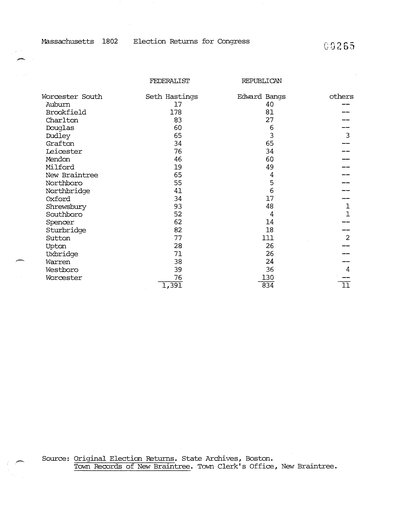 These election records were released on 11 January 2012. Versions numbers are assigned by state. Alabama, Arkansas, Delaware, Florida, Georgia, Illinois, Indiana, Kentucky, Louisiana, Maine, Maryland, Michigan, Missouri, North Carolina, Ohio, Rhode Island, South Carolina, Tennessee and Virginia are complete and are in Version 1.0. All other states are in a Beta version. For more information go to the about page.