Vermont 1804 U.S. House of Representatives, District 1
Office:

U.S. House of Representatives (Federal)

Title:

U.S. Congressman

Jurisdiction:

Federal
Label:

Vermont 1804 U.S. House of Representatives, District 1

Date:

1804

State:

Vermont

Type:

General

Iteration:

First Ballot

Office/Role:

U.S. House of Representatives/U.S. Congressman

Candidates:

Gideon Olin, Jonas Galusha, Chauncey Langdon, Ebenezer Harris, James Witherill, Jacob Galusha, Isaac Tichenor, Solomon Knight, Jonathan Robinson, C. Smith, Jr., Thomas Hammond, Martin Norton, Moses Robinson, Jr., Moses Watkins, Jonathan Wells, scattering
Candidates:
Gideon Olin[1]
Jonas Galusha
Chauncey Langdon
Ebenezer Harris
James Witherill
Jacob Galusha
Isaac Tichenor
Solomon Knight
Jonathan Robinson
C. Smith, Jr.
Thomas Hammond
Martin Norton
Moses Robinson, Jr.
Moses Watkins
Jonathan Wells
scattering
Affiliation:
Republican
Republican
Federalist
Federalist
Final Result: [2]
1985
848
658
-
-
-
-
-
-
-
-
-
-
-
-
19

District of Southwest

1985
848
658
-
-
-
-
-
-
-
-
-
-
-
-
19

Bennington County

-
-
-
-
-
-
-
-
-
-
-
-
-
-
-
-

Town of Arlington

-
-
-
-
-
-
-
-
-
-
-
-
-
-
-
-

Town of Bennington

171
71
-
-
-
-
-
-
-
-
-
1
1
-
-
-

Town of Dorset

89
47
-
-
-
-
-
-
-
-
-
-
-
-
-
-

Town of Landgrove

-
-
-
-
-
-
-
-
-
-
-
-
-
-
-
-

Town of Manchester

104
8
9
-
-
-
-
-
-
-
-
-
-
-
-
-

Town of Peru

7
-
13
-
-
-
-
-
-
-
-
-
-
-
-
-

Town of Pownal

[3]
137
97
1
-
-
-
-
2
-
-
-
-
-
-
-
-

Town of Readsboro

6
26
-
-
-
-
-
-
-
-
-
-
-
-
-
-

Town of Rupert

-
-
-
-
-
-
-
-
-
-
-
-
-
-
-
-

Town of Sandgate

-
-
-
-
-
-
-
-
-
-
-
-
-
-
-
-

Town of Shaftsbury

[4]
89
105
2
9
-
4
-
-
-
-
-
-
-
-
-
-

Town of Stamford

-
-
-
-
-
-
-
-
-
-
-
-
-
-
-
-

Town of Sunderland

44
6
12
-
-
-
-
-
-
-
-
-
-
-
-
-

Town of Windhall

-
-
-
-
-
-
-
-
-
-
-
-
-
-
-
-

Town of Woodford

-
-
-
-
-
-
-
-
-
-
-
-
-
-
-
-

Rutland County

-
-
-
-
-
-
-
-
-
-
-
-
-
-
-
-

Town of Benson

-
-
-
-
-
-
-
-
-
-
-
-
-
-
-
-

Town of Brandon

-
-
-
-
-
-
-
-
-
-
-
-
-
-
-
-

Town of Castleton

-
-
-
-
-
-
-
-
-
-
-
-
-
-
-
-

Town of Chittenden

-
-
-
-
-
-
-
-
-
-
-
-
-
-
-
-

Town of Clarendon

-
-
-
-
-
-
-
-
-
-
-
-
-
-
-
-

Town of Danby

-
-
-
-
-
-
-
-
-
-
-
-
-
-
-
-

Town of Fairhaven

-
-
-
-
-
-
-
-
-
-
-
-
-
-
-
-

Town of Hubbarton

-
-
-
-
-
-
-
-
-
-
-
-
-
-
-
-

Town of Ira

-
-
-
-
-
-
-
-
-
-
-
-
-
-
-
-

Town of Middletown

42
30
50
-
-
-
2
-
1
-
-
-
-
-
-
-

Town of Mount Holly

-
-
-
-
-
-
-
-
-
-
-
-
-
-
-
-

Town of Mount Tabor

-
-
-
-
-
-
-
-
-
-
-
-
-
-
-
-

Town of Orwell

106
-
8
-
-
-
-
-
-
-
-
-
-
-
-
-

Town of Parkerstown

-
-
-
-
-
-
-
-
-
-
-
-
-
-
-
-

Town of Pawlet

58
24
59
-
-
-
-
-
-
-
-
-
-
-
-
-

Town of Philadelphia

-
-
-
-
-
-
-
-
-
-
-
-
-
-
-
-

Town of Pittsfield

-
-
-
-
-
-
-
-
-
-
-
-
-
-
-
-

Town of Pittsford

36
26
34
-
-
-
-
-
-
-
1
-
-
-
-
-

Town of Poultney

-
-
-
-
-
-
-
-
-
-
-
-
-
-
-
-

Town of Rutland

41
19
119
-
6
-
-
-
1
2
-
-
1
1
-
-

Town of Sherburne

-
-
-
-
-
-
-
-
-
-
-
-
-
-
-
-

Town of Shrewsbury

32
1
6
-
-
-
1
-
-
-
-
-
-
-
-
-

Town of Sudbury

-
-
-
-
-
-
-
-
-
-
-
-
-
-
-
-

Town of Tinmouth

-
-
-
-
-
-
-
-
-
-
-
-
-
-
-
-

Town of Wallingford

-
-
-
-
-
-
-
-
-
-
-
-
-
-
-
-

Town of Wells

-
-
-
-
-
-
-
-
-
-
-
-
-
-
-
-
Notes:
References:
Original Election Returns. Vermont State Archives, Middlesex.
Bennington Town Records.
Middletown Town Records.
Orwell Town Records.
Peru Town Records.
Pittsford Town Records.
Pownal Town Records.
Readsboro Town Records.
Rutland Town Records.
Shaftsbury Town Records.
Shrewsbury Town Records.
Rutland Herald (Rutland, VT). September 8, 1804.
Vermont Gazette (Bennington, VT). September 10, 1804.
Windsor Federal Gazette (Windsor, VT). October 23, 1804.
Middlebury Mercury (Middlebury, VT). October 24, 1804.
Weekly Wanderer (Randolph, VT). October 29, 1804.
The Green Mountain Patriot (Peacham, VT). October 30, 1804.
National Intelligencer and Washington Advertiser (Washington, DC). November 5, 1804.
Page Images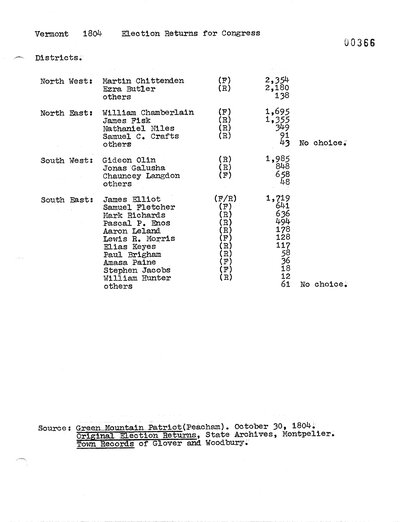 These election records were released on 11 January 2012. Versions numbers are assigned by state. Alabama, Arkansas, Delaware, Florida, Georgia, Illinois, Indiana, Kentucky, Louisiana, Maine, Maryland, Michigan, Missouri, North Carolina, Ohio, Rhode Island, South Carolina, Tennessee and Virginia are complete and are in Version 1.0. All other states are in a Beta version. For more information go to the about page.