Maryland 1789 Electoral College, Eastern Shore
Office:

Electoral College (Federal)

Title:

Elector

Jurisdiction:

Federal
Label:

Maryland 1789 Electoral College, Eastern Shore

Date:

1789

State:

Maryland

Type:

General

Iteration:

First Ballot

Office/Role:

Electoral College/Elector

Electors:

William Tilghman, William Richardson, William Matthews, John Seney, James Shaw, Henry Waggaman, John Done, Nathaniel Ramsey
Electors:
William Tilghman[1]
William Richardson[2]
William Matthews[3]
John Seney
James Shaw
Henry Waggaman
John Done
Nathaniel Ramsey
Affiliation:
Federalist
Federalist
Federalist
Anti-Federalist
Anti-Federalist
Anti-Federalist
Federalist
Federalist
Presidential Candidate:
George Washington / Robert H. Harrison
George Washington
George Washington / Robert H. Harrison
George Washington
George Washington
George Washington
George Washington
George Washington
Final Result: [4][5][6]
5746
5402
5291
2209
2130
1669
165
70

District of One

366
377
389
111
100
4
-
-

Calvert County

168
168
168
83
83
-
-
-

Charles County

114
119
121
13
4
4
-
-

Saint Mary's County

84
90
100
15
13
-
-
-

District of Two

1032
1001
967
102
46
-
7
-

Cecil County

519
519
519
-
-
-
-
-

Kent County

209
182
174
53
39
-
-
-

Queen Anne's County

51
46
27
49
7
-
-
-

Talbot County

[7]
253
254
247
-
-
-
7
-

District of Three

515
475
477
674
656
617
1
-

Anne Arundel County

[8]
246
216
210
454
437
404
1
-

City of Annapolis

133
99
94
108
92
65
1
-

Prince George's County

269
269
267
220
219
213
-
-

District of Four

1048
827
821
1196
1209
948
-
70

Town of Baltimore

477
479
474
353
352
350
-
70

Baltimore County

132
142
142
602
617
594
-
-

Harford County

439
204
203
241
240
4
-
-

District of Five

412
349
378
79
77
100
157
-

Caroline County

128
128
127
1
-
1
1
-

Dorchester County

98
13
39
-
68
23
-
-

Somerset County

210
208
211
-
-
2
2
-

Worcester County

[9]
76
-
1
78
9
74
154
-

District of Six

2273
2265
2261
47
40
-
-
-

Frederick County

788
787
787
3
2
-
-
-

Montgomery County

[10]
321
314
310
44
38
-
-
-

Washington County

1164
1164
1164
-
-
-
-
-
Notes:
References:
Original Election Certificate. Maryland State Archives, Annapolis.
The Maryland Gazette (Annapolis, MD). January 22, 1789.
DenBoer, Gordon and Lucy Trumbull Brown, ed. The Documentary History of the First Federal Elections: 1788-1790. Vol. II. Madison, WI: University of Wisconsin Press, 1976. 205.
Scharf, J. Thomas. History of Maryland from the Earliest Period to the Present Day. Vol. II. Baltimore: J.B. Piet, 1879. 549.
Willis, John T. Presidential Elections in Maryland. Mt. Airy, MD: Lomond Publications, 1984. 155.
Page Images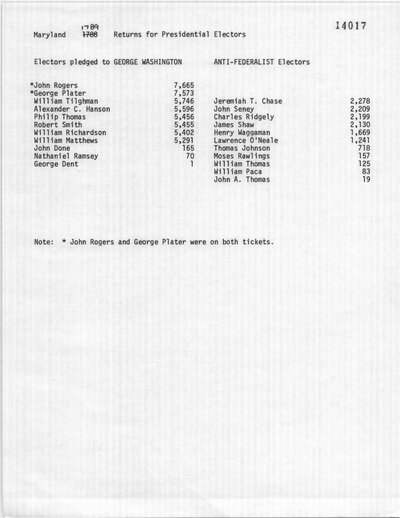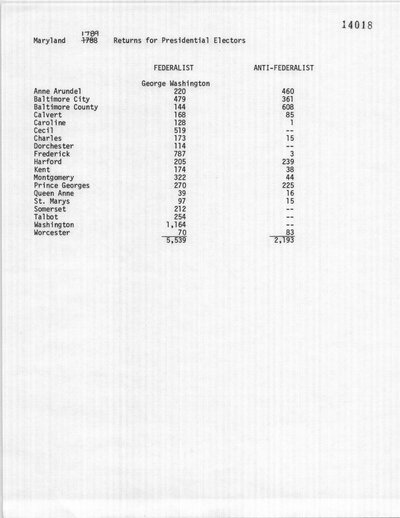 These election records were released on 11 January 2012. Versions numbers are assigned by state. Alabama, Arkansas, Delaware, Florida, Georgia, Illinois, Indiana, Kentucky, Louisiana, Maine, Maryland, Michigan, Missouri, North Carolina, Ohio, Rhode Island, South Carolina, Tennessee and Virginia are complete and are in Version 1.0. All other states are in a Beta version. For more information go to the about page.