Massachusetts 1814 State Senate, Worcester County
Office:

State Senate (State)

Title:

State Senator

Jurisdiction:

State
Label:

Massachusetts 1814 State Senate, Worcester County

Date:

1814

State:

Massachusetts

Type:

General

Iteration:

First Ballot

Office/Role:

State Senate/State Senator

Candidates:

Benjamin Adams, Moses Smith, Silas Holman, Francis Blake, Joseph Adams, Edmund Cushing, Sumner Bastow, Moses White, Oliver Crosby, Thomas Denny, Eleazer James, Samuel Dexter, Levi Lincoln, Jr., scattering
Candidates:
Benjamin Adams[1]
Moses Smith[2]
Silas Holman[3]
Francis Blake[4]
Joseph Adams
Edmund Cushing
Sumner Bastow
Moses White
Oliver Crosby
Thomas Denny
Eleazer James
Samuel Dexter
Levi Lincoln, Jr.
scattering
Affiliation:
Federalist
Federalist
Federalist
Federalist
Republican
Republican
Republican
Republican
Republican
Republican
Final Result: [5]
7030
7027
7023
6936
-
-
-
-
-
-
-
-
-
-

Worcester County

7030
7027
7023
6936
-
-
-
-
-
-
-
-
-
-

Town of Ashburnham

-
-
-
-
-
-
-
-
-
-
-
-
-
-

Town of Athal

-
-
-
-
-
-
-
-
-
-
-
-
-
-

Town of Barre

-
-
-
-
-
-
-
-
-
-
-
-
-
-

Town of Berlin

-
-
-
-
-
-
-
-
-
-
-
-
-
-

Town of Bolton

-
-
-
-
-
-
-
-
-
-
-
-
-
-

Town of Boylston

-
-
-
-
-
-
-
-
-
-
-
-
-
-

Town of Brookfield

279
279
279
279
100
100
100
100
-
-
-
-
-
4

Town of Charlton

120
120
120
114
233
233
233
233
-
-
-
-
-
-

Town of Dana

26
26
26
26
66
66
66
66
-
-
-
-
-
-

Town of Douglas

-
-
-
-
-
-
-
-
-
-
-
-
-
-

Town of Dudley

-
-
-
-
-
-
-
-
-
-
-
-
-
-

Town of Fitchburg

146
145
146
146
148
148
148
148
-
-
-
-
-
-

Town of Gardner

-
-
-
-
-
-
-
-
-
-
-
-
-
-

Town of Grafton

-
-
-
-
-
-
-
-
-
-
-
-
-
-

Town of Hardwick

163
163
163
163
106
106
106
106
-
-
-
-
-
-

Town of Harvard

-
-
-
-
-
-
-
-
-
-
-
-
-
-

Town of Holden

-
-
-
-
-
-
-
-
-
-
-
-
-
-

Town of Hubbardston

-
-
-
-
-
-
-
-
-
-
-
-
-
-

Town of Lancaster

-
-
-
-
-
-
-
-
-
-
-
-
-
-

Town of Leicester

-
-
-
-
-
-
-
-
-
-
-
-
-
-

Town of Leominster

-
-
-
-
-
-
-
-
-
-
-
-
-
-

Town of Lunenberg

-
-
-
-
-
-
-
-
-
-
-
-
-
-

Town of Mendon

67
67
67
67
156
156
156
156
-
-
-
1
1
-

Town of Milford

-
-
-
-
-
-
-
-
-
-
-
-
-
-

Town of Millbury

-
-
-
-
-
-
-
-
-
-
-
-
-
-

Town of New Braintree

147
147
147
145
13
13
13
13
-
-
-
-
-
-

Town of North Brookfield

-
-
-
-
-
-
-
-
-
-
-
-
-
-

Town of Northborough

-
-
-
-
-
-
-
-
-
-
-
-
-
-

Town of Northbridge

-
-
-
-
-
-
-
-
-
-
-
-
-
-

Town of Oakham

-
-
-
-
-
-
-
-
-
-
-
-
-
-

Town of Oxford

-
-
-
-
-
-
-
-
-
-
-
-
-
-

Town of Paxton

90
90
90
74
29
29
29
25
1
2
-
-
-
-

Town of Petersham

-
-
-
-
-
-
-
-
-
-
-
-
-
-

Town of Phillipston

-
-
-
-
-
-
-
-
-
-
-
-
-
-

Town of Princetown

184
184
184
183
16
16
16
16
-
-
-
-
-
-

Town of Royalston

-
-
-
-
-
-
-
-
-
-
-
-
-
-

Town of Rutland

-
-
-
-
-
-
-
-
-
-
-
-
-
-

Town of Shrewsbury

-
-
-
-
-
-
-
-
-
-
-
-
-
-

Town of Southborough

-
-
-
-
-
-
-
-
-
-
-
-
-
-

Town of Spencer

121
121
121
121
126
126
126
126
-
-
-
-
-
-

Town of Sterling

[6]
269
269
269
269
40
40
40
40
-
-
-
-
-
-

Town of Sturbridge

124
124
124
124
153
153
153
153
-
-
-
-
-
-

Town of Sutton

-
-
-
-
-
-
-
-
-
-
-
-
-
-

Town of Templeton

-
-
-
-
-
-
-
-
-
-
-
-
-
-

Town of Upton

-
-
-
-
-
-
-
-
-
-
-
-
-
-

Town of Uxbridge

-
-
-
-
-
-
-
-
-
-
-
-
-
-

Town of Ward

-
-
-
-
-
-
-
-
-
-
-
-
-
-

Town of West Boylston

-
-
-
-
-
-
-
-
-
-
-
-
-
-

Town of Westborough

-
-
-
-
-
-
-
-
-
-
-
-
-
-

Town of Western

94
94
94
94
73
73
73
73
-
-
-
-
-
-

Town of Westminster

-
-
-
-
-
-
-
-
-
-
-
-
-
-

Town of Winchendon

-
-
-
-
-
-
-
-
-
-
-
-
-
-

Town of Worcester

194
192
194
190
236
236
236
236
1
-
2
-
-
-
Notes:
References:
Governor's Council Records. Massachusetts State Archives, Boston.
Brookfield Town Records.
Charlton Town Records.
Dana Town Records.
Fitchburg Town Records. Vol. V. 88-89.
Hardwick Town Records.
New Braintree Town Records.
Paxton Town Records.
Princeton Town Records.
Sterling Town Records.
Spencer Town Records.
Sturbridge Town Records.
Warren Town Records.
Worcester Town Records. 286-287.
The Pittsfield Sun (Pittsfield, MA). April 21, 1814.
Columbian Centinel. Massachusetts Federalist (Boston, MA). May 11, 1814.
Portland Gazette, and Maine Advertiser (Portland, ME). May 16, 1814.
Newburyport Herald. And Country Gazette (Newburyport, MA). May 17, 1814.
Hallowell Gazette (Hallowell, ME). May 18, 1814.
Hampden Federalist (Springfield, MA). May 19, 1814.
New-Bedford Mercury (New Bedford, MA). May 20, 1814.
Metcalf, John G. Annals of the Town of Mendon, from 1659 to 1880. Providence: E. L. Freeman, 1880. 492.
Page Images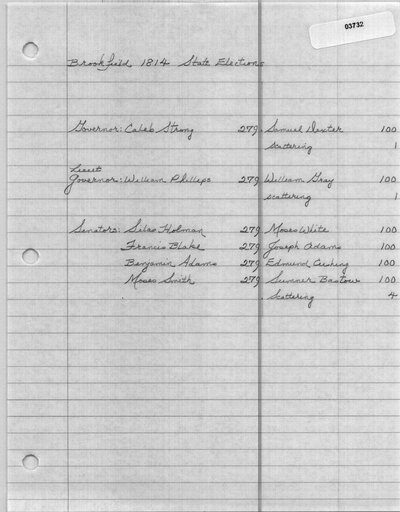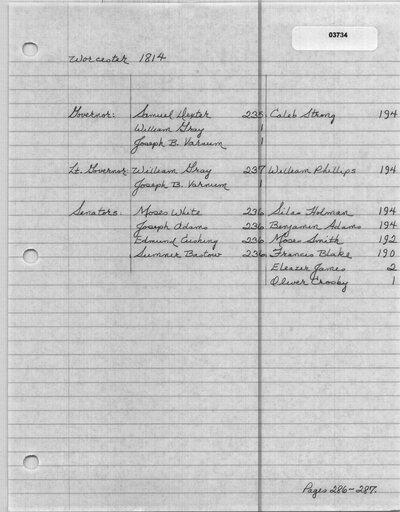 These election records were released on 11 January 2012. Versions numbers are assigned by state. Alabama, Arkansas, Delaware, Florida, Georgia, Illinois, Indiana, Kentucky, Louisiana, Maine, Maryland, Michigan, Missouri, North Carolina, Ohio, Rhode Island, South Carolina, Tennessee and Virginia are complete and are in Version 1.0. All other states are in a Beta version. For more information go to the about page.