Vermont 1797 U.S. House of Representatives, District 1, Ballot 3
Office:

U.S. House of Representatives (Federal)

Title:

U.S. Congressman

Jurisdiction:

Federal
Label:

Vermont 1797 U.S. House of Representatives, District 1, Ballot 3

Date:

1797

State:

Vermont

Type:

General

Iteration:

Third Ballot

Office/Role:

U.S. House of Representatives/U.S. Congressman

Candidates:

Matthew Lyon, Samuel Hitchcock, Israel Smith, Jonas Galusha, Samuel Williams, Daniel Chipman, Nathaniel Chipman, James Lyon, Jonathan Robinson, Thomas D. Rood, Noah Smith, Enoch Woodbridge, scattering
Candidates:
Matthew Lyon[1]
Samuel Hitchcock
Israel Smith
Jonas Galusha
Samuel Williams
Daniel Chipman
Nathaniel Chipman
James Lyon
Jonathan Robinson
Thomas D. Rood
Noah Smith
Enoch Woodbridge
scattering
Affiliation:
Republican
Federalist
Republican
Republican
Federalist
Federalist
Federalist
Final Result: [2]
2143
1143
346
151
27
-
-
-
-
-
-
-
73

District of Western

2143
1143
346
151
27
-
-
-
-
-
-
-
73

Addison County

-
-
-
-
-
-
-
-
-
-
-
-
-

Town of Bridport

10
23
2
-
-
-
1
-
-
-
-
-
-

Town of Bristol

10
12
2
-
-
-
-
-
-
-
-
-
-

Town of Ferrisburgh

12
57
-
-
-
-
-
-
-
-
-
-
-

Town of Hancock

12
-
-
-
-
1
-
-
-
-
-
-
-

Town of Panton

17
8
4
-
1
-
-
-
-
-
-
-
-

Bennington County

-
-
-
-
-
-
-
-
-
-
-
-
-

Town of Bennington

12
89
56
9
-
-
-
-
1
-
-
-
-

Town of Shaftsbury

26
1
1
52
-
-
-
-
-
-
-
-
-

Chittenden County

-
-
-
-
-
-
-
-
-
-
-
-
-

Town of Essex

6
21
2
-
-
-
-
-
-
-
-
-
-

Town of Jericho

26
12
7
7
-
-
-
-
-
1
-
-
-

Town of Milton

37
1
-
-
-
-
-
-
-
-
1
1
-

Town of Shelburne

36
5
-
-
-
-
-
-
-
-
-
-
-

Franklin County

-
-
-
-
-
-
-
-
-
-
-
-
-

Town of Georgia

[3]
-
-
-
-
-
-
-
-
-
-
-
-
-

Rutland County

-
-
-
-
-
-
-
-
-
-
-
-
-

Town of Benson

87
5
-
-
2
-
-
-
-
-
-
-
-

Town of Mount Holly

12
-
1
-
-
-
-
-
-
-
-
-
-

Town of Pittsford

17
60
-
-
-
-
-
1
-
-
-
-
-
Notes:
[2]
"BENNINGTON, March 9. The following is the statement of the votes for representative to the Congress of the United States, for the Western District, Vermont. For Lyon, 2143, Hitchcock, 1143, Smith 346, Galusha, 151, S. Williams, 27, scattering votes, 80. Of course Col. Matthew Lyon is duly elected, having 399 majority." Tablet of the Times (Bennington, VT). March 9, 1797.
[3]
58 freemen voted, no vote for candidates was given.
References:
Bennington Town Records.
Benson Town Records.
Bridport Town Records.
Bristol Town Records.
Essex Town Records.
Ferrisburgh Town Records.
Georgia Town Records.
Hancock Town Records.
Jericho Town Records.
Milton Town Records.
Mount Holly Town Records.
Panton Town Records.
Pittsford Town Records.
Shaftsbury Town Records.
Shelburne Town Records.
The Rutland Herald: a Register of the Times (Rutland, VT). March 6, 1797.
Tablet of the Times (Bennington, VT). March 9, 1797.
Rising Sun (Keene, NH). March 14, 1797.
Page Images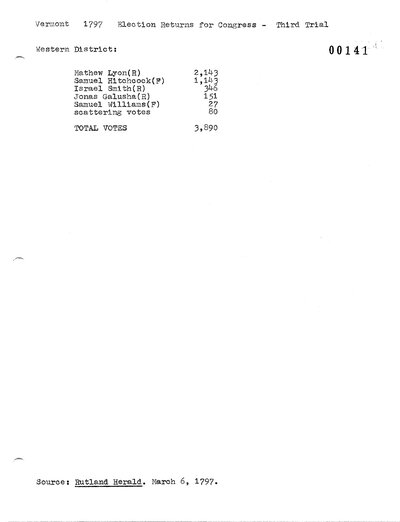 These election records were released on 11 January 2012. Versions numbers are assigned by state. Alabama, Arkansas, Delaware, Florida, Georgia, Illinois, Indiana, Kentucky, Louisiana, Maine, Maryland, Michigan, Missouri, North Carolina, Ohio, Rhode Island, South Carolina, Tennessee and Virginia are complete and are in Version 1.0. All other states are in a Beta version. For more information go to the about page.