New York 1808 U.S. House of Representatives, District 14
Office:

U.S. House of Representatives (Federal)

Title:

U.S. Congressman

Jurisdiction:

Federal
Label:

New York 1808 U.S. House of Representatives, District 14

Date:

1808

State:

New York

Type:

General

Iteration:

First Ballot

Office/Role:

U.S. House of Representatives/U.S. Congressman

Candidates:

Vincent Matthews, John Harris, Matthew Carpenter, Joseph Glover, Josiah Willoughby, Caleb Barker, Hugh W. Dobbin, James MacCall, George Hornell, John Sayre, Uri Carpenter, Emanuel Coryel, Silas Halsey, Israel Harris, Hemlock Smith, William Smith, Henry A. Townsend
Candidates:
Vincent Matthews[1]
John Harris
Matthew Carpenter
Joseph Glover
Josiah Willoughby
Caleb Barker
Hugh W. Dobbin
James MacCall
George Hornell
John Sayre
Uri Carpenter
Emanuel Coryel
Silas Halsey
Israel Harris
Hemlock Smith
William Smith
Henry A. Townsend
Affiliation:
Federalist
Republican
Republican
Republican
Final Result: [2][3]
1877
1163
978
649
9
6
5
4
2
2
1
1
1
1
1
1
1

District of Fourteen

1877
1163
978
649
9
6
5
4
2
2
1
1
1
1
1
1
1

Cayuga County

[4]
692
663
635
325
9
-
-
-
-
-
1
-
-
-
-
-
-

Town of Aurelius

56
102
120
113
-
-
-
-
-
-
-
-
-
-
-
-
-

Town of Brutus

6
106
89
8
-
-
-
-
-
-
-
-
-
-
-
-
-

Town of Cato

32
24
10
12
-
-
-
-
-
-
-
-
-
-
-
-
-

Town of Dryden

94
38
19
7
-
-
-
-
-
-
-
-
-
-
-
-
-

Town of Jefferson

2
7
85
3
-
-
-
-
-
-
-
-
-
-
-
-
-

Town of Locke

2
99
-
11
9
-
-
-
-
-
-
-
-
-
1
-
-

Town of Milton

98
29
50
38
-
-
-
-
-
-
-
-
-
-
-
-
-

Town of Owasco

19
-
18
75
-
-
-
-
-
-
-
-
-
-
-
-
-

Town of Scipio

377
254
45
55
-
-
-
-
-
-
-
-
-
-
-
-
-

Town of Sempronius

6
4
199
3
-
-
-
-
-
-
-
-
-
-
-
-
-

Seneca County

[5][6]
244
416
219
175
-
-
5
4
-
1
-
-
-
1
-
1
-

Town of Hector

39
22
26
2
-
-
-
-
-
-
-
-
-
-
-
-
-

Town of Junius

36
118
-
3
-
-
-
-
-
-
-
-
-
-
-
-
-

Town of Ovid

39
66
84
140
-
-
3
3
-
-
-
-
-
1
-
1
-

Town of Romulus

75
88
32
15
-
-
-
-
-
-
-
-
-
-
-
-
-

Town of Ulysses

46
17
70
2
-
-
2
1
-
1
-
-
-
-
-
-
-

Town of Washington

9
105
7
13
-
-
-
-
-
-
-
-
-
-
-
-
-

Steuben County

[7]
416
34
47
149
-
-
-
-
-
2
-
-
-
1
1
-
1

Town of Addison

19
-
3
-
-
-
-
-
-
-
-
-
-
-
-
-
-

Town of Bath

67
-
1
48
-
-
-
-
-
-
-
-
-
-
-
-
-

Town of Canisteo

60
-
-
-
-
-
-
-
-
-
1
-
-
-
-
-
-

Town of Dansville

33
-
-
8
-
-
-
-
-
-
-
-
-
-
-
-
-

Town of Painted Post

88
-
28
-
-
-
-
-
-
-
-
-
1
-
-
-
-

Town of Pulteney

[8]
76
-
-
46
-
-
-
-
2
-
-
-
-
-
-
-
1

Town of Reading

42
34
2
-
-
-
-
-
-
-
-
-
-
-
-
-
-

Town of Troupsburgh

8
-
13
-
-
-
-
-
-
-
-
-
-
-
-
-
-

Town of Wayne

23
-
-
47
-
-
-
-
-
-
-
-
-
-
-
-
-

Tioga County

[9]
525
50
77
-
-
6
-
-
1
-
-
-
-
-
-
1
-

Town of Catharinestown

-
-
-
-
-
-
-
-
-
-
-
-
-
-
-
-
-

Town of Chemung

-
-
-
-
-
-
-
-
-
-
-
-
-
-
-
-
-

Town of New-Town

-
-
-
-
-
-
-
-
-
-
-
-
-
-
-
-
-

Town of Owego

99
24
-
-
-
-
-
-
-
-
-
-
-
-
-
-
-

Town of Spencer

-
-
-
-
-
-
-
-
-
-
-
-
-
-
-
-
-
Notes:
References:
Original Election Returns.
Original Election Books. Steuben County Court House, Bath.
Owego Town Records.
New-York Evening Post (New York, NY). May 25, 1808.
New-York Herald (New York, NY). May 28, 1808.
The Albany Register (Albany, NY). June 7, 1808.
Clayton, W. W. History of Steuben County. Philadelphia: Lewis, Peck, and, 1879. 377.
Smith, James H. History of Chenango and Madison Counties New York. Syracuse, NY: D. Mason and, 1880. 389.
Page Images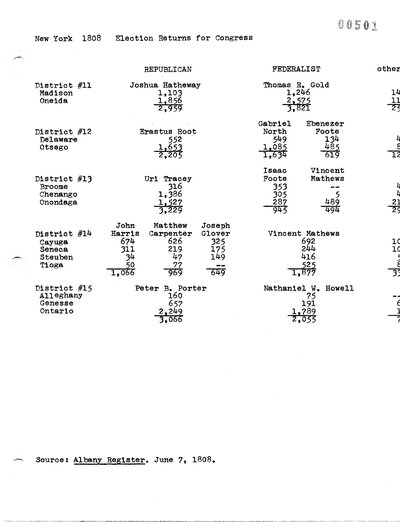 These election records were released on 11 January 2012. Versions numbers are assigned by state. Alabama, Arkansas, Delaware, Florida, Georgia, Illinois, Indiana, Kentucky, Louisiana, Maine, Maryland, Michigan, Missouri, North Carolina, Ohio, Rhode Island, South Carolina, Tennessee and Virginia are complete and are in Version 1.0. All other states are in a Beta version. For more information go to the about page.