New Jersey 1792 U.S. House of Representatives
Office:

U.S. House of Representatives (Federal)

Title:

U.S. Congressman

Jurisdiction:

Federal
Label:

New Jersey 1792 U.S. House of Representatives

Date:

1792

State:

New Jersey

Type:

General

Iteration:

First Ballot

Office/Role:

U.S. House of Representatives/U.S. Congressman

Candidates:

John Beatty, Jonathan Dayton, Abraham Clark, Elias Boudinot, Lambert Cadwalader, Thomas Sinnickson, Aaron Kitchel, James Linn, Jonathan Elmer, Samuel Dick, Thomas Henderson, Joseph Smith, John Chetwood, John Witherspoon, John Bayard, John Harring, James F. Armstrong, Elias Dayton, Joseph Bloomfield, Frederick Frelinghuysen, James Schureman, James Kinsey, Abraham Kitchell
Candidates:
John Beatty[1]
Jonathan Dayton[2]
Abraham Clark[3]
Elias Boudinot[4]
Lambert Cadwalader[5]
Thomas Sinnickson
Aaron Kitchel
James Linn
Jonathan Elmer
Samuel Dick
Thomas Henderson
Joseph Smith
John Chetwood
John Witherspoon
John Bayard
John Harring
James F. Armstrong
Elias Dayton
Joseph Bloomfield
Frederick Frelinghuysen
James Schureman
James Kinsey
Abraham Kitchell
Affiliation:
Federalist
Federalist
Federalist
Federalist
Federalist
Federalist
Federalist
Federalist
Final Result: [6][7][8][9][10]
6993
5731
5035
4631
4325
3704
3656
2222
1881
1757
1251
323
284
271
253
240
118
113
98
8
2
2
-

Bergen County

-
-
-
-
-
-
-
-
-
-
-
-
-
-
-
-
-
-
-
-
-
-
-

Burlington County

-
-
-
-
-
-
-
-
-
-
-
-
-
-
-
-
-
-
-
-
-
-
-

Evesham

185
2
-
-
184
185
-
-
185
184
-
-
-
-
-
-
-
-
-
-
-
-
-

Cumberland County

-
-
-
-
-
-
-
-
-
-
-
-
-
-
-
-
-
-
-
-
-
-
-

Essex County

-
-
-
-
-
-
-
-
-
-
-
-
-
-
-
-
-
-
-
-
-
-
-

Gloucester County

377
14
18
64
410
466
31
-
470
445
2
22
-
-
2
-
-
1
3
-
-
-
-

Deptford

[11]
74
5
1
17
90
82
-
-
90
81
2
14
-
-
-
-
-
-
-
-
-
-
-

Egg Harbour

[12]
73
-
-
-
73
73
-
-
72
72
-
-
-
-
-
-
-
-
-
-
-
-
-

Galloway

-
-
-
-
-
63
-
-
63
63
-
-
-
-
-
-
-
-
-
-
-
-
-

Town of Gloucester

[13]
12
-
1
1
12
11
-
-
11
11
-
-
-
-
-
-
-
-
-
-
-
-
-

Gloucester

21
-
3
4
19
21
4
-
23
20
-
-
-
-
-
-
-
-
-
-
-
-
-

Greenwich

28
8
7
7
28
28
7
-
28
34
-
-
-
-
-
-
-
-
-
-
-
-
-

Newton

[14]
22
-
6
13
39
36
19
-
32
33
-
6
-
-
2
-
-
1
1
-
-
-
-

Waterford

21
-
-
21
25
26
1
-
23
5
-
2
-
-
-
-
-
-
-
-
-
-
-

Weymouth

-
-
-
-
-
-
-
-
-
-
-
-
-
-
-
-
-
-
-
-
-
-
-

Woolwich

[15]
126
1
-
1
124
126
-
-
128
126
-
-
-
-
-
-
-
-
-
-
-
-
-

Hunterdon County

1179
614
679
731
803
520
274
337
30
34
438
-
22
83
206
5
48
7
10
-
-
-
-

Alexandria

120
64
29
107
104
92
1
1
-
-
30
-
-
40
6
-
10
2
-
-
-
-
-

Amwell

135
61
78
116
70
16
45
55
8
5
59
-
4
5
6
-
12
2
-
-
-
-
-

Bethlehem

87
11
73
70
84
44
-
-
-
-
1
-
-
2
64
-
-
-
4
-
-
-
-

Hopewell

131
106
94
123
46
30
27
-
1
-
109
-
-
26
-
-
1
-
3
-
-
-
-

Kingwood

123
25
21
84
125
123
1
1
2
-
19
-
10
2
11
-
-
-
-
-
-
-
-

Lebanon

124
52
82
51
99
15
11
3
-
-
42
-
-
1
117
-
5
-
2
-
-
-
-

Maidenhead

-
-
-
-
-
-
-
-
-
-
-
-
-
-
-
-
-
-
-
-
-
-
-

Readington

191
193
180
58
44
1
133
187
-
-
1
-
-
2
-
-
-
-
1
-
-
-
-

Tewksbury

63
39
78
3
13
-
33
88
-
-
32
-
-
-
-
-
-
-
-
-
-
-
-

Trenton

205
63
44
119
218
199
23
2
19
29
145
-
8
5
2
5
20
3
-
-
-
-
-

Middlesex County

-
-
-
-
-
-
-
-
-
-
-
-
-
-
-
-
-
-
-
-
-
-
-

Monmouth County

158
213
170
131
208
11
119
1
12
1
254
-
7
9
-
-
4
38
-
-
-
-
-

Dover

19
19
-
18
18
-
-
-
2
-
18
-
-
1
-
-
-
-
-
-
-
-
-

Freehold

54
77
63
33
70
2
98
1
-
1
102
-
4
2
-
-
4
1
-
-
-
-
-

Middletown

16
18
16
13
12
-
5
-
-
-
22
-
-
-
-
-
-
-
-
-
-
-
-

Shrewsbury

1
12
11
6
10
-
6
-
1
-
20
-
-
-
-
-
-
1
-
-
-
-
-

Stafford

-
47
48
-
47
-
7
-
5
-
48
-
-
-
-
-
-
36
-
-
-
-
-

Upper Freehold

68
50
26
61
51
9
3
-
4
-
44
-
3
6
-
-
-
-
-
-
-
-
-

Morris County

[16]
1174
1308
1272
604
-
-
1328
798
-
-
-
-
-
-
-
-
-
-
-
-
-
-
-

Somerset County

-
-
-
-
-
-
-
-
-
-
-
-
-
-
-
-
-
-
-
-
-
-
-

Sussex County

-
-
-
-
-
-
-
-
-
-
-
-
-
-
-
-
-
-
-
-
-
-
-
Notes:
References:
Original Election Returns. New Jersey State Library, Trenton.
Original Election Tally Sheets. Monmouth County Archives, Freehold.
New Jersey Privy Council Records. Vol. I. 176.
New-Jersey State Gazette (Trenton, NJ). October 17, 1792.
General Advertiser (Philadelphia, PA). October 20, 1792.
The New-York Journal, and Patriotic Register (New York, NY). October 20, 1792.
The Guardian; or, New-Brunswick Advertiser (New Brunswick, NJ). November 14, 1792.
Woods's Newark Gazette (Newark, NJ). November 15, 1792.
Page Images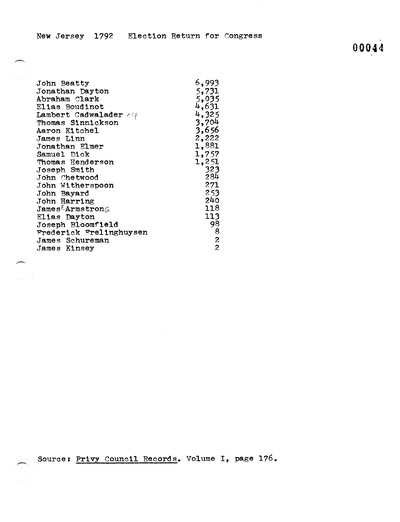 These election records were released on 11 January 2012. Versions numbers are assigned by state. Alabama, Arkansas, Delaware, Florida, Georgia, Illinois, Indiana, Kentucky, Louisiana, Maine, Maryland, Michigan, Missouri, North Carolina, Ohio, Rhode Island, South Carolina, Tennessee and Virginia are complete and are in Version 1.0. All other states are in a Beta version. For more information go to the about page.