New Hampshire 1814 U.S. House of Representatives
Office:

U.S. House of Representatives (Federal)

Title:

U.S. Congressman

Jurisdiction:

Federal
Label:

New Hampshire 1814 U.S. House of Representatives

Date:

1814

State:

New Hampshire

Type:

General

Iteration:

First Ballot

Office/Role:

U.S. House of Representatives/U.S. Congressman

Candidates:

William Hale, Daniel Webster, Roger Vose, Jeduthun Wilcox, Bradbury Cilley, Charles H. Atherton, David L. Morrill, Stephen P. Webster, Nathaniel Upham, Elisha Huntley, John F. Parrott, Josiah Butler, John L. Atherton, Parker Noyes, Edmond Parker, Ezra Bartlett, Aaron Matson, Ephraim Brown, John Bradley, Bear Plummer, Dan Young, Daniel Abbot, John Barnham, Samuel Batehill, Daniel Blasdell, Joseph Buffman, Jr., John Chan, Oliver Crosby, Thomas C. Drew, James Dunlap, Daniel Evans, Joshua Fifield, Edward Greely, David Heald, Benjamin Leathers, Jotham Lord, Jr., Michael MacClary, John Marsh, Jefferson Martin, Robert Means, Abel Merrill, William Mills, John A. Morrill, Mills Olcott, Reid Page, Moses P. Payson, Richard H. Ryer, J. K. Smith, Caleb Stark, John Steele, George B. Upham, Levin Woodbury
Candidates:
William Hale[1]
Daniel Webster[2]
Roger Vose[3]
Jeduthun Wilcox[4]
Bradbury Cilley[5]
Charles H. Atherton[6]
David L. Morrill
Stephen P. Webster
Nathaniel Upham
Elisha Huntley
John F. Parrott
Josiah Butler
John L. Atherton
Parker Noyes
Edmond Parker
Ezra Bartlett
Aaron Matson
Ephraim Brown
John Bradley
Bear Plummer
Dan Young
Daniel Abbot
John Barnham
Samuel Batehill
Daniel Blasdell
Joseph Buffman, Jr.
John Chan
Oliver Crosby
Thomas C. Drew
James Dunlap
Daniel Evans
Joshua Fifield
Edward Greely
David Heald
Benjamin Leathers
Jotham Lord, Jr.
Michael MacClary
John Marsh
Jefferson Martin
Robert Means
Abel Merrill
William Mills
John A. Morrill
Mills Olcott
Reid Page
Moses P. Payson
Richard H. Ryer
J. K. Smith
Caleb Stark
John Steele
George B. Upham
Levin Woodbury
Affiliation:
Federalist
Federalist
Federalist
Federalist
Federalist
Federalist
Republican
Republican
Republican
Republican
Republican
Republican
Federalist
Final Result:
18130
18126
18126
18119
18114
18067
16607
16606
16605
16578
16557
16462
51
28
17
5
4
3
2
2
2
1
1
1
1
1
1
1
1
1
1
1
1
1
1
1
1
1
1
1
1
1
1
1
1
1
1
1
1
1
1
1

Cheshire County

4507
4505
4508
4505
4505
4503
2846
2847
2847
2821
2796
2780
51
16
-
-
4
3
-
-
-
-
-
-
-
1
-
-
1
-
-
-
-
1
-
1
-
-
-
-
-
-
-
-
1
-
-
-
-
-
-
-

Town of Acworth

130
130
130
130
130
129
130
130
130
130
130
130
-
1
-
-
-
-
-
-
-
-
-
-
-
-
-
-
-
-
-
-
-
-
-
-
-
-
-
-
-
-
-
-
-
-
-
-
-
-
-
-

Town of Alstead

[7]
191
191
191
192
191
190
109
109
109
108
109
109
-
1
-
-
-
-
-
-
-
-
-
-
-
-
-
-
-
-
-
-
-
-
-
-
-
-
-
-
-
-
-
-
-
-
-
-
-
-
-
-

Town of Charlestown

234
234
234
234
234
234
39
39
39
39
39
39
-
-
-
-
-
-
-
-
-
-
-
-
-
-
-
-
-
-
-
-
-
-
-
-
-
-
-
-
-
-
-
-
-
-
-
-
-
-
-
-

Town of Chesterfield

236
236
236
236
236
236
100
100
100
100
100
100
-
-
-
-
-
-
-
-
-
-
-
-
-
-
-
-
-
-
-
-
-
-
-
-
-
-
-
-
-
-
-
-
-
-
-
-
-
-
-
-

Town of Claremont

307
306
307
307
307
307
108
108
108
108
108
108
-
-
-
-
-
-
-
-
-
-
-
-
-
-
-
-
-
-
-
-
-
-
-
-
-
-
-
-
-
-
-
-
-
-
-
-
-
-
-
-

Town of Cornish

182
182
182
182
182
182
102
102
102
102
102
102
-
-
-
-
-
-
-
-
-
-
-
-
-
-
-
-
-
-
-
-
-
-
-
-
-
-
-
-
-
-
-
-
-
-
-
-
-
-
-
-

Town of Croydon

85
84
85
85
84
84
76
75
75
76
76
75
-
-
-
-
-
-
-
-
-
-
-
-
-
-
-
-
-
-
-
-
-
-
-
-
-
-
-
-
-
-
-
-
-
-
-
-
-
-
-
-

Town of Dublin

154
154
154
154
154
154
62
62
62
62
62
62
-
-
-
-
-
-
-
-
-
-
-
-
-
-
-
-
-
-
-
-
-
-
-
-
-
-
-
-
-
-
-
-
-
-
-
-
-
-
-
-

Town of Fitzwilliam

163
163
163
163
163
163
63
63
63
62
63
63
-
-
-
-
-
-
-
-
-
-
-
-
-
-
-
-
1
-
-
-
-
-
-
-
-
-
-
-
-
-
-
-
-
-
-
-
-
-
-
-

Town of Gilsum

46
46
46
46
46
46
33
33
33
33
33
33
-
-
-
-
-
-
-
-
-
-
-
-
-
-
-
-
-
-
-
-
-
-
-
-
-
-
-
-
-
-
-
-
-
-
-
-
-
-
-
-

Town of Goshen

[8]
55
55
55
55
55
54
42
42
42
41
42
42
-
-
-
-
-
-
-
-
-
-
-
-
-
-
-
-
-
-
-
-
-
-
-
-
-
-
-
-
-
-
-
-
-
-
-
-
-
-
-
-

Town of Hinsdale

[9]
90
90
90
90
90
90
29
29
29
29
29
29
-
-
-
-
-
-
-
-
-
-
-
-
-
-
-
-
-
-
-
-
-
-
-
-
-
-
-
-
-
-
-
-
-
-
-
-
-
-
-
-

Town of Jaffrey

214
214
214
214
214
214
37
37
37
37
37
37
-
-
-
-
-
-
-
-
-
-
-
-
-
-
-
-
-
-
-
-
-
-
-
-
-
-
-
-
-
-
-
-
-
-
-
-
-
-
-
-

Town of Keene

264
264
264
264
264
264
37
38
38
37
37
38
-
-
-
-
-
-
-
-
-
-
-
-
-
-
-
-
-
-
-
-
-
-
-
-
-
-
-
-
-
-
-
-
-
-
-
-
-
-
-
-

Town of Langdon

49
49
49
49
49
49
58
58
58
58
58
58
-
-
-
-
-
-
-
-
-
-
-
-
-
-
-
-
-
-
-
-
-
-
-
-
-
-
-
-
-
-
-
-
-
-
-
-
-
-
-
-

Town of Lempster

96
96
96
96
96
96
51
51
51
51
-
51
51
-
-
-
-
-
-
-
-
-
-
-
-
-
-
-
-
-
-
-
-
-
-
-
-
-
-
-
-
-
-
-
-
-
-
-
-
-
-
-

Town of Marlborough

170
170
170
167
170
170
14
14
14
13
14
14
-
-
-
-
-
-
-
-
-
-
-
-
-
-
-
-
-
-
-
-
-
-
-
-
-
-
-
-
-
-
-
-
-
-
-
-
-
-
-
-

Town of Marlow

13
13
14
13
13
13
81
81
81
75
81
81
-
-
-
-
-
-
-
-
-
-
-
-
-
-
-
-
-
-
-
-
-
-
-
-
-
-
-
-
-
-
-
-
-
-
-
-
-
-
-
-

Town of New Grantham

49
49
49
49
49
49
116
116
116
116
116
116
-
14
-
-
-
-
-
-
-
-
-
-
-
-
-
-
-
-
-
-
-
-
-
-
-
-
-
-
-
-
-
-
-
-
-
-
-
-
-
-

Town of Newport

226
226
226
226
226
226
60
60
60
60
60
60
-
-
-
-
-
-
-
-
-
-
-
-
-
-
-
-
-
-
-
-
-
-
-
-
-
-
-
-
-
-
-
-
-
-
-
-
-
-
-
-

Town of Packersfield

153
153
153
153
153
153
22
22
22
22
22
22
-
-
-
-
-
-
-
-
-
-
-
-
-
-
-
-
-
-
-
-
-
-
-
-
-
-
-
-
-
-
-
-
-
-
-
-
-
-
-
-

Town of Plainfield

147
147
147
147
147
147
132
132
132
129
132
132
-
-
-
-
-
-
-
-
-
-
-
-
-
-
-
-
-
-
-
-
-
-
-
-
-
-
-
-
-
-
-
-
-
-
-
-
-
-
-
-

Town of Richmond

2
2
2
2
2
2
181
181
181
181
181
181
-
-
-
-
-
-
-
-
-
-
-
-
-
-
-
-
-
-
-
-
-
-
-
-
-
-
-
-
-
-
-
-
-
-
-
-
-
-
-
-

Town of Rindge

190
190
190
190
190
190
40
40
40
40
40
40
-
-
-
-
-
-
-
-
-
-
-
-
-
-
-
-
-
-
-
-
-
-
-
-
-
-
-
-
-
-
-
-
-
-
-
-
-
-
-
-

Town of Roxbury

60
60
60
60
60
60
16
16
16
16
16
16
-
-
-
-
-
-
-
-
-
-
-
-
-
-
-
-
-
-
-
-
-
-
-
-
-
-
-
-
-
-
-
-
-
-
-
-
-
-
-
-

Town of Springfield

28
28
28
28
28
28
103
103
103
103
103
103
-
-
-
-
-
-
-
-
-
-
-
-
-
-
-
-
-
-
-
-
-
-
-
-
-
-
-
-
-
-
-
-
-
-
-
-
-
-
-
-

Town of Stoddard

85
85
85
85
85
85
99
99
99
97
99
99
-
-
-
-
2
-
-
-
-
-
-
-
-
-
-
-
-
-
-
-
-
-
-
-
-
-
-
-
-
-
-
-
-
-
-
-
-
-
-
-

Town of Sullivan

92
92
92
92
92
92
11
11
11
11
11
11
-
-
-
-
-
-
-
-
-
-
-
-
-
-
-
-
-
-
-
-
-
-
-
-
-
-
-
-
-
-
-
-
-
-
-
-
-
-
-
-

Town of Surry

53
53
53
53
53
53
28
28
28
28
28
24
-
-
-
-
-
-
-
-
-
-
-
-
-
-
-
-
-
-
-
-
-
-
-
-
-
-
-
-
-
-
-
-
-
-
-
-
-
-
-
-

Town of Swanzey

96
96
96
96
96
96
169
169
169
169
169
169
-
-
-
-
-
-
-
-
-
-
-
-
-
-
-
-
-
-
-
-
-
-
-
-
-
-
-
-
-
-
-
-
-
-
-
-
-
-
-
-

Town of Unity

32
32
32
32
32
32
168
168
168
168
168
168
-
-
-
-
-
-
-
-
-
-
-
-
-
-
-
-
-
-
-
-
-
-
-
-
-
-
-
-
-
-
-
-
-
-
-
-
-
-
-
-

Town of Walpole

211
211
211
211
211
211
120
120
120
119
120
120
-
-
-
-
-
-
-
-
-
-
-
-
-
-
-
-
-
-
-
-
-
-
-
-
-
-
-
-
-
-
-
-
-
-
-
-
-
-
-
-

Town of Washington

32
32
32
32
32
32
118
118
118
113
118
118
-
-
-
-
2
-
-
-
-
-
-
-
-
-
-
-
-
-
-
-
-
1
-
-
-
-
-
-
-
-
-
-
-
-
-
-
-
-
-
-

Town of Wendell

13
13
13
13
13
13
83
83
83
83
83
83
-
-
-
-
-
-
-
-
-
-
-
-
-
-
-
-
-
-
-
-
-
-
-
-
-
-
-
-
-
-
-
-
-
-
-
-
-
-
-
-

Town of Westmoreland

183
183
183
183
182
183
146
147
147
142
147
147
-
-
-
-
-
3
-
-
-
-
-
-
-
1
-
-
-
-
-
-
-
-
-
1
-
-
-
-
-
-
-
-
1
-
-
-
-
-
-
-

Town of Winchester

176
176
176
176
176
176
63
63
63
63
63
-
-
-
-
-
-
-
-
-
-
-
-
-
-
-
-
-
-
-
-
-
-
-
-
-
-
-
-
-
-
-
-
-
-
-
-
-
-
-
-
-

Coos County

234
234
234
234
234
234
369
370
370
370
369
369
-
-
-
-
-
-
-
-
-
-
-
-
-
-
-
-
-
-
-
-
-
-
-
-
-
-
-
-
-
-
-
-
-
-
-
-
-
-
-
-

Town of Adams

2
2
2
2
2
2
42
42
42
42
42
42
-
-
-
-
-
-
-
-
-
-
-
-
-
-
-
-
-
-
-
-
-
-
-
-
-
-
-
-
-
-
-
-
-
-
-
-
-
-
-
-

Town of Bartlett

2
2
2
2
2
2
80
80
80
80
80
80
-
-
-
-
-
-
-
-
-
-
-
-
-
-
-
-
-
-
-
-
-
-
-
-
-
-
-
-
-
-
-
-
-
-
-
-
-
-
-
-

Town of Chatham

7
7
7
7
7
7
37
37
37
37
37
37
-
-
-
-
-
-
-
-
-
-
-
-
-
-
-
-
-
-
-
-
-
-
-
-
-
-
-
-
-
-
-
-
-
-
-
-
-
-
-
-

Town of Colebrook

38
38
38
38
38
38
22
22
22
22
22
22
-
-
-
-
-
-
-
-
-
-
-
-
-
-
-
-
-
-
-
-
-
-
-
-
-
-
-
-
-
-
-
-
-
-
-
-
-
-
-
-

Town of Columbia

27
27
27
27
27
27
12
12
12
12
12
12
-
-
-
-
-
-
-
-
-
-
-
-
-
-
-
-
-
-
-
-
-
-
-
-
-
-
-
-
-
-
-
-
-
-
-
-
-
-
-
-

Town of Dalton

17
17
17
17
17
17
10
10
10
10
10
10
-
-
-
-
-
-
-
-
-
-
-
-
-
-
-
-
-
-
-
-
-
-
-
-
-
-
-
-
-
-
-
-
-
-
-
-
-
-
-
-

Town of Jefferson

[10]
7
7
7
7
7
7
31
31
31
31
31
31
-
-
-
-
-
-
-
-
-
-
-
-
-
-
-
-
-
-
-
-
-
-
-
-
-
-
-
-
-
-
-
-
-
-
-
-
-
-
-
-

Town of Lancaster

[11]
80
80
80
80
80
80
24
24
24
24
24
24
-
-
-
-
-
-
-
-
-
-
-
-
-
-
-
-
-
-
-
-
-
-
-
-
-
-
-
-
-
-
-
-
-
-
-
-
-
-
-
-

Town of Northumberland

34
34
34
34
34
34
7
7
7
7
7
7
-
-
-
-
-
-
-
-
-
-
-
-
-
-
-
-
-
-
-
-
-
-
-
-
-
-
-
-
-
-
-
-
-
-
-
-
-
-
-
-

Town of Percy

6
6
6
6
6
6
16
16
16
16
16
16
-
-
-
-
-
-
-
-
-
-
-
-
-
-
-
-
-
-
-
-
-
-
-
-
-
-
-
-
-
-
-
-
-
-
-
-
-
-
-
-

Town of Stewartstown

11
11
11
11
11
11
30
30
30
30
30
30
-
-
-
-
-
-
-
-
-
-
-
-
-
-
-
-
-
-
-
-
-
-
-
-
-
-
-
-
-
-
-
-
-
-
-
-
-
-
-
-

Town of Stratford

[12][13][14]
-
-
-
-
-
-
50
51
51
51
50
50
-
-
-
-
-
-
-
-
-
-
-
-
-
-
-
-
-
-
-
-
-
-
-
-
-
-
-
-
-
-
-
-
-
-
-
-
-
-
-
-

Town of Whitefield

3
3
3
3
3
3
8
8
8
8
8
8
-
-
-
-
-
-
-
-
-
-
-
-
-
-
-
-
-
-
-
-
-
-
-
-
-
-
-
-
-
-
-
-
-
-
-
-
-
-
-
-

Grafton County

2929
2929
2927
2926
2926
2921
1807
1808
1797
1805
1806
1733
-
1
-
5
-
-
2
-
2
-
-
-
-
-
-
-
-
-
-
-
-
-
-
-
-
-
-
-
1
-
-
1
-
1
-
-
-
-
-
-

Town of Alexandria

51
50
50
51
51
51
29
30
29
29
30
29
-
-
-
-
-
-
-
-
-
-
-
-
-
-
-
-
-
-
-
-
-
-
-
-
-
-
-
-
-
-
-
-
-
-
-
-
-
-
-
-

Town of Bath

158
158
158
158
158
158
53
53
53
53
53
53
-
-
-
-
-
-
-
-
-
-
-
-
-
-
-
-
-
-
-
-
-
-
-
-
-
-
-
-
-
-
-
-
-
-
-
-
-
-
-
-

Town of Bethlehem

44
44
44
44
44
44
26
26
26
26
26
26
-
-
-
-
-
-
-
-
-
-
-
-
-
-
-
-
-
-
-
-
-
-
-
-
-
-
-
-
-
-
-
-
-
-
-
-
-
-
-
-

Town of Bridgewater

94
94
93
93
93
92
74
74
73
74
73
73
-
-
-
-
-
-
-
-
-
-
-
-
-
-
-
-
-
-
-
-
-
-
-
-
-
-
-
-
-
-
-
-
-
-
-
-
-
-
-
-

Town of Campton

129
129
130
130
130
130
23
22
22
22
23
22
-
-
-
-
-
-
-
-
-
-
-
-
-
-
-
-
-
-
-
-
-
-
-
-
-
-
-
-
-
-
-
-
-
-
-
-
-
-
-
-

Town of Canaan

133
133
133
133
133
129
37
37
37
37
37
37
-
-
-
-
-
-
-
-
-
-
-
-
-
-
-
-
-
-
-
-
-
-
-
-
-
-
-
-
-
-
-
-
-
-
-
-
-
-
-
-

Town of Concord

[15]
43
43
43
43
43
43
99
99
99
99
99
99
-
-
-
-
-
-
-
-
-
-
-
-
-
-
-
-
-
-
-
-
-
-
-
-
-
-
-
-
-
-
-
-
-
-
-
-
-
-
-
-

Town of Coventry

10
10
10
10
10
10
15
13
15
15
15
15
-
-
-
-
-
-
-
-
2
-
-
-
-
-
-
-
-
-
-
-
-
-
-
-
-
-
-
-
-
-
-
-
-
-
-
-
-
-
-
-

Town of Danbury

47
46
47
47
47
47
12
12
12
12
12
12
-
-
-
-
-
-
-
-
-
-
-
-
-
-
-
-
-
-
-
-
-
-
-
-
-
-
-
-
-
-
-
-
-
-
-
-
-
-
-
-

Town of Dorchester

53
53
53
53
53
53
27
27
27
27
27
25
-
-
-
-
-
-
2
-
-
-
-
-
-
-
-
-
-
-
-
-
-
-
-
-
-
-
-
-
-
-
-
-
-
-
-
-
-
-
-
-

Town of Ellsworth

31
31
31
31
31
31
-
-
-
-
-
-
-
-
-
-
-
-
-
-
-
-
-
-
-
-
-
-
-
-
-
-
-
-
-
-
-
-
-
-
-
-
-
-
-
-
-
-
-
-
-
-

Town of Enfield

52
52
52
52
52
52
118
118
118
118
118
118
-
-
-
-
-
-
-
-
-
-
-
-
-
-
-
-
-
-
-
-
-
-
-
-
-
-
-
-
-
-
-
-
-
-
-
-
-
-
-
-

Town of Franconia

27
27
27
27
27
27
46
46
46
46
46
46
-
-
-
-
-
-
-
-
-
-
-
-
-
-
-
-
-
-
-
-
-
-
-
-
-
-
-
-
-
-
-
-
-
-
-
-
-
-
-
-

Town of Grafton

94
94
94
94
94
94
82
82
82
82
82
82
-
-
-
-
-
-
-
-
-
-
-
-
-
-
-
-
-
-
-
-
-
-
-
-
-
-
-
-
-
-
-
-
-
-
-
-
-
-
-
-

Town of Groton

55
55
55
55
55
55
46
46
46
46
46
46
-
-
-
-
-
-
-
-
-
-
-
-
-
-
-
-
-
-
-
-
-
-
-
-
-
-
-
-
-
-
-
-
-
-
-
-
-
-
-
-

Town of Hanover

279
279
279
278
278
279
75
75
75
75
75
75
-
-
-
-
-
-
-
-
-
-
-
-
-
-
-
-
-
-
-
-
-
-
-
-
-
-
-
-
-
-
-
1
-
-
-
-
-
-
-
-

Town of Haverhill

132
132
132
132
132
132
72
71
72
72
72
72
-
-
-
-
-
-
-
-
-
-
-
-
-
-
-
-
-
-
-
-
-
-
-
-
-
-
-
-
-
-
-
-
-
-
-
-
-
-
-
-

Town of Hebron

40
41
40
40
40
40
50
50
50
50
50
50
-
-
-
-
-
-
-
-
-
-
-
-
-
-
-
-
-
-
-
-
-
-
-
-
-
-
-
-
-
-
-
-
-
-
-
-
-
-
-
-

Town of Landaff

56
56
56
55
55
56
46
41
46
46
46
46
-
-
-
5
-
-
-
-
-
-
-
-
-
-
-
-
-
-
-
-
-
-
-
-
-
-
-
-
-
-
-
-
-
1
-
-
-
-
-
-

Town of Lebanon

200
200
200
200
200
200
101
101
101
101
101
101
-
-
-
-
-
-
-
-
-
-
-
-
-
-
-
-
-
-
-
-
-
-
-
-
-
-
-
-
-
-
-
-
-
-
-
-
-
-
-
-

Town of Lincoln

[16]
2
2
2
2
2
2
14
14
14
14
14
14
-
-
-
-
-
-
-
-
-
-
-
-
-
-
-
-
-
-
-
-
-
-
-
-
-
-
-
-
-
-
-
-
-
-
-
-
-
-
-
-

Town of Littleton

106
106
106
106
106
106
20
20
20
20
20
20
-
-
-
-
-
-
-
-
-
-
-
-
-
-
-
-
-
-
-
-
-
-
-
-
-
-
-
-
-
-
-
-
-
-
-
-
-
-
-
-

Town of Lyman

[17]
78
78
78
78
78
78
81
81
81
81
81
79
-
-
-
-
-
-
-
-
-
-
-
-
-
-
-
-
-
-
-
-
-
-
-
-
-
-
-
-
-
-
-
-
-
-
-
-
-
-
-
-

Town of Lyme

245
245
245
245
245
245
37
37
37
37
37
37
-
-
-
-
-
-
-
-
-
-
-
-
-
-
-
-
-
-
-
-
-
-
-
-
-
-
-
-
-
-
-
-
-
-
-
-
-
-
-
-

Town of New Chester

73
73
73
73
73
73
84
84
84
84
84
84
-
-
-
-
-
-
-
-
-
-
-
-
-
-
-
-
-
-
-
-
-
-
-
-
-
-
-
-
-
-
-
-
-
-
-
-
-
-
-
-

Town of New Holderness

108
108
108
108
108
108
62
62
62
62
62
62
-
-
-
-
-
-
-
-
-
-
-
-
-
-
-
-
-
-
-
-
-
-
-
-
-
-
-
-
-
-
-
-
-
-
-
-
-
-
-
-

Town of Orange

30
30
29
29
30
30
9
9
9
9
9
9
-
-
-
-
-
-
-
-
-
-
-
-
-
-
-
-
-
-
-
-
-
-
-
-
-
-
-
-
-
-
-
-
-
-
-
-
-
-
-
-

Town of Orford

165
166
165
165
164
164
49
50
48
48
48
48
-
-
-
-
-
-
-
-
-
-
-
-
-
-
-
-
-
-
-
-
-
-
-
-
-
-
-
-
-
-
-
-
-
-
-
-
-
-
-
-

Town of Peeling

10
10
10
10
10
10
27
27
27
27
27
27
-
-
-
-
-
-
-
-
-
-
-
-
-
-
-
-
-
-
-
-
-
-
-
-
-
-
-
-
-
-
-
-
-
-
-
-
-
-
-
-

Town of Piermont

62
62
62
62
62
62
90
89
90
90
90
90
-
-
-
-
-
-
-
-
-
-
-
-
-
-
-
-
-
-
-
-
-
-
-
-
-
-
-
-
-
-
-
-
-
-
-
-
-
-
-
-

Town of Plymouth

116
116
116
116
116
116
38
36
38
38
38
38
-
-
-
-
-
-
-
-
-
-
-
-
-
-
-
-
-
-
-
-
-
-
-
-
-
-
-
-
-
-
-
-
-
-
-
-
-
-
-
-

Town of Rumney

57
57
57
57
57
57
68
68
68
68
68
-
-
-
-
-
-
-
-
-
-
-
-
-
-
-
-
-
-
-
-
-
-
-
-
-
-
-
-
-
-
-
-
-
-
-
-
-
-
-
-
-

Town of Thornton

117
117
117
117
117
115
22
22
22
22
22
22
-
1
-
-
-
-
-
-
-
-
-
-
-
-
-
-
-
-
-
-
-
-
-
-
-
-
-
-
-
-
-
-
-
-
-
-
-
-
-
-

Town of Warren

13
13
13
13
13
13
78
77
78
78
78
78
-
-
-
-
-
-
-
-
-
-
-
-
-
-
-
-
-
-
-
-
-
-
-
-
-
-
-
-
1
-
-
-
-
-
-
-
-
-
-
-

Town of Wentworth

19
19
19
19
19
19
98
98
98
98
98
98
-
-
-
-
-
-
-
-
-
-
-
-
-
-
-
-
-
-
-
-
-
-
-
-
-
-
-
-
-
-
-
-
-
-
-
-
-
-
-
-

Hillsborough County

3210
3209
3208
3208
3207
3170
4799
4799
4802
4800
4797
4798
-
8
17
-
-
-
-
-
-
1
1
1
-
-
-
-
-
-
-
1
1
-
-
-
-
-
-
1
-
-
-
-
-
-
1
1
-
1
1
1

Town of Amherst

152
152
152
152
152
150
141
141
141
141
141
141
-
-
-
-
-
-
-
-
-
-
-
-
-
-
-
-
-
-
-
-
-
-
-
-
-
-
-
-
-
-
-
-
-
-
-
-
-
-
-
-

Town of Andover

122
122
122
122
122
122
119
119
119
119
119
119
-
-
-
-
-
-
-
-
-
-
-
-
-
-
-
-
-
-
-
-
-
-
-
-
-
-
-
-
-
-
-
-
-
-
-
-
-
-
-
-

Town of Antrim

37
37
37
37
37
37
176
177
177
177
177
177
-
-
-
-
-
-
-
-
-
-
-
-
-
-
-
-
-
-
-
-
-
-
-
-
-
-
-
-
-
-
-
-
-
-
-
-
-
-
-
-

Town of Bedford

164
164
164
164
164
164
62
62
62
62
62
62
-
-
-
-
-
-
-
-
-
-
-
-
-
-
-
-
-
-
-
-
-
-
-
-
-
-
-
-
-
-
-
-
-
-
-
-
-
-
-
-

Town of Boscawen

226
227
226
226
226
226
108
108
108
108
108
108
-
-
-
-
-
-
-
-
-
-
-
-
-
-
-
-
-
-
-
-
-
-
-
-
-
-
-
-
-
-
-
-
-
-
-
-
-
-
-
-

Town of Bradford

80
80
80
80
80
80
95
95
95
95
95
95
-
-
-
-
-
-
-
-
-
-
-
-
-
-
-
-
-
-
-
-
-
-
-
-
-
-
-
-
-
-
-
-
-
-
-
-
-
-
-
-

Town of Brookline

15
15
15
15
15
15
81
81
81
81
81
81
-
-
-
-
-
-
-
-
-
-
-
-
-
-
-
-
-
-
-
-
-
-
-
-
-
-
-
-
-
-
-
-
-
-
-
-
-
-
-
-

Town of Deering

[18]
38
38
38
38
38
38
185
185
185
185
185
185
-
-
-
-
-
-
-
-
-
-
-
-
-
-
-
-
-
-
-
-
-
-
-
-
-
-
-
-
-
-
-
-
-
-
-
-
-
-
-
-

Town of Dunbarton

95
95
95
95
95
95
107
107
107
107
107
107
-
-
-
-
-
-
-
-
-
-
-
-
-
-
-
-
-
-
-
-
-
-
-
-
-
-
-
-
-
-
-
-
-
-
-
-
-
-
-
-

Town of Dunstable

90
90
90
90
90
89
50
50
50
50
50
50
-
-
-
-
-
-
-
-
-
-
-
-
-
-
-
-
-
-
-
-
-
-
-
-
-
-
-
-
-
-
-
-
-
-
-
-
-
-
-
-

Town of Fishersfield

11
11
11
11
11
11
89
89
89
89
89
89
-
-
-
-
-
-
-
-
-
-
-
-
-
-
-
-
-
-
-
-
-
-
-
-
-
-
-
-
-
-
-
-
-
-
-
-
-
-
-
-

Town of Francestown

76
76
76
76
76
76
199
199
199
199
199
199
-
-
-
-
-
-
-
-
-
-
-
-
-
-
-
-
-
-
-
-
-
-
-
-
-
-
-
-
-
-
-
-
-
-
-
-
-
-
-
-

Town of Goffstown

55
55
55
55
55
53
240
237
237
237
237
237
-
-
-
-
-
-
-
-
-
-
-
-
-
-
-
-
-
-
-
-
-
-
-
-
-
-
-
-
-
-
-
-
-
-
-
-
-
-
-
-

Town of Greenfield

36
36
36
36
36
35
121
121
121
121
121
121
-
1
-
-
-
-
-
-
-
1
1
1
-
-
-
-
-
-
-
-
-
-
-
-
-
-
-
1
-
-
-
-
-
-
-
-
-
1
1
1

Town of Hancock

26
26
26
26
26
26
190
190
190
190
190
190
-
-
-
-
-
-
-
-
-
-
-
-
-
-
-
-
-
-
-
-
-
-
-
-
-
-
-
-
-
-
-
-
-
-
-
-
-
-
-
-

Town of Henniker

107
107
107
107
107
107
169
169
169
167
169
169
-
-
-
-
-
-
-
-
-
-
-
-
-
-
-
-
-
-
-
-
-
-
-
-
-
-
-
-
-
-
-
-
-
-
-
-
-
-
-
-

Town of Hillsborough

45
45
45
45
45
44
242
242
242
242
242
242
-
-
-
-
-
-
-
-
-
-
-
-
-
-
-
-
-
-
-
-
-
-
-
-
-
-
-
-
-
-
-
-
-
-
-
-
-
-
-
-

Town of Hollis

155
155
155
155
155
154
103
103
103
103
103
103
-
-
-
-
-
-
-
-
-
-
-
-
-
-
-
-
-
-
-
-
-
-
-
-
-
-
-
-
-
-
-
-
-
-
-
-
-
-
-
-

Town of Hopkinton

[19]
144
143
143
143
143
144
212
214
214
213
213
214
-
-
1
-
-
-
-
-
-
-
-
-
-
-
-
-
-
-
-
-
1
-
-
-
-
-
-
-
-
-
-
-
-
-
-
-
-
-
-
-

Kearsage Gore

3
3
3
3
3
3
20
20
20
20
20
20
-
-
-
-
-
-
-
-
-
-
-
-
-
-
-
-
-
-
-
-
-
-
-
-
-
-
-
-
-
-
-
-
-
-
-
-
-
-
-
-

Town of Litchfield

55
55
55
55
55
54
13
14
14
14
14
14
-
-
-
-
-
-
-
-
-
-
-
-
-
-
-
-
-
-
-
-
-
-
-
-
-
-
-
-
-
-
-
-
-
-
-
1
-
-
-
-

Town of Lyndeborough

40
40
40
40
40
40
149
149
149
149
149
149
-
-
-
-
-
-
-
-
-
-
-
-
-
-
-
-
-
-
-
-
-
-
-
-
-
-
-
-
-
-
-
-
-
-
-
-
-
-
-
-

Town of Manchester

38
38
38
38
38
38
60
62
62
62
62
62
-
-
-
-
-
-
-
-
-
-
-
-
-
-
-
-
-
-
-
-
-
-
-
-
-
-
-
-
-
-
-
-
-
-
1
-
-
-
-
-

Town of Mason

75
75
75
75
75
73
89
88
88
88
88
88
-
-
-
-
-
-
-
-
-
-
-
-
-
-
-
-
-
-
-
-
-
-
-
-
-
-
-
-
-
-
-
-
-
-
-
-
-
-
-
-

Town of Merrimack

75
75
75
75
75
74
92
93
93
93
93
92
-
1
-
-
-
-
-
-
-
-
-
-
-
-
-
-
-
-
-
-
-
-
-
-
-
-
-
-
-
-
-
-
-
-
-
-
-
-
-
-

Town of Milford

[20]
131
130
131
131
131
128
62
62
62
62
62
62
-
-
-
-
-
-
-
-
-
-
-
-
-
-
-
-
-
-
-
-
-
-
-
-
-
-
-
-
-
-
-
-
-
-
-
-
-
-
-
-

Town of Mont Vernon

25
25
25
25
25
22
121
120
120
120
120
120
-
1
-
-
-
-
-
-
-
-
-
-
-
-
-
-
-
-
-
-
-
-
-
-
-
-
-
-
-
-
-
-
-
-
-
-
-
-
-
-

Town of New Boston

52
52
52
52
52
52
197
197
197
197
197
197
-
-
-
-
-
-
-
-
-
-
-
-
-
-
-
-
-
-
-
-
-
-
-
-
-
-
-
-
-
-
-
-
-
-
-
-
-
-
-
-

Town of New Ipswich

179
179
178
179
179
162
24
23
23
23
23
23
-
-
16
-
-
-
-
-
-
-
-
-
-
-
-
-
-
-
-
-
-
-
-
-
-
-
-
-
-
-
-
-
-
-
-
-
-
-
-
-

Town of New London

59
59
59
59
59
59
54
54
54
54
54
54
-
-
-
-
-
-
-
-
-
-
-
-
-
-
-
-
-
-
-
-
-
-
-
-
-
-
-
-
-
-
-
-
-
-
-
-
-
-
-
-

Town of Nottingham West

103
103
103
103
103
103
65
65
65
65
65
65
-
-
-
-
-
-
-
-
-
-
-
-
-
-
-
-
-
-
-
-
-
-
-
-
-
-
-
-
-
-
-
-
-
-
-
-
-
-
-
-

Town of Peterborough

141
141
141
141
141
141
93
93
93
93
93
93
-
-
-
-
-
-
-
-
-
-
-
-
-
-
-
-
-
-
-
-
-
-
-
-
-
-
-
-
-
-
-
-
-
-
-
-
-
-
-
-

Town of Salisbury

196
196
196
195
195
196
149
150
149
149
149
149
-
-
-
-
-
-
-
-
-
-
-
-
-
-
-
-
-
-
-
1
-
-
-
-
-
-
-
-
-
-
-
-
-
-
-
-
-
-
-
-

Town of Sharon

21
21
21
21
21
21
30
30
30
30
30
30
-
-
-
-
-
-
-
-
-
-
-
-
-
-
-
-
-
-
-
-
-
-
-
-
-
-
-
-
-
-
-
-
-
-
-
-
-
-
-
-

Town of Society Land

2
2
2
2
2
2
18
18
18
18
18
18
-
-
-
-
-
-
-
-
-
-
-
-
-
-
-
-
-
-
-
-
-
-
-
-
-
-
-
-
-
-
-
-
-
-
-
-
-
-
-
-

Town of Sutton

10
10
10
10
9
10
204
205
204
204
204
203
-
-
-
-
-
-
-
-
-
-
-
-
-
-
-
-
-
-
-
-
-
-
-
-
-
-
-
-
-
-
-
-
-
-
-
-
-
-
-
-

Town of Temple

89
89
89
89
89
89
25
25
25
25
25
25
-
-
-
-
-
-
-
-
-
-
-
-
-
-
-
-
-
-
-
-
-
-
-
-
-
-
-
-
-
-
-
-
-
-
-
-
-
-
-
-

Town of Warner

70
70
70
70
70
70
222
222
222
222
222
222
-
-
-
-
-
-
-
-
-
-
-
-
-
-
-
-
-
-
-
-
-
-
-
-
-
-
-
-
-
-
-
-
-
-
-
-
-
-
-
-

Town of Weare

81
81
81
81
81
81
229
229
229
229
229
229
-
-
-
-
-
-
-
-
-
-
-
-
-
-
-
-
-
-
-
-
-
-
-
-
-
-
-
-
-
-
-
-
-
-
-
-
-
-
-
-

Town of Wilmot

23
23
23
23
23
23
56
56
56
56
56
56
-
-
-
-
-
-
-
-
-
-
-
-
-
-
-
-
-
-
-
-
-
-
-
-
-
-
-
-
-
-
-
-
-
-
-
-
-
-
-
-

Town of Wilton

63
63
63
63
63
58
101
101
101
101
101
101
-
5
-
-
-
-
-
-
-
-
-
-
-
-
-
-
-
-
-
-
-
-
-
-
-
-
-
-
-
-
-
-
-
-
-
-
-
-
-
-

Town of Windsor

[21]
5
5
5
5
5
5
37
37
37
37
37
37
-
-
-
-
-
-
-
-
-
-
-
-
-
-
-
-
-
-
-
-
-
-
-
-
-
-
-
-
-
-
-
-
-
-
-
-
-
-
-
-

Rockingham County

4168
4169
4169
4165
4165
4163
4003
4008
4008
4005
4003
4001
-
3
-
-
-
-
-
-
-
-
-
-
1
-
-
-
-
-
-
-
-
-
-
-
1
-
1
-
-
-
1
-
-
-
-
-
1
-
-
-

Town of Allenstown

20
20
20
20
20
20
41
41
41
41
41
41
-
-
-
-
-
-
-
-
-
-
-
-
-
-
-
-
-
-
-
-
-
-
-
-
-
-
-
-
-
-
-
-
-
-
-
-
-
-
-
-

Town of Atkinson

33
33
33
33
33
33
58
58
58
58
58
58
-
-
-
-
-
-
-
-
-
-
-
-
-
-
-
-
-
-
-
-
-
-
-
-
-
-
-
-
-
-
-
-
-
-
-
-
-
-
-
-

Town of Bow

40
40
40
40
40
40
97
97
97
97
97
97
-
-
-
-
-
-
-
-
-
-
-
-
-
-
-
-
-
-
-
-
-
-
-
-
-
-
-
-
-
-
-
-
-
-
-
-
-
-
-
-

Town of Brentwood

126
126
126
126
126
126
36
36
36
36
36
36
-
-
-
-
-
-
-
-
-
-
-
-
-
-
-
-
-
-
-
-
-
-
-
-
-
-
-
-
-
-
-
-
-
-
-
-
-
-
-
-

Town of Candia

129
129
130
129
128
129
82
83
83
83
83
83
-
-
-
-
-
-
-
-
-
-
-
-
-
-
-
-
-
-
-
-
-
-
-
-
-
-
-
-
-
-
-
-
-
-
-
-
-
-
-
-

Town of Canterbury

108
108
108
107
107
106
124
124
125
124
124
124
-
3
-
-
-
-
-
-
-
-
-
-
-
-
-
-
-
-
-
-
-
-
-
-
-
-
-
-
-
-
-
-
-
-
-
-
-
-
-
-

Town of Chester

194
193
194
194
194
194
149
149
149
149
149
149
-
-
-
-
-
-
-
-
-
-
-
-
-
-
-
-
-
-
-
-
-
-
-
-
-
-
-
-
-
-
-
-
-
-
-
-
-
-
-
-

Town of Chichester

48
48
48
48
48
48
111
111
111
111
111
111
-
-
-
-
-
-
-
-
-
-
-
-
-
-
-
-
-
-
-
-
-
-
-
-
-
-
-
-
-
-
-
-
-
-
-
-
-
-
-
-

Town of Concord

283
283
282
283
283
281
168
168
168
168
168
168
-
-
-
-
-
-
-
-
-
-
-
-
1
-
-
-
-
-
-
-
-
-
-
-
-
-
-
-
-
-
-
-
-
-
-
-
-
-
-
-

Town of Deerfield

103
103
103
103
101
103
265
265
265
265
265
264
-
-
-
-
-
-
-
-
-
-
-
-
-
-
-
-
-
-
-
-
-
-
-
-
-
-
-
-
-
-
-
-
-
-
-
-
-
-
-
-

Town of East Kingston

31
31
31
31
31
31
41
41
41
41
41
41
-
-
-
-
-
-
-
-
-
-
-
-
-
-
-
-
-
-
-
-
-
-
-
-
-
-
-
-
-
-
-
-
-
-
-
-
-
-
-
-

Town of Epping

125
125
125
125
125
125
72
72
72
72
72
72
-
-
-
-
-
-
-
-
-
-
-
-
-
-
-
-
-
-
-
-
-
-
-
-
-
-
-
-
-
-
-
-
-
-
-
-
-
-
-
-

Town of Epsom

26
26
26
26
26
26
203
204
204
204
204
204
-
-
-
-
-
-
-
-
-
-
-
-
-
-
-
-
-
-
-
-
-
-
-
-
-
-
-
-
-
-
-
-
-
-
-
-
-
-
-
-

Town of Exeter

220
221
220
219
221
219
69
68
67
66
68
67
-
-
-
-
-
-
-
-
-
-
-
-
-
-
-
-
-
-
-
-
-
-
-
-
1
-
-
-
-
-
-
-
-
-
-
-
-
-
-
-

Town of Greenland

51
51
51
50
51
51
65
65
66
65
65
65
-
-
-
-
-
-
-
-
-
-
-
-
-
-
-
-
-
-
-
-
-
-
-
-
-
-
-
-
-
-
-
-
-
-
-
-
-
-
-
-

Town of Hampstead

75
75
75
75
74
75
81
82
81
81
81
81
-
-
-
-
-
-
-
-
-
-
-
-
-
-
-
-
-
-
-
-
-
-
-
-
-
-
-
-
-
-
-
-
-
-
-
-
-
-
-
-

Town of Hampton

92
92
92
92
91
92
35
35
35
35
35
35
-
-
-
-
-
-
-
-
-
-
-
-
-
-
-
-
-
-
-
-
-
-
-
-
-
-
-
-
-
-
-
-
-
-
-
-
-
-
-
-

Town of Hampton Falls

81
81
81
81
81
81
8
8
8
8
8
8
-
-
-
-
-
-
-
-
-
-
-
-
-
-
-
-
-
-
-
-
-
-
-
-
-
-
-
-
-
-
-
-
-
-
-
-
-
-
-
-

Town of Hawke

31
31
31
31
31
31
39
39
39
39
39
39
-
-
-
-
-
-
-
-
-
-
-
-
-
-
-
-
-
-
-
-
-
-
-
-
-
-
-
-
-
-
-
-
-
-
-
-
-
-
-
-

Town of Kensington

72
72
72
72
72
72
35
34
34
34
34
34
-
-
-
-
-
-
-
-
-
-
-
-
-
-
-
-
-
-
-
-
-
-
-
-
-
-
-
-
-
-
-
-
-
-
-
-
-
-
-
-

Town of Kingston

85
85
85
85
85
85
51
51
51
51
51
51
-
-
-
-
-
-
-
-
-
-
-
-
-
-
-
-
-
-
-
-
-
-
-
-
-
-
-
-
-
-
-
-
-
-
-
-
-
-
-
-

Town of Londonderry

363
363
363
363
363
363
67
67
67
67
67
67
-
-
-
-
-
-
-
-
-
-
-
-
-
-
-
-
-
-
-
-
-
-
-
-
-
-
-
-
-
-
-
-
-
-
-
-
-
-
-
-

Town of Loudon

158
158
158
158
158
158
98
99
99
99
99
99
-
-
-
-
-
-
-
-
-
-
-
-
-
-
-
-
-
-
-
-
-
-
-
-
-
-
-
-
-
-
-
-
-
-
-
-
-
-
-
-

Town of New Castle

5
5
5
5
5
5
57
57
57
57
57
57
-
-
-
-
-
-
-
-
-
-
-
-
-
-
-
-
-
-
-
-
-
-
-
-
-
-
-
-
-
-
-
-
-
-
-
-
-
-
-
-

Town of Newington

[22]
16
16
16
16
16
16
77
77
77
77
77
77
-
-
-
-
-
-
-
-
-
-
-
-
-
-
-
-
-
-
-
-
-
-
-
-
-
-
-
-
-
-
-
-
-
-
-
-
-
-
-
-

Town of Newmarket

49
49
49
49
49
49
122
122
122
122
122
122
-
-
-
-
-
-
-
-
-
-
-
-
-
-
-
-
-
-
-
-
-
-
-
-
-
-
-
-
-
-
-
-
-
-
-
-
-
-
-
-

Town of Newton

16
16
16
16
16
16
57
57
57
57
57
57
-
-
-
-
-
-
-
-
-
-
-
-
-
-
-
-
-
-
-
-
-
-
-
-
-
-
-
-
-
-
-
-
-
-
-
-
-
-
-
-

Town of North Hampton

54
54
54
54
54
54
55
55
55
55
55
55
-
-
-
-
-
-
-
-
-
-
-
-
-
-
-
-
-
-
-
-
-
-
-
-
-
-
-
-
-
-
-
-
-
-
-
-
-
-
-
-

Town of Northfield

45
45
45
45
45
45
137
137
137
137
137
137
-
-
-
-
-
-
-
-
-
-
-
-
-
-
-
-
-
-
-
-
-
-
-
-
-
-
-
-
-
-
-
-
-
-
-
-
-
-
-
-

Town of Northwood

122
122
122
122
122
122
76
76
76
76
76
76
-
-
-
-
-
-
-
-
-
-
-
-
-
-
-
-
-
-
-
-
-
-
-
-
-
-
-
-
-
-
-
-
-
-
-
-
-
-
-
-

Town of Nottingham

64
65
64
64
64
64
88
88
86
88
88
87
-
-
-
-
-
-
-
-
-
-
-
-
-
-
-
-
-
-
-
-
-
-
-
-
-
-
-
-
-
-
-
-
-
-
-
-
-
-
-
-

Town of Pelham

107
107
107
107
107
107
79
79
79
79
79
79
-
-
-
-
-
-
-
-
-
-
-
-
-
-
-
-
-
-
-
-
-
-
-
-
-
-
-
-
-
-
-
-
-
-
-
-
-
-
-
-

Town of Pembroke

153
152
153
152
153
151
62
63
64
64
63
63
-
-
-
-
-
-
-
-
-
-
-
-
-
-
-
-
-
-
-
-
-
-
-
-
-
-
1
-
-
-
-
-
-
-
-
-
1
-
-
-

Town of Pittsfield

99
99
98
98
99
99
69
68
69
68
68
68
-
-
-
-
-
-
-
-
-
-
-
-
-
-
-
-
-
-
-
-
-
-
-
-
-
-
-
-
-
-
-
-
-
-
-
-
-
-
-
-

Town of Plaistow

26
26
26
26
26
26
44
44
44
44
44
44
-
-
-
-
-
-
-
-
-
-
-
-
-
-
-
-
-
-
-
-
-
-
-
-
-
-
-
-
-
-
-
-
-
-
-
-
-
-
-
-

Town of Poplin

53
53
53
53
53
53
16
16
16
16
16
16
-
-
-
-
-
-
-
-
-
-
-
-
-
-
-
-
-
-
-
-
-
-
-
-
-
-
-
-
-
-
-
-
-
-
-
-
-
-
-
-

Town of Portsmouth

347
348
349
349
349
349
528
528
528
527
525
528
-
-
-
-
-
-
-
-
-
-
-
-
-
-
-
-
-
-
-
-
-
-
-
-
-
-
-
-
-
-
-
-
-
-
-
-
-
-
-
-

Town of Raymond

76
76
76
76
76
76
74
74
74
74
74
74
-
-
-
-
-
-
-
-
-
-
-
-
-
-
-
-
-
-
-
-
-
-
-
-
-
-
-
-
-
-
-
-
-
-
-
-
-
-
-
-

Town of Rye

11
11
11
11
11
11
150
153
153
153
152
152
-
-
-
-
-
-
-
-
-
-
-
-
-
-
-
-
-
-
-
-
-
-
-
-
-
-
-
-
-
-
1
-
-
-
-
-
-
-
-
-

Town of Salem

121
121
121
121
121
121
74
74
74
74
74
73
-
-
-
-
-
-
-
-
-
-
-
-
-
-
-
-
-
-
-
-
-
-
-
-
-
-
-
-
-
-
-
-
-
-
-
-
-
-
-
-

Town of Sandown

47
47
47
47
47
47
50
50
50
50
50
50
-
-
-
-
-
-
-
-
-
-
-
-
-
-
-
-
-
-
-
-
-
-
-
-
-
-
-
-
-
-
-
-
-
-
-
-
-
-
-
-

Town of Seabrook

[23]
83
83
83
83
83
83
11
11
11
11
11
11
-
-
-
-
-
-
-
-
-
-
-
-
-
-
-
-
-
-
-
-
-
-
-
-
-
-
-
-
-
-
-
-
-
-
-
-
-
-
-
-

Town of South Hampton

16
16
16
16
16
16
45
45
45
45
45
45
-
-
-
-
-
-
-
-
-
-
-
-
-
-
-
-
-
-
-
-
-
-
-
-
-
-
-
-
-
-
-
-
-
-
-
-
-
-
-
-

Town of Stratham

37
37
37
37
37
37
113
113
113
113
113
113
-
-
-
-
-
-
-
-
-
-
-
-
-
-
-
-
-
-
-
-
-
-
-
-
-
-
-
-
-
-
-
-
-
-
-
-
-
-
-
-

Town of Windham

127
127
127
127
127
127
24
24
24
24
24
23
-
-
-
-
-
-
-
-
-
-
-
-
-
-
-
-
-
-
-
-
-
-
-
-
-
-
-
-
-
-
-
-
-
-
-
-
-
-
-
-

Strafford County

3130
3128
3128
3129
3125
3124
2918
2918
2911
2915
2919
2917
-
-
-
-
-
-
-
2
-
-
-
-
-
-
1
1
-
1
1
-
-
-
1
-
-
1
-
-
-
1
-
-
-
-
-
-
-
-
-
-

Town of Alton

112
113
112
112
112
112
58
58
57
57
58
57
-
-
-
-
-
-
-
-
-
-
-
-
-
-
-
-
-
-
-
-
-
-
-
-
-
-
-
-
-
-
-
-
-
-
-
-
-
-
-
-

Town of Barnstead

79
79
79
79
79
79
105
105
105
105
105
105
-
-
-
-
-
-
-
-
-
-
-
-
-
-
-
-
-
-
-
-
-
-
-
-
-
-
-
-
-
-
-
-
-
-
-
-
-
-
-
-

Town of Barrington

316
314
314
315
314
314
78
78
79
79
80
78
-
-
-
-
-
-
-
-
-
-
-
-
-
-
-
-
-
-
-
-
-
-
-
-
-
-
-
-
-
-
-
-
-
-
-
-
-
-
-
-

Town of Brookfield

64
64
64
64
64
64
35
35
35
35
35
35
-
-
-
-
-
-
-
-
-
-
-
-
-
-
-
-
-
-
-
-
-
-
-
-
-
-
-
-
-
-
-
-
-
-
-
-
-
-
-
-

Town of Burton

-
-
-
-
-
-
21
21
21
21
21
21
-
-
-
-
-
-
-
-
-
-
-
-
-
-
-
-
-
-
-
-
-
-
-
-
-
-
-
-
-
-
-
-
-
-
-
-
-
-
-
-

Town of Center Harbor

31
31
31
31
31
31
36
36
36
36
36
36
-
-
-
-
-
-
-
-
-
-
-
-
-
-
-
-
-
-
-
-
-
-
-
-
-
-
-
-
-
-
-
-
-
-
-
-
-
-
-
-

Town of Conway

56
56
56
56
56
56
127
127
127
126
127
127
-
-
-
-
-
-
-
-
-
-
-
-
-
-
-
-
-
-
-
-
-
-
-
-
-
-
-
-
-
-
-
-
-
-
-
-
-
-
-
-

Town of Dover

151
151
151
151
151
151
99
99
99
98
99
99
-
-
-
-
-
-
-
-
-
-
-
-
-
-
-
1
-
-
-
-
-
-
-
-
-
-
-
-
-
-
-
-
-
-
-
-
-
-
-
-

Town of Durham

77
78
78
78
78
78
100
100
100
100
100
100
-
-
-
-
-
-
-
-
-
-
-
-
-
-
-
-
-
-
-
-
-
-
-
-
-
-
-
-
-
-
-
-
-
-
-
-
-
-
-
-

Town of Eaton

5
5
5
5
5
5
111
111
111
111
111
111
-
-
-
-
-
-
-
-
-
-
-
-
-
-
-
-
-
-
-
-
-
-
-
-
-
-
-
-
-
-
-
-
-
-
-
-
-
-
-
-

Town of Effingham

37
37
37
37
37
37
103
103
103
103
103
103
-
-
-
-
-
-
-
-
-
-
-
-
-
-
-
-
-
-
-
-
-
-
-
-
-
-
-
-
-
-
-
-
-
-
-
-
-
-
-
-

Town of Farmington

43
43
43
43
43
43
121
121
120
121
121
121
-
-
-
-
-
-
-
-
-
-
-
-
-
-
-
-
-
-
-
-
-
-
-
-
-
-
-
-
-
-
-
-
-
-
-
-
-
-
-
-

Town of Gilford

105
104
104
104
104
104
105
105
104
104
105
105
-
-
-
-
-
-
-
-
-
-
-
-
-
-
-
-
-
-
-
-
-
-
-
-
-
-
-
-
-
-
-
-
-
-
-
-
-
-
-
-

Town of Gilmantown

271
271
271
271
271
271
173
173
173
173
173
173
-
-
-
-
-
-
-
-
-
-
-
-
-
-
1
-
-
1
1
-
-
-
1
-
-
1
-
-
-
1
-
-
-
-
-
-
-
-
-
-

Town of Lee

30
30
30
30
30
30
136
136
136
136
136
136
-
-
-
-
-
-
-
-
-
-
-
-
-
-
-
-
-
-
-
-
-
-
-
-
-
-
-
-
-
-
-
-
-
-
-
-
-
-
-
-

Town of Madbury

39
39
39
39
39
39
30
30
30
30
30
30
-
-
-
-
-
-
-
-
-
-
-
-
-
-
-
-
-
-
-
-
-
-
-
-
-
-
-
-
-
-
-
-
-
-
-
-
-
-
-
-

Town of Meredith

182
182
182
182
182
181
144
145
145
145
145
145
-
-
-
-
-
-
-
-
-
-
-
-
-
-
-
-
-
-
-
-
-
-
-
-
-
-
-
-
-
-
-
-
-
-
-
-
-
-
-
-

Town of Middleton

56
56
56
56
56
56
17
17
16
17
17
17
-
-
-
-
-
-
-
-
-
-
-
-
-
-
-
-
-
-
-
-
-
-
-
-
-
-
-
-
-
-
-
-
-
-
-
-
-
-
-
-

Town of Milton

94
94
94
94
92
93
38
38
37
38
36
38
-
-
-
-
-
-
-
-
-
-
-
-
-
-
-
-
-
-
-
-
-
-
-
-
-
-
-
-
-
-
-
-
-
-
-
-
-
-
-
-

Town of Moultonborough

100
100
100
100
100
100
103
103
103
103
103
103
-
-
-
-
-
-
-
-
-
-
-
-
-
-
-
-
-
-
-
-
-
-
-
-
-
-
-
-
-
-
-
-
-
-
-
-
-
-
-
-

Town of New Durham

75
75
75
75
75
75
59
59
59
59
59
59
-
-
-
-
-
-
-
-
-
-
-
-
-
-
-
-
-
-
-
-
-
-
-
-
-
-
-
-
-
-
-
-
-
-
-
-
-
-
-
-

Town of New Hampton

118
117
118
118
118
118
71
71
71
71
71
71
-
-
-
-
-
-
-
-
-
-
-
-
-
-
-
-
-
-
-
-
-
-
-
-
-
-
-
-
-
-
-
-
-
-
-
-
-
-
-
-

Town of Ossipee

56
56
56
56
56
56
122
121
122
121
122
121
-
-
-
-
-
-
-
-
-
-
-
-
-
-
-
-
-
-
-
-
-
-
-
-
-
-
-
-
-
-
-
-
-
-
-
-
-
-
-
-

Ossipee Gore

[24][25]
10
10
10
10
10
10
6
6
6
6
6
6
-
-
-
-
-
-
-
-
-
-
-
-
-
-
-
-
-
-
-
-
-
-
-
-
-
-
-
-
-
-
-
-
-
-
-
-
-
-
-
-

Town of Rochester

83
83
83
83
83
83
183
183
180
183
183
183
-
-
-
-
-
-
-
2
-
-
-
-
-
-
-
-
-
-
-
-
-
-
-
-
-
-
-
-
-
-
-
-
-
-
-
-
-
-
-
-

Town of Sanbornton

339
339
339
339
338
337
182
182
182
182
182
182
-
-
-
-
-
-
-
-
-
-
-
-
-
-
-
-
-
-
-
-
-
-
-
-
-
-
-
-
-
-
-
-
-
-
-
-
-
-
-
-

Town of Sandwich

162
162
162
162
162
162
169
169
169
169
169
169
-
-
-
-
-
-
-
-
-
-
-
-
-
-
-
-
-
-
-
-
-
-
-
-
-
-
-
-
-
-
-
-
-
-
-
-
-
-
-
-

Town of Somersworth

98
98
98
98
98
98
18
18
18
18
18
18
-
-
-
-
-
-
-
-
-
-
-
-
-
-
-
-
-
-
-
-
-
-
-
-
-
-
-
-
-
-
-
-
-
-
-
-
-
-
-
-

Town of Tamworth

153
153
153
153
153
153
49
49
49
49
49
49
-
-
-
-
-
-
-
-
-
-
-
-
-
-
-
-
-
-
-
-
-
-
-
-
-
-
-
-
-
-
-
-
-
-
-
-
-
-
-
-

Town of Tuftonboro

23
23
23
23
23
23
103
103
103
103
103
103
-
-
-
-
-
-
-
-
-
-
-
-
-
-
-
-
-
-
-
-
-
-
-
-
-
-
-
-
-
-
-
-
-
-
-
-
-
-
-
-

Town of Wakefield

112
112
112
112
112
112
64
64
64
64
64
64
-
-
-
-
-
-
-
-
-
-
-
-
-
-
-
-
-
-
-
-
-
-
-
-
-
-
-
-
-
-
-
-
-
-
-
-
-
-
-
-

Town of Wolfeboro

53
53
53
53
53
53
152
152
151
152
152
152
-
-
-
-
-
-
-
-
-
-
-
-
-
-
-
-
-
-
-
-
-
-
-
-
-
-
-
-
-
-
-
-
-
-
-
-
-
-
-
-
Notes:
References:
Original Election Returns. New Hampshire Archives and Records Management, Concord.
Town records. New Hampshire State Library, Concord.
Concord Town Records, 1732-1820. 468-469.
Windsor Town Records.
Portsmouth Oracle (Portsmouth, NH). October 1, 1814.
New-York Evening Post (New York, NY). October 7, 1814.
Farmer's Cabinet (Amherst, NH). October 8, 1814.
New-hampshire Sentinel (Keene, NH). October 8, 1814.
New-Hampshire Patriot (Concord, NH). October 11, 1814.
Dartmouth Gazette, and Grafton and Coos Advertiser (Hanover, NH). October 12, 1814.
The Washingtonian (Windsor, VT). October 17, 1814.
Browne, George Waldo. Early Records of the Town of Derryfield now Manchester, NH. Vol. III. Manchester, NH: City Council of Manchester, 1909. 329.
Downs, Charles A. History of Lebanon, N.H. 1761-1887. Concord, NH: Rumford Printing, 1908. 230.
Foster, Herbert Darling, George Mendal Bridgman and Sidney Bradshaw Fay. The Records of the Town of Hanover, New Hampshire, 1761-1818. Hanover, NH: Hanover, 1905. 283.
Hayward, Silvanus. History of the Town of Gilsum, New Hampshire from 1752 to 1879. Manchester, NH: J. B. Clarke, 1881. 87.
Hayward, William Willis. The History of Hancock, New Hampshire, 1764-1889. Vol. I. Lowell, MA.: S. W. Huse and, 1889. 138.
Hoyt, Peter L. Hoyt's History of Wentworth, New Hampshire, as transcribed from the Original Manuscript by Francis A. Muzzey. Littleton, NH: Courier, 1976. 246.
Jackson, James R. History of Littleton, New Hampshire. Vol. I. Cambridge, MA: University Press, 1905. 242, 248.
Lyon, G. Parker. The New-Hampshire Annual Register, and United States Calendar for the Year 1860. Concord, NH: Claremont Manufacturing Company, 1860. 32-33.
Runnels, M. T. The History of Sanbornton, New Hampshire. Boston: Mudge, 1882. 426.
Seward, Josiah Lafayette. A History of the Town of Sullivan, New Hampshire: 1777-1917. Keene, NH: J.L. Seward, 1921. 237.
Whitcher, William F. Some Things About Coventry-Benton, New Hampshire. Woodsville, NH: News Print, 1905. 151.
Page Images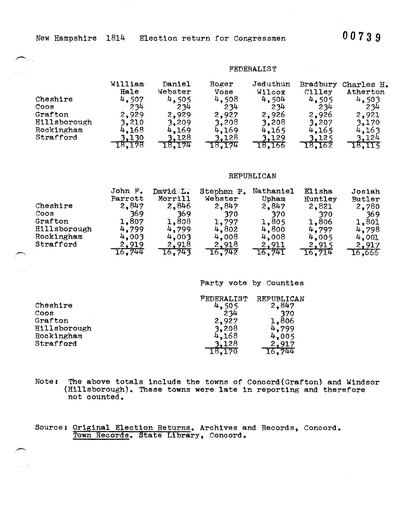 These election records were released on 11 January 2012. Versions numbers are assigned by state. Alabama, Arkansas, Delaware, Florida, Georgia, Illinois, Indiana, Kentucky, Louisiana, Maine, Maryland, Michigan, Missouri, North Carolina, Ohio, Rhode Island, South Carolina, Tennessee and Virginia are complete and are in Version 1.0. All other states are in a Beta version. For more information go to the about page.