New York 1808 U.S. House of Representatives, District 9
Office:

U.S. House of Representatives (Federal)

Title:

U.S. Congressman

Jurisdiction:

Federal
Label:

New York 1808 U.S. House of Representatives, District 9

Date:

1808

State:

New York

Type:

General

Iteration:

First Ballot

Office/Role:

U.S. House of Representatives/U.S. Congressman

Candidates:

Thomas Sammons, John Herkimer, John MacCarthy, Richard Dodge, Samuel Harper, David Sammons, Henry F. Yates
Candidates:
Thomas Sammons[1]
John Herkimer
John MacCarthy
Richard Dodge
Samuel Harper
David Sammons
Henry F. Yates
Affiliation:
Federalist
Republican
Final Result:
3642
2116
3
1
1
1
1

District of Nine

3642
2116
3
1
1
1
1

Montgomery County

2643
1512
3
1
1
1
1

Town of Amsterdam

202
114
-
-
-
-
1

Town of Broadalbin

62
199
-
-
-
-
-

Town of Canajohary

227
152
-
-
-
-
-

Town of Charleston

263
175
-
-
-
-
-

Town of Florida

179
108
-
-
-
-
-

Town of Johnstown

457
219
-
-
-
-
-

Town of Manheim

109
53
-
-
-
-
-

Town of Mayfield

139
74
-
-
-
-
-

Town of Minden

333
136
-
-
-
-
-

Town of Northampton

95
36
-
-
-
-
-

Town of Openheim

202
58
-
-
-
-
-

Town of Palatine

212
117
-
-
-
-
-

Town of Salisbury

93
23
-
-
-
-
-

Town of Stratford

50
-
3
-
-
-
-

Town of Wells

20
48
-
-
-
-
-

Schoharie County

[2]
999
604
-
-
-
-
-

Town of Blenheim

9
84
-
-
-
-
-

Town of Bristol

81
33
-
-
-
-
-

Town of Carlisle

49
60
-
-
-
-
-

Town of Cobleskill

114
113
-
-
-
-
-

Town of Jefferson

126
8
-
-
-
-
-

Town of Middleburgh

195
105
-
-
-
-
-

Town of Schoharie

243
52
-
-
-
-
-

Town of Sharon

182
149
-
-
-
-
-
Notes:
[2]
The Albany Gazette (Albany, NY) reports 1001 votes for Thomas Sammons and 602 votes for John Herkimer in Schoharie County, however the sums of the total votes by town that they list is 999 and 604, respectively.
References:
Original Election Returns.
The Albany Gazette (Albany, NY). May 12, 1808.
The Albany Register (Albany, NY). June 7, 1808.
Page Images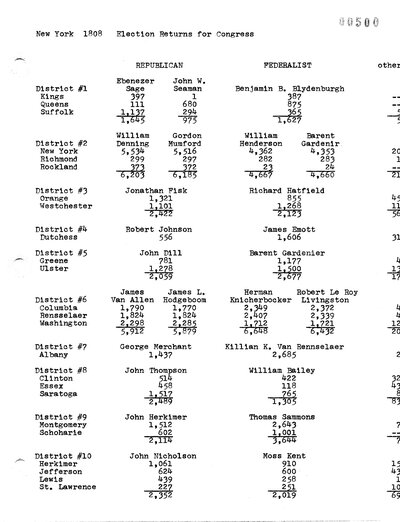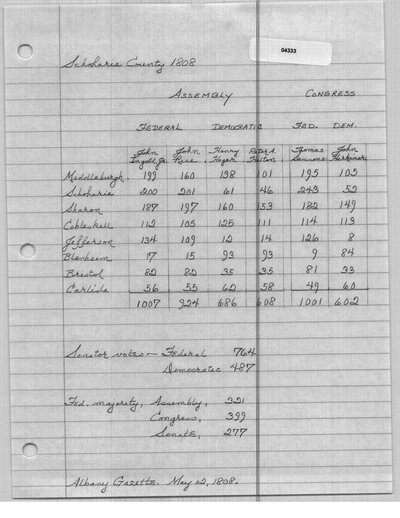 These election records were released on 11 January 2012. Versions numbers are assigned by state. Alabama, Arkansas, Delaware, Florida, Georgia, Illinois, Indiana, Kentucky, Louisiana, Maine, Maryland, Michigan, Missouri, North Carolina, Ohio, Rhode Island, South Carolina, Tennessee and Virginia are complete and are in Version 1.0. All other states are in a Beta version. For more information go to the about page.