Maine 1823 U.S. House of Representatives, District 3, Ballot 3
Office:

U.S. House of Representatives (Federal)

Title:

U.S. Congressman

Jurisdiction:

Federal
Label:

Maine 1823 U.S. House of Representatives, District 3, Ballot 3

Date:

1823

State:

Maine

Type:

General

Iteration:

Third Ballot

Office/Role:

U.S. House of Representatives/U.S. Congressman

Candidates:

Ebenezer Herrick, Mark L. Hill, William M. Boyd, Edwin Smith, Peleg Tallman, Jeremiah Bailey, Eliha Hatch, Parker MacCobb, John Fasset, Samuel Hyde, John Dole, Moses Peaslee, Joseph Bailey
Candidates:
Ebenezer Herrick[1]
Mark L. Hill
William M. Boyd
Edwin Smith
Peleg Tallman
Jeremiah Bailey
Eliha Hatch
Parker MacCobb
John Fasset
Samuel Hyde
John Dole
Moses Peaslee
Joseph Bailey
Affiliation:
Adams
Crawford
Adams
Final Result: [2]
1797
1010
5
4
3
2
2
2
1
1
1
1
1

District of Three

1797
1010
5
4
3
2
2
2
1
1
1
1
1

Lincoln County

1797
1010
5
4
3
2
2
2
1
1
1
1
1

Town of Alna

51
41
-
-
-
-
-
-
-
-
-
-
-

Town of Bath

[3]
187
86
-
-
-
-
-
-
-
-
-
-
-

Town of Boothbay

[4]
-
-
-
-
-
-
-
-
-
-
-
-
-

Town of Bowdoin

127
7
-
-
-
-
-
-
-
-
-
-
-

Town of Bowdoinham

179
1
-
-
-
-
2
-
-
-
-
-
-

Town of Bristol

39
66
-
-
-
-
-
-
1
-
-
-
-

Town of Camden

67
22
-
-
-
-
-
-
-
-
-
-
-

Town of Cushing

23
19
-
-
-
-
-
-
-
-
-
-
-

Town of Dresden

50
4
-
-
-
-
-
-
-
-
-
-
-

Town of Edgecomb

27
60
-
-
-
1
-
-
-
-
-
-
-

Town of Friendship

-
14
-
-
-
-
-
-
-
-
-
-
-

Town of Georgetown

13
82
-
-
-
-
-
-
-
-
-
-
-

Town of Hope

58
1
-
-
-
-
-
-
-
-
-
-
-

Town of Jefferson

34
33
-
-
-
-
-
-
-
-
-
-
-

Town of Litchfield

70
92
-
-
2
-
-
-
-
1
1
-
-

Town of New Castle

41
48
4
-
-
-
-
-
-
-
-
-
-

Town of Nobleborough

48
22
-
-
-
-
-
-
-
-
-
-
-

Town of Phipsburgh

19
118
1
-
-
-
-
2
-
-
-
-
-

Town of Richmond

41
-
-
-
-
-
-
-
-
-
-
-
-

Town of Saint George

23
24
-
-
-
-
-
-
-
-
-
-
-

Town of Thomaston

86
107
-
-
-
-
-
-
-
-
-
-
-

Town of Topsham

90
12
-
-
1
-
-
-
-
-
-
-
-

Town of Union

60
9
-
-
-
-
-
-
-
-
-
-
-

Town of Waldoborough

184
31
-
-
-
1
-
-
-
-
-
-
-

Town of Warren

97
24
-
-
-
-
-
-
-
-
-
-
-

Town of Whitfield

106
-
-
-
-
-
-
-
-
-
-
1
1

Town of Wiscasset

32
68
-
4
-
-
-
-
-
-
-
-
-

Town of Woolwich

45
19
-
-
-
-
-
-
-
-
-
-
-
Notes:
References:
Original Election Returns. Maine State Library, Augusta.
Independent Statesman and Maine Republican (Portland, ME). October 11, 1823.
The Eastern Argus (Portland, ME). October 14, 1823.
Hallowell Gazette (Hallowell, ME). October 15, 1823.
Bangor Register (Bangor, ME). October 16, 1823.
Maine Gazette (Bath, ME). October 17, 1823.
American Advocate and General Advertiser (Hallowell, ME). October 18, 1823.
Eastport Sentinel (Eastport, ME). October 25, 1823.
Aiken, Ruth J., ed. Records of the Lower St. Georges and Cushing, Maine: 1605-1897. Cushing, ME: Driftwood Farm, 1987. 53.
Allen, Charles Edwin. History of Dresden, ME: formerly a part of the old town of Pownalborough from its earliest settlement to the year 1900. Augusta, ME: Kennebec Journal Print Shop, 1931. 585.
Dubin, Michael J. United States Congressional Elections, 1788-1997: The Official Results of the Elections of the 1st through 105th Congresses. Jefferson, NC: McFarland and Company, 1998.
Sibley, John Langdon. History of the Town of Union, in the County of Lincoln, Maine. Boston: Benjamin B. Mussey and Co, 1851. 241.
Page Images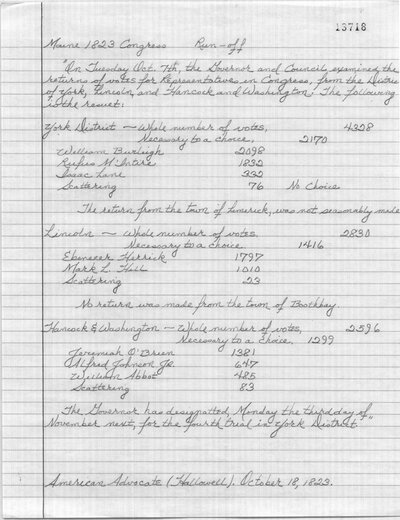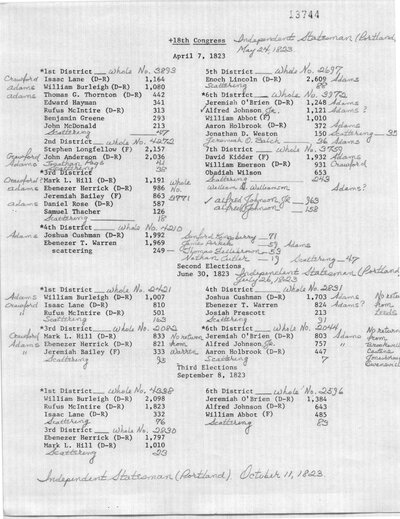 These election records were released on 11 January 2012. Versions numbers are assigned by state. Alabama, Arkansas, Delaware, Florida, Georgia, Illinois, Indiana, Kentucky, Louisiana, Maine, Maryland, Michigan, Missouri, North Carolina, Ohio, Rhode Island, South Carolina, Tennessee and Virginia are complete and are in Version 1.0. All other states are in a Beta version. For more information go to the about page.