Massachusetts 1798 State Senate, Berkshire County
Office:

State Senate (State)

Title:

State Senator

Jurisdiction:

State
Label:

Massachusetts 1798 State Senate, Berkshire County

Date:

1798

State:

Massachusetts

Type:

General

Iteration:

First Ballot

Office/Role:

State Senate/State Senator

Candidates:

Thomas Ives, Timothy Childs, John Bacon, William Williams, David Rosseter, Ephraim Williams, Jonathan Smith, Barnabas Bidwell, scattering
Candidates:
Thomas Ives[1]
John Bacon
William Williams
David Rosseter
Timothy Childs
Ephraim Williams
Jonathan Smith
Barnabas Bidwell
scattering
Affiliation:
Final Result: [2][3]
670
-
590
536
-
-
-
-
-

Berkshire County

670
590
536
-
-
-
-
-
-

Town of Adams

-
135
135
-
-
-
-
-
-

Town of Alford

15
-
27
42
-
-
-
-
-

Town of Becket

-
-
30
30
-
-
-
-
-

District of Bethlehem

-
-
-
-
-
-
-
-
-

Town of Chesire

-
-
-
-
-
-
-
-
-

Town of Dalton

29
3
8
39
1
-
-
-
-

Town of Egremont

49
50
-
-
-
-
-
-
-

Town of Great Barrington

54
-
41
-
4
9
-
-
-

Town of Hancock

-
-
-
27
-
-
-
-
-

Town of Lanesborough

-
2
58
59
-
-
-
-
-

Town of Lee

[4][5]
31
-
8
45
4
-
-
-
-

Town of Lenox

14
50
56
3
14
-
-
-
11

Town of Louden

-
-
-
-
-
-
-
-
-

Town of Mount Washington

-
-
-
-
-
-
-
-
-

District of New Ashford

30
-
-
28
-
-
-
-
2

Town of New Marlborough

-
-
-
-
-
-
-
-
-

Town of Partridgefield

[6][7]
33
3
-
35
-
-
-
-
-

Town of Pittsfield

100
59
2
52
6
-
-
-
-

Town of Richmond

-
10
31
-
32
-
-
-
13

Town of Sandisfield

-
-
-
-
-
-
-
-
-

Town of Savoy

-
-
-
-
-
-
-
-
-

Town of Sheffield

23
-
-
38
31
-
-
-
1

Town of Stockbridge

4
1
44
48
85
4
1
-
-

Town of Tyringham

-
-
24
30
-
-
-
-
-

Town of Washington

-
-
-
-
-
-
-
-
-

Town of West Stockbridge

3
-
43
27
11
-
-
3
-

Town of Williamstown

30
109
89
-
8
-
-
-
2

Town of Windsor

50
54
1
30
-
-
-
-
-
Notes:
References:
Governor's Council Records. Massachusetts State Archives, Boston.
Lee Town Records. 93.
Peru Town Records. 110.
Pittsfield Town Records.
Berkshire Gazette (Pittsfield, MA). April 4, 1798.
The Western Star (Stockbridge, MA). April 9, 1798.
Page Images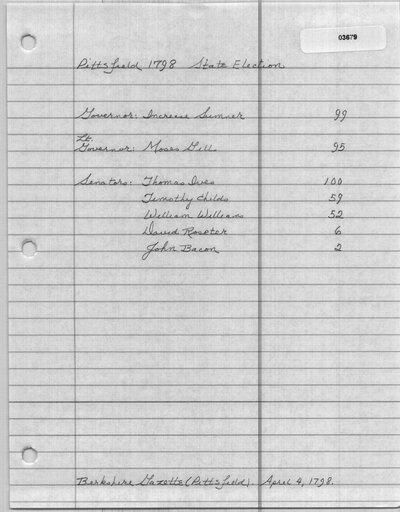 These election records were released on 11 January 2012. Versions numbers are assigned by state. Alabama, Arkansas, Delaware, Florida, Georgia, Illinois, Indiana, Kentucky, Louisiana, Maine, Maryland, Michigan, Missouri, North Carolina, Ohio, Rhode Island, South Carolina, Tennessee and Virginia are complete and are in Version 1.0. All other states are in a Beta version. For more information go to the about page.