New York 1823 State Senate, District 8
Office:

State Senate (State)

Title:

State Senator

Jurisdiction:

State
Label:

New York 1823 State Senate, District 8

Date:

1823

State:

New York

Type:

General

Iteration:

First Ballot

Office/Role:

State Senate/State Senator

Candidates:

James MacCall, John Bowman, Robert MacCay, James Norton, John MacKay, Heman Norton, James Mullet, Jr., Samuel Wilkerson, Reuben Wiley, Samuel B. Bradley, Peter Price, William Woods, Ebenezer F. Norton, Robert Anderson, Gregory Storm, James Storm, John MacCall, Byram H. Barlow, Israel Baldwin, Samuel B. Chidsey, James Adkins, John Crane, Eli K. Picket, John Brown, William Bristol, D. E. Evans, Chauncey L. Sheldon, George Smith, George Hosmer, Isaac J. Elwood, Ashley Samson, Enos Stone, John Cotton Smith, William Wells, Major H. Smith, Bushrod Washington, Ezekiel Smith, Benjamin Barlow, Jr., George MacClure, Joshua Rathbone, Hubbard W. Rathburn, Isaac Hall, Grattan H. Wheeler, Abraham R. Foster, Robert Porter, Parsall Lyon, Old Forrester
Candidates:
James MacCall
John Bowman
Robert MacCay
James Norton
John MacKay
Heman Norton
James Mullet, Jr.
Samuel Wilkerson
Reuben Wiley
Samuel B. Bradley
Peter Price
William Woods
Ebenezer F. Norton
Robert Anderson
Gregory Storm
James Storm
John MacCall
Byram H. Barlow
Israel Baldwin
Samuel B. Chidsey
James Adkins
John Crane
Eli K. Picket
John Brown
William Bristol
D. E. Evans
Chauncey L. Sheldon
George Smith
George Hosmer
Isaac J. Elwood
Ashley Samson
Enos Stone
John Cotton Smith
William Wells
Major H. Smith
Bushrod Washington
Ezekiel Smith
Benjamin Barlow, Jr.
George MacClure
Joshua Rathbone
Hubbard W. Rathburn
Isaac Hall
Grattan H. Wheeler
Abraham R. Foster
Robert Porter
Parsall Lyon
Old Forrester
Affiliation:
Bucktail
Bucktail
Clintonian
Clintonian
Final Result: [1][2]
9192
9012
8546
8415
9
9
3
3
3
3
3
2
2
2
2
2
2
2
2
2
1
1
1
1
1
1
1
1
1
1
1
1
1
1
1
1
1
1
1
1
1
1
1
1
1
1
-

District of Eight

9192
9012
8546
8415
9
9
3
3
3
3
3
2
2
2
2
2
2
2
2
2
1
1
1
1
1
1
1
1
1
1
1
1
1
1
1
1
1
1
1
1
1
1
1
1
1
1
-

Allegany County

853
805
790
771
-
-
-
-
-
-
-
-
-
-
-
-
-
-
-
-
-
-
-
-
-
-
-
-
-
-
-
-
-
-
-
-
-
-
-
-
-
-
-
-
-
-
-

Cattaraugus County

[3]
338
418
366
430
-
-
-
-
-
-
-
2
-
-
-
-
-
-
-
-
-
-
-
-
-
-
-
-
-
-
-
-
-
-
-
-
-
-
-
-
-
-
-
-
-
-
-

Chautauque County

884
885
507
508
-
-
3
-
-
-
-
-
-
-
-
-
-
-
-
-
1
1
-
-
-
-
-
-
-
-
-
-
-
-
-
-
-
-
-
-
-
-
-
-
-
-
-

Erie County

950
774
1317
1139
-
-
-
3
-
-
-
-
2
-
-
-
-
-
-
-
-
-
-
-
-
-
-
-
-
-
-
-
-
-
-
-
-
-
-
-
-
-
-
-
-
-
-

Genesee County

1768
1985
2128
2005
9
9
-
-
-
-
-
-
-
2
2
2
2
-
-
-
-
-
1
1
1
1
1
-
-
-
-
-
-
-
-
-
-
-
-
-
-
-
-
-
-
-
-

Town of Alexander

12
12
107
108
-
-
-
-
-
-
-
-
-
-
-
-
-
-
-
-
-
-
-
-
-
-
-
-
-
-
-
-
-
-
-
-
-
-
-
-
-
-
-
-
-
-
-

Town of Attica

135
134
104
103
-
-
-
-
-
-
-
-
-
-
-
-
-
-
-
-
-
-
-
-
-
-
-
-
-
-
-
-
-
-
-
-
-
-
-
-
-
-
-
-
-
-
-

Town of Barre

15
18
97
96
-
-
-
-
-
-
-
-
-
-
-
-
-
-
-
-
-
-
-
-
-
-
-
-
-
-
-
-
-
-
-
-
-
-
-
-
-
-
-
-
-
-
-

Town of Batavia

84
83
251
249
-
-
-
-
-
-
-
-
-
-
-
-
-
-
-
-
-
-
-
-
-
-
-
-
-
-
-
-
-
-
-
-
-
-
-
-
-
-
-
-
-
-
-

Town of Bennington

55
55
58
58
-
-
-
-
-
-
-
-
-
-
-
-
-
-
-
-
-
-
-
-
-
-
-
-
-
-
-
-
-
-
-
-
-
-
-
-
-
-
-
-
-
-
-

Town of Bergen

48
46
24
27
-
-
-
-
-
-
-
-
-
-
-
-
-
-
-
-
-
-
-
-
-
-
-
-
-
-
-
-
-
-
-
-
-
-
-
-
-
-
-
-
-
-
-

Town of Bethany

56
58
136
136
-
-
-
-
-
-
-
-
-
-
-
-
-
-
-
-
-
-
-
-
-
-
-
-
-
-
-
-
-
-
-
-
-
-
-
-
-
-
-
-
-
-
-

Town of Byron

42
42
136
137
-
-
-
-
-
-
-
-
-
-
-
-
-
-
-
-
-
-
-
-
-
-
-
-
-
-
-
-
-
-
-
-
-
-
-
-
-
-
-
-
-
-
-

Town of Castile

18
17
54
53
-
-
-
-
-
-
-
-
-
-
-
-
-
-
-
-
-
-
-
-
-
-
-
-
-
-
-
-
-
-
-
-
-
-
-
-
-
-
-
-
-
-
-

Town of China

103
102
1
-
-
-
-
-
-
-
-
-
-
-
-
-
-
-
-
-
-
-
-
-
-
-
-
-
-
-
-
-
-
-
-
-
-
-
-
-
-
-
-
-
-
-
-

Town of Clarendon

89
89
26
26
-
-
-
-
-
-
-
-
-
-
-
-
-
-
-
-
-
-
-
-
-
-
-
-
-
-
-
-
-
-
-
-
-
-
-
-
-
-
-
-
-
-
-

Town of Covington

77
77
24
24
-
-
-
-
-
-
-
-
-
-
-
-
-
-
-
-
-
-
-
-
-
-
-
-
-
-
-
-
-
-
-
-
-
-
-
-
-
-
-
-
-
-
-

Town of Elba

36
38
110
109
-
-
-
-
-
-
-
-
-
-
-
-
-
-
-
-
-
-
-
-
-
-
-
-
-
-
-
-
-
-
-
-
-
-
-
-
-
-
-
-
-
-
-

Town of Gaines

76
124
8
57
-
-
-
-
-
-
-
-
-
-
-
-
-
-
-
-
-
-
-
-
-
-
-
-
-
-
-
-
-
-
-
-
-
-
-
-
-
-
-
-
-
-
-

Town of Gainesville

20
77
50
34
-
-
-
-
-
-
-
-
-
-
-
-
-
-
-
-
-
-
-
-
-
-
-
-
-
-
-
-
-
-
-
-
-
-
-
-
-
-
-
-
-
-
-

Town of LeRoy

126
124
74
74
-
-
-
-
-
-
-
-
-
-
-
-
-
-
-
-
-
-
-
-
-
-
-
-
-
-
-
-
-
-
-
-
-
-
-
-
-
-
-
-
-
-
-

Town of Middlebury

83
83
88
90
-
-
-
-
-
-
-
-
-
-
-
-
-
-
-
-
-
-
-
-
-
-
-
-
-
-
-
-
-
-
-
-
-
-
-
-
-
-
-
-
-
-
-

Town of Murray

64
59
77
78
-
-
-
-
-
-
-
-
-
-
-
-
-
-
-
-
-
-
-
-
-
-
-
-
-
-
-
-
-
-
-
-
-
-
-
-
-
-
-
-
-
-
-

Town of Oak Orchard

42
43
-
-
-
-
-
-
-
-
-
-
-
-
-
-
-
-
-
-
-
-
-
-
-
-
-
-
-
-
-
-
-
-
-
-
-
-
-
-
-
-
-
-
-
-
-

Town of Orangeville

8
132
142
16
-
-
-
-
-
-
-
-
-
-
-
-
-
-
-
-
-
-
-
-
-
-
-
-
-
-
-
-
-
-
-
-
-
-
-
-
-
-
-
-
-
-
-

Town of Pembroke

162
161
78
76
-
-
-
-
-
-
-
-
-
-
-
-
-
-
-
-
-
-
-
-
-
-
-
-
-
-
-
-
-
-
-
-
-
-
-
-
-
-
-
-
-
-
-

Town of Perry

41
41
50
49
-
-
-
-
-
-
-
-
-
-
-
-
-
-
-
-
-
-
-
-
-
-
-
-
-
-
-
-
-
-
-
-
-
-
-
-
-
-
-
-
-
-
-

Town of Ridgeway

28
21
63
56
-
-
-
-
-
-
-
-
-
-
-
-
-
-
-
-
-
-
-
-
-
-
-
-
-
-
-
-
-
-
-
-
-
-
-
-
-
-
-
-
-
-
-

Town of Shelby

81
81
37
37
-
-
-
-
-
-
-
-
-
-
-
-
-
-
-
-
-
-
-
-
-
-
-
-
-
-
-
-
-
-
-
-
-
-
-
-
-
-
-
-
-
-
-

Town of Sheldon

69
69
84
62
-
-
-
-
-
-
-
-
-
-
-
-
-
-
-
-
-
-
-
-
-
-
-
-
-
-
-
-
-
-
-
-
-
-
-
-
-
-
-
-
-
-
-

Town of Stafford

57
57
91
91
-
-
-
-
-
-
-
-
-
-
-
-
-
-
-
-
-
-
-
-
-
-
-
-
-
-
-
-
-
-
-
-
-
-
-
-
-
-
-
-
-
-
-

Town of Warsaw

139
140
61
62
-
-
-
-
-
-
-
-
-
-
-
-
-
-
-
-
-
-
-
-
-
-
-
-
-
-
-
-
-
-
-
-
-
-
-
-
-
-
-
-
-
-
-

Town of Yates

2
2
97
97
-
-
-
-
-
-
-
-
-
-
-
-
-
-
-
-
-
-
-
-
-
-
-
-
-
-
-
-
-
-
-
-
-
-
-
-
-
-
-
-
-
-
-

Livingston County

1046
1024
818
775
-
-
-
-
-
-
-
-
-
-
-
-
-
-
-
-
-
-
-
-
-
-
-
1
1
1
-
-
-
-
-
-
-
-
-
-
-
-
-
-
-
-
-

Monroe County

[4][5]
1507
1562
1268
1228
-
-
-
-
3
3
3
-
-
-
-
-
-
-
-
-
-
-
-
-
-
-
-
-
-
-
1
1
1
1
1
1
1
-
-
-
-
-
-
-
-
-
-

Town of Brighton

135
143
79
75
-
-
-
-
-
-
-
-
-
-
-
-
-
-
-
-
-
-
-
-
-
-
-
-
-
-
-
-
-
-
-
-
-
-
-
-
-
-
-
-
-
-
-

Town of Clarkson

96
100
125
119
-
-
-
-
-
-
-
-
-
-
-
-
-
-
-
-
-
-
-
-
-
-
-
-
-
-
-
-
-
-
-
-
-
-
-
-
-
-
-
-
-
-
-

Town of Chili

112
115
28
26
-
-
-
-
-
-
-
-
-
-
-
-
-
-
-
-
-
-
-
-
-
-
-
-
-
-
-
-
-
-
-
-
-
-
-
-
-
-
-
-
-
-
-

Town of Gates

109
116
202
194
-
-
-
-
-
-
-
-
-
-
-
-
-
-
-
-
-
-
-
-
-
-
-
-
-
-
-
-
-
-
-
-
-
-
-
-
-
-
-
-
-
-
-

Town of Greece

56
67
53
48
-
-
-
-
-
-
-
-
-
-
-
-
-
-
-
-
-
-
-
-
-
-
-
-
-
-
-
-
-
-
-
-
-
-
-
-
-
-
-
-
-
-
-

Town of Henrietta

93
93
84
84
-
-
-
-
-
-
-
-
-
-
-
-
-
-
-
-
-
-
-
-
-
-
-
-
-
-
-
-
-
-
-
-
-
-
-
-
-
-
-
-
-
-
-

Town of Mendon

143
144
35
34
-
-
-
-
-
-
-
-
-
-
-
-
-
-
-
-
-
-
-
-
-
-
-
-
-
-
-
-
-
-
-
-
-
-
-
-
-
-
-
-
-
-
-

Town of Ogden

118
118
34
34
-
-
-
-
-
-
-
-
-
-
-
-
-
-
-
-
-
-
-
-
-
-
-
-
-
-
-
-
-
-
-
-
-
-
-
-
-
-
-
-
-
-
-

Town of Parma

115
114
65
64
-
-
-
-
-
-
-
-
-
-
-
-
-
-
-
-
-
-
-
-
-
-
-
-
-
-
-
-
-
-
-
-
-
-
-
-
-
-
-
-
-
-
-

Town of Penfield

82
83
264
265
-
-
-
-
-
-
-
-
-
-
-
-
-
-
-
-
-
-
-
-
-
-
-
-
-
-
-
-
-
-
-
-
-
-
-
-
-
-
-
-
-
-
-

Town of Perinton

47
47
63
64
-
-
-
-
-
-
-
-
-
-
-
-
-
-
-
-
-
-
-
-
-
-
-
-
-
-
-
-
-
-
-
-
-
-
-
-
-
-
-
-
-
-
-

Town of Pittsford

74
95
39
23
-
-
-
-
-
-
-
-
-
-
-
-
-
-
-
-
-
-
-
-
-
-
-
-
-
-
-
-
-
-
-
-
-
-
-
-
-
-
-
-
-
-
-

Town of Riga

76
75
46
45
-
-
-
-
-
-
-
-
-
-
-
-
-
-
-
-
-
-
-
-
-
-
-
-
-
-
-
-
-
-
-
-
-
-
-
-
-
-
-
-
-
-
-

Town of Rush

57
58
33
33
-
-
-
-
-
-
-
-
-
-
-
-
-
-
-
-
-
-
-
-
-
-
-
-
-
-
-
-
-
-
-
-
-
-
-
-
-
-
-
-
-
-
-

Town of Sweden

106
108
82
84
-
-
-
-
-
-
-
-
-
-
-
-
-
-
-
-
-
-
-
-
-
-
-
-
-
-
-
-
-
-
-
-
-
-
-
-
-
-
-
-
-
-
-

Town of Wheatland

87
85
36
36
-
-
-
-
-
-
-
-
-
-
-
-
-
-
-
-
-
-
-
-
-
-
-
-
-
-
-
-
-
-
-
-
-
-
-
-
-
-
-
-
-
-
-

Niagara County

512
502
595
583
-
-
-
-
-
-
-
-
-
-
-
-
-
-
-
-
-
-
-
-
-
-
-
-
-
-
-
-
-
-
-
-
-
1
-
-
-
-
-
-
-
-
-

Town of Somerset

39
39
21
21
-
-
-
-
-
-
-
-
-
-
-
-
-
-
-
-
-
-
-
-
-
-
-
-
-
-
-
-
-
-
-
-
-
-
-
-
-
-
-
-
-
-
-

Steuben County

1322
1057
757
976
-
-
-
-
-
-
-
-
-
-
-
-
-
2
2
2
-
-
-
-
-
-
-
-
-
-
-
-
-
-
-
-
-
-
1
1
1
1
1
1
1
1
1

Town of Addison

35
28
7
6
-
-
-
-
-
-
-
-
-
-
-
-
-
-
-
-
-
-
-
-
-
-
-
-
-
-
-
-
-
-
-
-
-
-
1
-
-
-
1
-
-
-
-

Town of Barrington

76
12
23
91
-
-
-
-
-
-
-
-
-
-
-
-
-
-
-
-
-
-
-
-
-
-
-
-
-
-
-
-
-
-
-
-
-
-
-
-
-
-
-
-
-
-
-

Town of Bath

109
123
141
132
-
-
-
-
-
-
-
-
-
-
-
-
-
-
-
-
-
-
-
-
-
-
-
-
-
-
-
-
-
-
-
-
-
-
-
-
-
-
-
-
-
-
-

Town of Cameron

47
47
5
5
-
-
-
-
-
-
-
-
-
-
-
-
-
-
-
-
-
-
-
-
-
-
-
-
-
-
-
-
-
-
-
-
-
-
-
-
-
-
-
-
-
-
-

Town of Canisteo

42
39
-
-
-
-
-
-
-
-
-
-
-
-
-
-
-
-
-
-
-
-
-
-
-
-
-
-
-
-
-
-
-
-
-
-
-
-
-
-
-
-
-
-
-
-
-

Town of Conhocton

89
90
1
1
-
-
-
-
-
-
-
-
-
-
-
-
-
-
-
-
-
-
-
-
-
-
-
-
-
-
-
-
-
-
-
-
-
-
-
-
-
-
-
-
-
-
-

Town of Dansville

74
75
11
9
-
-
-
-
-
-
-
-
-
-
-
-
-
-
-
-
-
-
-
-
-
-
-
-
-
-
-
-
-
-
-
-
-
-
-
-
-
-
-
-
-
-
-

Town of Hornellsville

59
22
45
5
-
-
-
-
-
-
-
-
-
-
-
-
-
-
-
-
-
-
-
-
-
-
-
-
-
-
-
-
-
-
-
-
-
-
-
-
-
-
-
-
-
-
-

Town of Howard

26
29
44
44
-
-
-
-
-
-
-
-
-
-
-
-
-
2
2
-
-
-
-
-
-
-
-
-
-
-
-
-
-
-
-
-
-
-
-
1
1
-
-
1
-
-
-

Town of Jersey

109
77
-
21
-
-
-
-
-
-
-
-
-
-
-
-
-
-
-
-
-
-
-
-
-
-
-
-
-
-
-
-
-
-
-
-
-
-
-
-
-
-
-
-
-
-
-

Town of Painted Post

114
108
79
76
-
-
-
-
-
-
-
-
-
-
-
-
-
-
-
-
-
-
-
-
-
-
-
-
-
-
-
-
-
-
-
-
-
-
-
-
-
-
-
-
-
-
-

Town of Prattsburgh

99
99
22
23
-
-
-
-
-
-
-
-
-
-
-
-
-
-
-
-
-
-
-
-
-
-
-
-
-
-
-
-
-
-
-
-
-
-
-
-
-
1
-
-
1
1
1

Town of Pulteney

75
74
57
57
-
-
-
-
-
-
-
-
-
-
-
-
-
-
-
-
-
-
-
-
-
-
-
-
-
-
-
-
-
-
-
-
-
-
-
-
-
-
-
-
-
-
-

Town of Reading

66
31
104
197
-
-
-
-
-
-
-
-
-
-
-
-
-
-
-
-
-
-
-
-
-
-
-
-
-
-
-
-
-
-
-
-
-
-
-
-
-
-
-
-
-
-
-

Town of Troupsburgh

25
25
51
52
-
-
-
-
-
-
-
-
-
-
-
-
-
-
-
-
-
-
-
-
-
-
-
-
-
-
-
-
-
-
-
-
-
-
-
-
-
-
-
-
-
-
-

Town of Tyrone

29
-
91
116
-
-
-
-
-
-
-
-
-
-
-
-
-
-
-
2
-
-
-
-
-
-
-
-
-
-
-
-
-
-
-
-
-
-
-
-
-
-
-
-
-
-
-

Town of Urbana

18
26
67
57
-
-
-
-
-
-
-
-
-
-
-
-
-
-
-
-
-
-
-
-
-
-
-
-
-
-
-
-
-
-
-
-
-
-
-
-
-
-
-
-
-
-
-

Town of Wayne

102
26
8
84
-
-
-
-
-
-
-
-
-
-
-
-
-
-
-
-
-
-
-
-
-
-
-
-
-
-
-
-
-
-
-
-
-
-
-
-
-
-
-
-
-
-
-

Town of Wheeler

133
126
1
-
-
-
-
-
-
-
-
-
-
-
-
-
-
-
-
-
-
-
-
-
-
-
-
-
-
-
-
-
-
-
-
-
-
-
-
-
-
-
-
-
-
-
-
Notes:
References:
Original Election Returns.
Rochester Telegraph (Rochester, NY). November 18, 1823.
The Farmers' Advocate, and Steuben Advertiser (Bath, NY). November 20, 1823.
Spirit of the Times (Batavia, NY). November 21, 1823.
National Advocate (New York, NY). December 16, 1823.
The Cayuga Patriot (Auburn, NY). December 17, 1823.
Warren, Emory F. Sketches of The History of Chautauque County. Jamestown, NY: J. Warren Fletcher, 1846. 80.
History of Niagara County, New York, N. Y. New York: Sanford and, 1878. 364.
Table of Post Offices in the United States with the Names of the Post Masters. Washington, DC: Way and Giden, 1825. 91.
Original Manuscript of New York Assembly Elections. Michael J. Dubin.
Page Images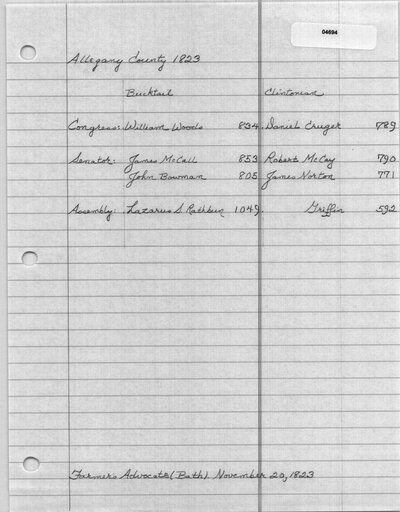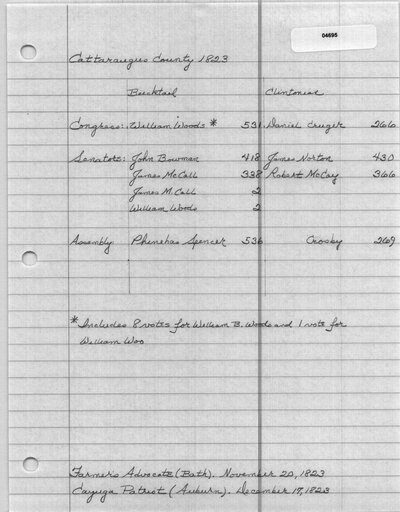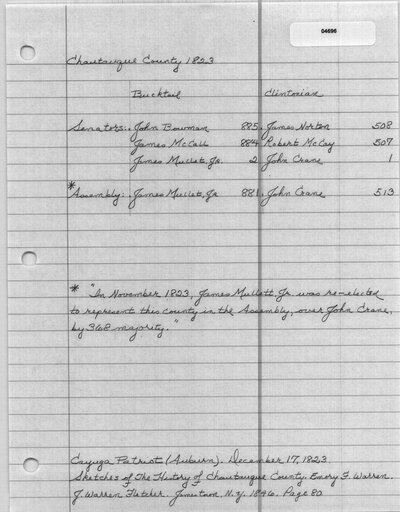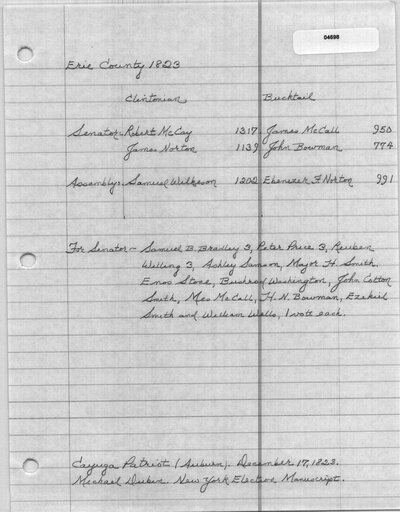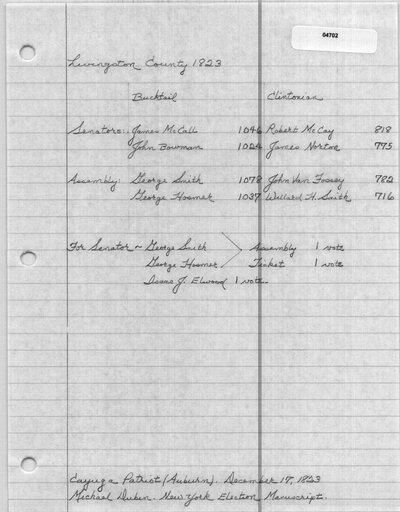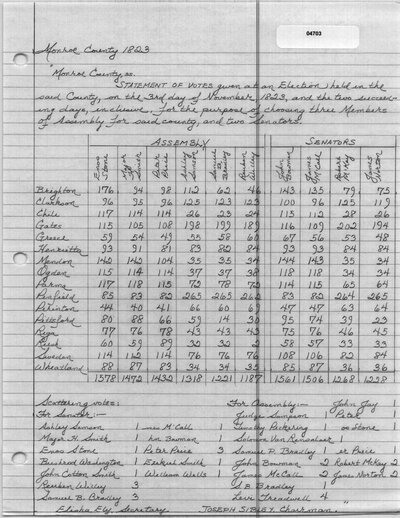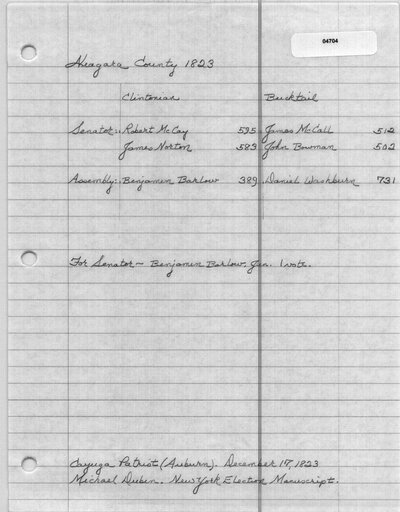 These election records were released on 11 January 2012. Versions numbers are assigned by state. Alabama, Arkansas, Delaware, Florida, Georgia, Illinois, Indiana, Kentucky, Louisiana, Maine, Maryland, Michigan, Missouri, North Carolina, Ohio, Rhode Island, South Carolina, Tennessee and Virginia are complete and are in Version 1.0. All other states are in a Beta version. For more information go to the about page.