New York 1800 U.S. House of Representatives, District 6
Office:

U.S. House of Representatives (Federal)

Title:

U.S. Congressman

Jurisdiction:

Federal
Label:

New York 1800 U.S. House of Representatives, District 6

Date:

1800

State:

New York

Type:

General

Iteration:

First Ballot

Office/Role:

U.S. House of Representatives/U.S. Congressman

Candidates:

John Bird, Henry W. Livingston, John Woodworth, John Bud, Robert Yates, James Savage, Derick Gardiner, Ezekiel Gilbert, Derick Lane, Edward Livingston, Walter M. Livingston, John Lovitt, Henry K. Van Rensselaer
Candidates:
John Bird[1]
Henry W. Livingston
John Woodworth
John Bud
Robert Yates
James Savage
Derick Gardiner
Ezekiel Gilbert
Derick Lane
Edward Livingston
Walter M. Livingston
John Lovitt
Henry K. Van Rensselaer
Affiliation:
Federalist
Federalist
Republican
Republican
Federalist
Federalist
Federalist
Federalist
Federalist
Final Result:
2456
2085
52
5
2
1
1
1
1
1
1
1
1

District of Six

2456
2085
-
5
2
1
1
1
1
1
1
1
1

Columbia County

1047
1866
-
5
-
1
1
1
-
-
1
-
-

Town of Canaan

258
189
-
-
-
-
-
-
-
-
-
-
-

Town of Chatham

192
163
-
-
-
1
-
-
-
-
-
-
-

Town of Claverack

[2]
76
175
-
-
-
-
1
-
-
-
-
-
-

Town of Clermont

-
100
-
-
-
-
-
-
-
-
-
-
-

Town of Germantown

-
42
-
-
-
-
-
-
-
-
-
-
-

Town of Hillsdale

149
319
-
-
-
-
-
-
-
-
-
-
-

City of Hudson

[3]
170
213
-
-
-
-
-
1
-
-
1
-
-

Town of Kinderhook

175
125
-
5
-
-
-
-
-
-
-
-
-

Town of Livingston

27
540
-
-
-
-
-
-
-
-
-
-
-

Rensselaer County

[4]
1409
219
52
-
2
-
-
-
1
1
-
1
1

Town of Greenbush

165
46
-
-
-
-
-
-
-
-
-
-
-

Town of Hoosick

82
-
52
-
-
-
-
-
-
-
-
-
-

Town of Petersburgh

222
-
-
-
-
-
-
-
-
-
-
-
-

Town of Pittstown

88
51
-
-
-
-
-
-
-
-
-
-
-

Town of Schaghticoke

111
-
-
-
-
-
-
-
-
-
-
-
-

Town of Schodack

228
46
-
-
-
-
-
-
-
-
-
-
-

Town of Stephentown

257
17
-
-
-
-
-
-
-
-
-
-
-

Town of Troy

256
58
-
-
-
-
-
-
-
-
-
-
-
Notes:
References:
Original Election Books. Columbia County Court House, Hudson.
The Albany Centinel (Albany, NY). May 6, 1800.
Lansingburgh Gazette (Lansingburgh, NY). May 6, 1800.
Northern Budget (Troy, NY). May 7, 1800.
The Albany Gazette (Albany, NY). May 12, 1800.
Page Images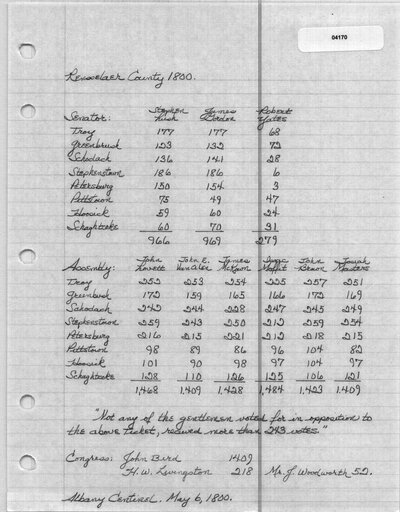 These election records were released on 11 January 2012. Versions numbers are assigned by state. Alabama, Arkansas, Delaware, Florida, Georgia, Illinois, Indiana, Kentucky, Louisiana, Maine, Maryland, Michigan, Missouri, North Carolina, Ohio, Rhode Island, South Carolina, Tennessee and Virginia are complete and are in Version 1.0. All other states are in a Beta version. For more information go to the about page.