Vermont 1810 U.S. House of Representatives, District 2
Office:

U.S. House of Representatives (Federal)

Title:

U.S. Congressman

Jurisdiction:

Federal
Label:

Vermont 1810 U.S. House of Representatives, District 2

Date:

1810

State:

Vermont

Type:

General

Iteration:

First Ballot

Office/Role:

U.S. House of Representatives/U.S. Congressman

Candidates:

William Strong, Jonathan H. Hubbard, Aaron Leland, Samuel Elliot, Horace Everett, Elias Keyes, Lewis R. Morris, Jonas Galusha, Benjamin Swan, Paul Brigham, Daniel Dana, Isaac Tichenor, Jason Duncan, William C. Bradley, Titus Hutchinson, Elijah Knight, Jabez Barne, Benjamin Burt, Benjamin Clapp, Jabez Delano, Amos Heath, James Huntington, Charles Marsh, Elijah Mason, Eleazer May, James Topleff, Asa Wheelock, Darius Bullock, John Dyer, Pascal P. Enos, James Fisk, Samuel Fletcher, Thomas Freeman, William Hunter, Lemuel Ide, Elisha Ives, Daniel Jewitt, Oliver Lathrop, Ivegar Leavett, John Nott, John Noyes, Stephen Otis, Mark Richards, Samuel Richardson, Peter Robinson, Joseph Seldon, Asahel Smith, Daniel Stearn, Elijah Sterns, Jesse Williams, Joseph Winston, scattering
Candidates:
William Strong
Jonathan H. Hubbard
Aaron Leland
Samuel Elliot
Horace Everett
Elias Keyes
Lewis R. Morris
Jonas Galusha
Benjamin Swan
Paul Brigham
Daniel Dana
Isaac Tichenor
Jason Duncan
William C. Bradley
Titus Hutchinson
Elijah Knight
Jabez Barne
Benjamin Burt
Benjamin Clapp
Jabez Delano
Amos Heath
James Huntington
Charles Marsh
Elijah Mason
Eleazer May
James Topleff
Asa Wheelock
Darius Bullock
John Dyer
Pascal P. Enos
James Fisk
Samuel Fletcher
Thomas Freeman
William Hunter
Lemuel Ide
Elisha Ives
Daniel Jewitt
Oliver Lathrop
Ivegar Leavett
John Nott
John Noyes
Stephen Otis
Mark Richards
Samuel Richardson
Peter Robinson
Joseph Seldon
Asahel Smith
Daniel Stearn
Elijah Sterns
Jesse Williams
Joseph Winston
scattering
Affiliation:
Republican
Federalist
Republican
Republican
Federalist
Republican
Republican
Federalist
Federalist
Federalist
Final Result: [1][2][3]
3474
2670
108
64
53
24
12
9
8
6
5
5
4
3
3
3
2
2
2
2
2
2
2
2
2
2
2
1
1
1
1
1
1
1
1
1
1
1
1
1
1
1
1
1
1
1
1
1
1
1
1
1

District of Southeast

3474
2670
108
64
53
24
12
9
8
6
5
5
4
3
3
3
2
2
2
2
2
2
2
2
2
2
2
1
1
1
1
1
1
1
1
1
1
1
1
1
1
1
1
1
1
1
1
1
1
1
1
1

Windham County

[4]
964
1766
92
64
-
-
8
4
7
3
-
3
4
3
-
3
2
2
-
-
-
-
-
-
2
-
2
1
1
-
-
-
-
-
-
-
1
-
-
-
1
1
1
-
-
-
-
-
1
-
-
-

Town of Athens

26
48
27
-
-
-
-
-
-
-
-
-
-
-
-
-
-
-
-
-
-
-
-
-
-
-
-
-
-
-
-
-
-
-
-
-
-
-
-
-
-
-
-
-
-
-
-
-
-
-
-
-

Town of Brattleboro

21
218
-
30
-
-
-
-
2
-
-
-
-
-
-
-
-
-
-
-
-
-
-
-
-
-
-
-
-
-
-
-
-
-
-
-
-
-
-
-
-
-
-
-
-
-
-
-
-
-
-
-

Town of Dummerston

47
127
-
4
-
-
-
-
-
-
-
1
4
-
-
-
-
-
-
-
-
-
-
-
-
-
-
-
-
-
-
-
-
-
-
-
-
-
-
-
-
-
1
-
-
-
-
-
-
-
-
-

Town of Grafton

35
65
54
-
-
-
-
-
-
-
-
-
-
-
-
-
-
-
-
-
-
-
-
-
-
-
-
-
-
-
-
-
-
-
-
-
-
-
-
-
-
-
-
-
-
-
-
-
-
-
-
-

Town of Guilford

108
42
-
1
-
-
-
1
-
-
-
-
-
1
-
-
-
-
-
-
-
-
-
-
-
-
-
-
-
-
-
-
-
-
-
-
-
-
-
-
1
-
-
-
-
-
-
-
-
-
-
-

Town of Halifax

114
87
-
-
-
-
-
-
-
-
-
1
-
-
-
-
-
-
-
-
-
-
-
-
-
-
-
1
-
-
-
-
-
-
-
-
-
-
-
-
-
1
-
-
-
-
-
-
-
-
-
-

Town of Jamaica

12
71
-
-
-
-
-
-
2
-
-
-
-
-
-
-
-
-
-
-
-
-
-
-
-
-
-
-
-
-
-
-
-
-
-
-
-
-
-
-
-
-
-
-
-
-
-
-
-
-
-
-

Town of Londonberry

36
26
-
-
-
-
-
-
-
-
-
-
-
-
-
-
-
-
-
-
-
-
-
-
-
-
-
-
-
-
-
-
-
-
-
-
-
-
-
-
-
-
-
-
-
-
-
-
-
-
-
-

Town of Marlboro

21
65
8
-
-
-
-
1
-
-
-
-
-
-
-
-
-
-
-
-
-
-
-
-
-
-
-
-
-
-
-
-
-
-
-
-
-
-
-
-
-
-
-
-
-
-
-
-
-
-
-
-

Town of Newfane

15
115
-
-
-
-
1
-
-
-
-
-
-
-
-
-
-
-
-
-
-
-
-
-
-
-
-
-
-
-
-
-
-
-
-
-
-
-
-
-
-
-
-
-
-
-
-
-
-
-
-
-

Town of Putney

64
122
-
-
-
-
-
-
-
-
-
-
-
-
-
-
-
-
-
-
-
-
-
-
-
-
-
-
-
-
-
-
-
-
-
-
1
-
-
-
-
-
-
-
-
-
-
-
-
-
-
-

Town of Rockingham

98
105
3
-
-
-
-
-
-
1
-
-
-
1
-
3
-
-
-
-
-
-
-
-
-
-
-
-
-
-
-
-
-
-
-
-
-
-
-
-
-
-
-
-
-
-
-
-
-
-
-
-

Town of Somerset

15
2
-
2
-
-
-
-
-
-
-
-
-
-
-
-
-
-
-
-
-
-
-
-
-
-
-
-
-
-
-
-
-
-
-
-
-
-
-
-
-
-
-
-
-
-
-
-
-
-
-
-

Town of Stratton

-
29
-
-
-
-
-
-
-
-
-
-
-
-
-
-
-
-
-
-
-
-
-
-
-
-
-
-
-
-
-
-
-
-
-
-
-
-
-
-
-
-
-
-
-
-
-
-
-
-
-
-

Town of Townshend

20
137
-
-
-
-
2
-
-
-
-
-
-
-
-
-
-
-
-
-
-
-
-
-
-
-
-
-
1
-
-
-
-
-
-
-
-
-
-
-
-
-
-
-
-
-
-
-
-
-
-
-

Town of Vernon

24
50
-
-
-
-
-
-
-
-
-
-
-
-
-
-
-
-
-
-
-
-
-
-
-
-
-
-
-
-
-
-
-
-
-
-
-
-
-
-
-
-
-
-
-
-
-
-
-
-
-
-

Town of Wardsboro

25
132
-
22
-
-
3
-
1
-
-
-
-
-
-
-
-
-
-
-
-
-
-
-
-
-
2
-
-
-
-
-
-
-
-
-
-
-
-
-
-
-
-
-
-
-
-
-
1
-
-
-

Town of Westminster

[5]
145
129
-
-
-
-
1
1
-
-
-
-
-
-
-
-
1
2
-
-
-
-
-
-
2
-
-
-
-
-
-
-
-
-
-
-
-
-
-
-
-
-
-
-
-
-
-
-
-
-
-
-

Town of Whitingham

76
70
-
-
-
-
-
-
-
-
-
-
-
1
-
-
1
-
-
-
-
-
-
-
-
-
-
-
-
-
-
-
-
-
-
-
-
-
-
-
-
-
-
-
-
-
-
-
-
-
-
-

Town of Wilmington

7
111
-
5
-
-
-
-
2
1
-
1
-
-
-
-
-
-
-
-
-
-
-
-
-
-
-
-
-
-
-
-
-
-
-
-
-
-
-
-
-
-
-
-
-
-
-
-
-
-
-
-

Town of Windham

55
15
-
-
-
-
1
1
-
1
-
-
-
-
-
-
-
-
-
-
-
-
-
-
-
-
-
-
-
-
-
-
-
-
-
-
-
-
-
-
-
-
-
-
-
-
-
-
-
-
-
-

Windsor County

[6]
2510
904
16
-
53
24
4
5
1
3
5
2
-
-
3
-
-
-
2
2
2
2
2
2
-
2
-
-
-
1
1
1
1
1
1
1
-
1
1
1
-
-
-
1
1
1
1
1
-
1
1
8

Town of Andover

87
5
-
-
-
-
-
-
-
-
-
-
-
-
-
-
-
-
-
-
-
-
-
-
-
-
-
-
-
-
-
-
-
-
-
-
-
-
-
-
-
-
-
-
-
-
-
-
-
-
-
-

Town of Baltimore

5
6
-
-
-
-
-
-
-
-
-
-
-
-
-
-
-
-
-
-
-
-
-
-
-
-
-
-
-
-
-
-
-
-
-
-
-
-
-
-
-
-
-
-
-
-
-
-
-
-
-
-

Town of Barnard

[7]
125
31
-
-
-
-
-
-
-
1
-
-
-
-
-
-
-
-
2
-
-
-
-
-
-
-
-
-
-
-
-
-
1
-
-
-
-
-
-
-
-
-
-
-
-
-
-
-
-
-
-
-

Town of Bethel

118
9
-
-
-
-
-
-
-
1
-
-
-
-
-
-
-
-
-
-
-
-
-
-
-
-
-
-
-
-
-
-
-
-
-
-
-
-
-
-
-
-
-
-
-
-
-
-
-
-
-
-

Town of Bridgewater

[8]
103
22
-
-
-
1
-
-
-
-
-
-
-
-
-
-
-
-
-
-
-
-
1
-
-
2
-
-
-
-
-
1
-
-
-
-
-
-
-
-
-
-
-
-
-
-
-
-
-
-
-
-

Town of Cavendish

142
10
-
-
-
-
-
-
-
-
-
-
-
-
-
-
-
-
-
-
-
-
-
-
-
-
-
-
-
-
-
-
-
-
-
-
-
-
-
-
-
-
-
-
-
-
-
-
-
-
-
-

Town of Chester

153
148
4
-
-
-
-
-
-
-
-
-
-
-
-
-
-
-
-
-
2
-
-
-
-
-
-
-
-
-
-
-
-
-
-
-
-
-
-
-
-
-
-
-
-
-
-
-
-
-
-
-

Town of Hartford

[9]
129
1
-
-
53
19
-
1
-
-
-
2
-
-
-
-
-
-
-
-
-
-
1
2
-
-
-
-
-
-
-
-
-
-
-
-
-
-
1
-
-
-
-
-
-
-
-
-
-
-
-
-

Town of Hartland

199
23
1
-
-
-
-
-
-
-
-
-
-
-
-
-
-
-
-
-
-
-
-
-
-
-
-
-
-
-
-
-
-
-
-
-
-
-
-
-
-
-
-
-
-
-
-
-
-
-
-
-

Town of Ludlow

54
10
-
-
-
-
-
-
-
-
-
-
-
-
-
-
-
-
-
-
-
-
-
-
-
-
-
-
-
-
-
-
-
-
-
1
-
-
-
-
-
-
-
-
-
-
1
-
-
-
-
-

Town of Norwich

187
55
-
-
-
-
-
-
-
-
-
-
-
-
-
-
-
-
-
-
-
-
-
-
-
-
-
-
-
-
-
-
-
-
-
-
-
-
-
-
-
-
-
-
-
-
-
-
-
-
-
8

Town of Plymouth

55
9
-
-
-
-
-
-
-
-
2
-
-
-
-
-
-
-
-
-
-
-
-
-
-
-
-
-
-
-
-
-
-
-
-
-
-
-
-
-
-
-
-
-
-
-
-
-
-
-
-
-

Town of Pomfret

[10]
148
8
-
-
-
-
-
-
1
-
3
-
-
-
-
-
-
-
-
-
-
-
-
-
-
-
-
-
-
-
-
-
-
-
-
-
-
-
-
-
-
-
-
-
-
-
-
-
-
-
-
-

Town of Reading

88
66
1
-
-
-
-
-
-
-
-
-
-
-
-
-
-
-
-
-
-
-
-
-
-
-
-
-
-
-
1
-
-
-
1
-
-
-
-
-
-
-
-
-
-
-
-
1
-
-
-
-

Town of Rochester

40
34
8
-
-
-
-
1
-
-
-
-
-
-
-
-
-
-
-
-
-
-
-
-
-
-
-
-
-
-
-
-
-
-
-
-
-
-
-
-
-
-
-
1
-
-
-
-
-
-
-
-

Town of Royalton

69
95
-
-
-
2
3
-
-
-
-
-
-
-
-
-
-
-
-
-
-
2
-
-
-
-
-
-
-
-
-
-
-
-
-
-
-
-
-
-
-
-
-
-
-
-
-
-
-
-
-
-

Town of Sharon

71
50
-
-
-
-
1
-
-
-
-
-
-
-
-
-
-
-
-
-
-
-
-
-
-
-
-
-
-
-
-
-
-
-
-
-
-
1
-
-
-
-
-
-
-
-
-
-
-
-
-
-

Town of Springfield

81
68
-
-
-
-
-
-
-
-
-
-
-
-
-
-
-
-
-
-
-
-
-
-
-
-
-
-
-
-
-
-
-
-
-
-
-
-
-
1
-
-
-
-
-
1
-
-
-
-
-
-

Town of Stockbridge

63
2
-
-
-
-
-
-
-
-
-
-
-
-
-
-
-
-
-
-
-
-
-
-
-
-
-
-
-
-
-
-
-
1
-
-
-
-
-
-
-
-
-
-
-
-
-
-
-
-
-
-

Town of Weathersfield

81
125
-
-
-
-
-
1
-
1
-
-
-
-
1
-
-
-
-
-
-
-
-
-
-
-
-
-
-
1
-
-
-
-
-
-
-
-
-
-
-
-
-
-
1
-
-
-
-
-
-
-

Town of Windsor

235
99
-
-
-
-
-
2
-
-
-
-
-
-
-
-
-
-
-
2
-
-
-
-
-
-
-
-
-
-
-
-
-
-
-
-
-
-
-
-
-
-
-
-
-
-
-
-
-
-
1
-

Town of Woodstock

277
28
2
-
-
2
-
-
-
-
-
-
-
-
2
-
-
-
-
-
-
-
-
-
-
-
-
-
-
-
-
-
-
-
-
-
-
-
-
-
-
-
-
-
-
-
-
-
-
1
-
-
Notes:
References:
Original Election Returns. Vermont State Archives, Middlesex.
Vermont Republican (Windsor, VT). September 10, 1810.
Freemen's Press (Montpelier, VT). October 16, 1810.
North Star (Danville, VT). October 20, 1810.
Vermont Republican (Windsor, VT). October 22, 1810.
Rutland Vermont Herald (Rutland, VT). October 24, 1810.
The Columbian (New York, NY). October 26, 1810.
City Gazette and Commercial Advertiser (Charleston, SC). November 7, 1810.
Page Images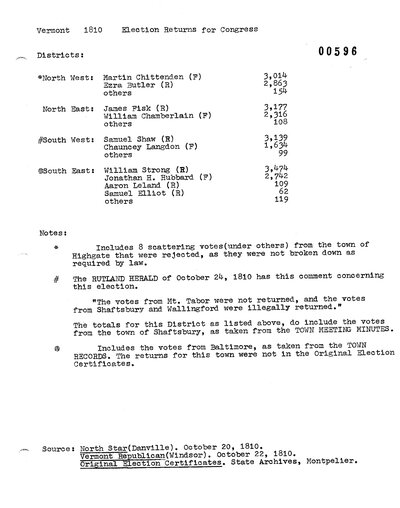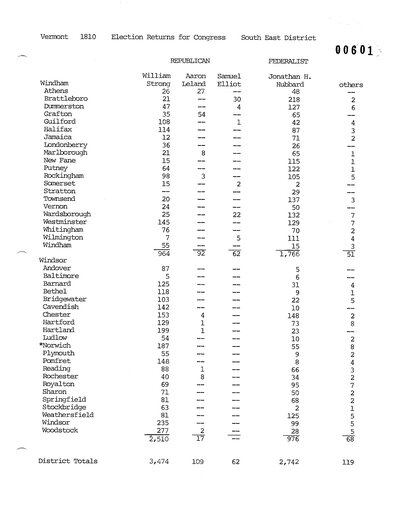 These election records were released on 11 January 2012. Versions numbers are assigned by state. Alabama, Arkansas, Delaware, Florida, Georgia, Illinois, Indiana, Kentucky, Louisiana, Maine, Maryland, Michigan, Missouri, North Carolina, Ohio, Rhode Island, South Carolina, Tennessee and Virginia are complete and are in Version 1.0. All other states are in a Beta version. For more information go to the about page.