Massachusetts 1806 State Senate, Hampshire County
Office:

State Senate (State)

Title:

State Senator

Jurisdiction:

State
Label:

Massachusetts 1806 State Senate, Hampshire County

Date:

1806

State:

Massachusetts

Type:

General

Iteration:

First Ballot

Office/Role:

State Senate/State Senator

Candidates:

George Bliss, John Hastings, Hugh MacClallen, Ezra Starkweather, Solomon Snead, Benjamin Smith, Edward Upham, Jonathan Smith, Jr., Jonathan Leavitt, Zebina Montague, Malachi Maynard, Thomas Dwight, Edmond Longley
| Candidates: | George Bliss[1] | John Hastings[2] | Hugh MacClallen[3] | Ezra Starkweather[4] | Solomon Snead | Benjamin Smith | Edward Upham | Jonathan Smith, Jr. | Jonathan Leavitt | Zebina Montague | Malachi Maynard | Thomas Dwight | Edmond Longley |
| --- | --- | --- | --- | --- | --- | --- | --- | --- | --- | --- | --- | --- | --- |
| Affiliation: | Federalist | Federalist | Federalist | Federalist | Republican | Republican | Republican | Republican | Federalist | | | Federalist | |
| Final Result: [5][6] | 6237 | 6228 | 6223 | 6209 | - | - | - | - | - | - | - | - | - |
| Hampshire County | 6237 | 6228 | 6223 | 6209 | - | - | - | - | - | - | - | - | - |
| Town of Amherst | - | - | - | - | - | - | - | - | - | - | - | - | - |
| Town of Ashfield | - | - | - | - | - | - | - | - | - | - | - | - | - |
| Town of Belchertown | 270 | 270 | 270 | 270 | 39 | 39 | 39 | 39 | - | - | - | - | - |
| Town of Bernardston | 46 | 46 | 46 | 46 | 72 | 72 | 72 | 72 | - | - | - | - | - |
| Town of Blandford | 80 | 80 | 80 | 80 | 70 | 70 | 70 | 70 | - | - | - | - | - |
| Town of Brimfield | - | - | - | - | - | - | - | - | - | - | - | - | - |
| Town of Buckland | - | - | - | - | - | - | - | - | - | - | - | - | - |
| Town of Charlemont | 119 | 119 | 118 | 119 | 25 | 25 | 25 | 25 | - | - | - | - | - |
| Town of Chester | - | - | - | - | - | - | - | - | - | - | - | - | - |
| Town of Chesterfield | - | - | - | - | - | - | - | - | - | - | - | - | - |
| Town of Colrain | 127 | 128 | 126 | 127 | 27 | 26 | 27 | 26 | 1 | - | - | - | 1 |
| Town of Conway | - | - | - | - | - | - | - | - | - | - | - | - | - |
| Town of Cummington | - | - | - | - | - | - | - | - | - | - | - | - | - |
| Town of Deerfield | - | - | - | - | - | - | - | - | - | - | - | - | - |
| District of Easthampton | - | - | - | - | - | - | - | - | - | - | - | - | - |
| Town of Gill | - | - | - | - | - | - | - | - | - | - | - | - | - |
| Town of Goshen | - | - | - | - | - | - | - | - | - | - | - | - | - |
| Town of Granby | - | - | - | - | - | - | - | - | - | - | - | - | - |
| Town of Granville | - | - | - | - | - | - | - | - | - | - | - | - | - |
| Town of Greenfield | - | - | - | - | - | - | - | - | - | - | - | - | - |
| Town of Greenwich | - | - | - | - | - | - | - | - | - | - | - | - | - |
| Town of Hadley | - | - | - | - | - | - | - | - | - | - | - | - | - |
| Town of Hatfield | - | - | - | - | - | - | - | - | - | - | - | - | - |
| Town of Hawley | 110 | 123 | 112 | 119 | 19 | 19 | 18 | 18 | - | 5 | 5 | 2 | - |
| Town of Heath | - | - | - | - | - | - | - | - | - | - | - | - | - |
| Town of Holland | - | - | - | - | - | - | - | - | - | - | - | - | - |
| Town of Leverett | - | - | - | - | - | - | - | - | - | - | - | - | - |
| District of Leyden | 53 | 53 | - | 53 | 81 | 81 | 81 | 81 | 53 | - | - | - | - |
| Town of Longmeadow | - | - | - | - | - | - | - | - | - | - | - | - | - |
| Town of Ludlow | 21 | 21 | 21 | 21 | 56 | 56 | 56 | 56 | - | - | - | - | - |
| Town of Middlefield | - | - | - | - | - | - | - | - | - | - | - | - | - |
| Town of Monson | - | - | - | - | - | - | - | - | - | - | - | - | - |
| Town of Montague | - | - | - | - | - | - | - | - | - | - | - | - | - |
| Town of Montgomery | - | - | - | - | - | - | - | - | - | - | - | - | - |
| Town of New Salem | - | - | - | - | - | - | - | - | - | - | - | - | - |
| Town of Northampton | - | - | - | - | - | - | - | - | - | - | - | - | - |
| Town of Northfield | - | - | - | - | - | - | - | - | - | - | - | - | - |
| Town of Norwich | - | - | - | - | - | - | - | - | - | - | - | - | - |
| District of Orange | - | - | - | - | - | - | - | - | - | - | - | - | - |
| Town of Palmer | - | - | - | - | - | - | - | - | - | - | - | - | - |
| Town of Pelham | - | - | - | - | - | - | - | - | - | - | - | - | - |
| District of Plainfield | - | - | - | - | - | - | - | - | - | - | - | - | - |
| Town of Rowe | - | - | - | - | - | - | - | - | - | - | - | - | - |
| Town of Russell | - | - | - | - | - | - | - | - | - | - | - | - | - |
| Town of Shelburne | - | - | - | - | - | - | - | - | - | - | - | - | - |
| Town of Shutesbury | - | - | - | - | - | - | - | - | - | - | - | - | - |
| Town of South Brimfield | - | - | - | - | - | - | - | - | - | - | - | - | - |
| Town of South Hadley | 97 | 97 | 97 | 97 | 28 | 28 | 28 | 28 | - | - | - | - | - |
| Town of Southampton | - | - | - | - | - | - | - | - | - | - | - | - | - |
| Town of Southwick | 13 | 13 | 13 | 13 | 133 | 133 | 133 | 133 | - | - | - | - | - |
| Town of Springfield | 185 | 193 | 186 | 186 | 107 | 107 | 107 | 105 | - | - | - | - | - |
| Town of Sunderland | - | - | - | - | - | - | - | - | - | - | - | - | - |
| Town of Ware | 62 | 62 | 62 | 62 | 39 | 39 | 39 | 39 | - | - | - | - | - |
| Town of Warwick | - | - | - | - | - | - | - | - | - | - | - | - | - |
| Town of Wendell | - | - | - | - | - | - | - | - | - | - | - | - | - |
| Town of West Springfield | - | - | - | - | - | - | - | - | - | - | - | - | - |
| Town of Westfield | - | - | - | - | - | - | - | - | - | - | - | - | - |
| Town of Westhampton | - | - | - | - | - | - | - | - | - | - | - | - | - |
| Town of Whately | - | - | - | - | - | - | - | - | - | - | - | - | - |
| Town of Wilbraham | - | - | - | - | - | - | - | - | - | - | - | - | - |
| Town of Williamsburg | - | - | - | - | - | - | - | - | - | - | - | - | - |
| Town of Worthington | - | - | - | - | - | - | - | - | - | - | - | - | - |
Notes:
References:
Governor's Council Records. Massachusetts State Archives, Boston.
Bernardston Town Records. 243.
Blandford Town Records. Book Three. 47.
Charlemont Town Records. 253.
Colrain Town Records. Book Two. 49.
Hawley Town Records.
Leyden Town Records. 176.
Ludlow Town Records.
South Hadley Town Records. 145.
Ware Town Records.
Hampshire Federalist (Springfield, MA). April 8, 1806.
Eastern Argus (Portland, ME). May 15, 1806.
Freeman's Friend (Saco, ME). May 21, 1806.
Page Images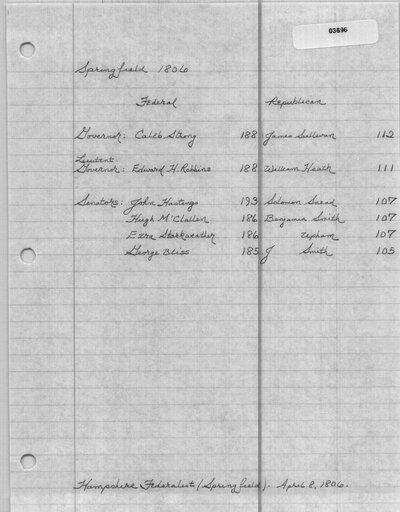 These election records were released on 11 January 2012. Versions numbers are assigned by state. Alabama, Arkansas, Delaware, Florida, Georgia, Illinois, Indiana, Kentucky, Louisiana, Maine, Maryland, Michigan, Missouri, North Carolina, Ohio, Rhode Island, South Carolina, Tennessee and Virginia are complete and are in Version 1.0. All other states are in a Beta version. For more information go to the about page.