Massachusetts 1824 State Senate, Worcester County
Office:

State Senate (State)

Title:

State Senator

Jurisdiction:

State
Label:

Massachusetts 1824 State Senate, Worcester County

Date:

1824

State:

Massachusetts

Type:

General

Iteration:

First Ballot

Office/Role:

State Senate/State Senator

Candidates:

Stephen P. Gardner, Benjamin Adams, Aaron Tufts, Joseph G. Kendall, Nathaniel P. Denny, Nathaniel Houghton, Edmund Cushing, Daniel Thurber, John Brown, Joseph Davis, Nathaniel Jones, Salem Towne, John Davis, Bezaleel Taft, Jr., Edmund Curtis, Austin Denny, Jabez Hamilton, Nicholas MacClure, Henry Penniman, Asa Russell, John Allen, Arnold Barton, Joshua Brown, Phinehas Gay, Samuel Mixter, Joel Olds, John Shepley
| Candidates: | Stephen P. Gardner[1] | Benjamin Adams[2] | Aaron Tufts[3] | Joseph G. Kendall[4] | Nathaniel P. Denny[5] | Nathaniel Houghton | Edmund Cushing | Daniel Thurber | John Brown | Joseph Davis | Nathaniel Jones | Salem Towne | John Davis | Bezaleel Taft, Jr. | Edmund Curtis | Austin Denny | Jabez Hamilton | Nicholas MacClure | Henry Penniman | Asa Russell | John Allen | Arnold Barton | Joshua Brown | Phinehas Gay | Samuel Mixter | Joel Olds | John Shepley |
| --- | --- | --- | --- | --- | --- | --- | --- | --- | --- | --- | --- | --- | --- | --- | --- | --- | --- | --- | --- | --- | --- | --- | --- | --- | --- | --- | --- |
| Affiliation: | Federalist | Federalist | Federalist | Federalist | Federalist | Republican | Republican | Republican | Republican | Republican | | | | | | | | | | | | | | | | | |
| Final Result: [6] | 6179 | 6171 | 6127 | 6122 | 6052 | - | - | - | - | - | - | - | - | - | - | - | - | - | - | - | - | - | - | - | - | - | - |
| Worcester County | 6179 | 6171 | 6127 | 6122 | 6052 | - | - | - | - | - | - | - | - | - | - | - | - | - | - | - | - | - | - | - | - | - | - |
| Town of Ashburnham | - | - | - | - | - | - | - | - | - | - | - | - | - | - | - | - | - | - | - | - | - | - | - | - | - | - | - |
| Town of Athal | - | - | - | - | - | - | - | - | - | - | - | - | - | - | - | - | - | - | - | - | - | - | - | - | - | - | - |
| Town of Barre | - | - | - | - | - | - | - | - | - | - | - | - | - | - | - | - | - | - | - | - | - | - | - | - | - | - | - |
| Town of Berlin | - | - | - | - | - | - | - | - | - | - | - | - | - | - | - | - | - | - | - | - | - | - | - | - | - | - | - |
| Town of Bolton | - | - | - | - | - | - | - | - | - | - | - | - | - | - | - | - | - | - | - | - | - | - | - | - | - | - | - |
| Town of Boylston | - | - | - | - | - | - | - | - | - | - | - | - | - | - | - | - | - | - | - | - | - | - | - | - | - | - | - |
| Town of Brookfield | 190 | 187 | 147 | 189 | 189 | 133 | 133 | 133 | 133 | 130 | 36 | - | - | - | - | - | 2 | 2 | 2 | 2 | 1 | 1 | - | 1 | - | 1 | - |
| Town of Charlton | 82 | 81 | 82 | 81 | 73 | 249 | 249 | 249 | 231 | 249 | - | - | - | - | - | - | - | - | - | - | - | - | - | - | - | - | - |
| Town of Dana | 19 | 19 | 19 | 19 | 19 | 76 | 78 | 78 | 78 | 78 | - | - | - | - | - | - | - | - | - | - | - | - | - | - | - | - | - |
| Town of Douglas | - | - | - | - | - | - | - | - | - | - | - | - | - | - | - | - | - | - | - | - | - | - | - | - | - | - | - |
| Town of Dudley | - | - | - | - | - | - | - | - | - | - | - | - | - | - | - | - | - | - | - | - | - | - | - | - | - | - | - |
| Town of Fitchburg | 123 | 122 | 22 | 123 | 123 | 142 | 141 | 142 | 142 | 142 | - | - | - | - | - | 1 | - | - | - | - | - | - | - | - | - | - | 1 |
| Town of Gardner | - | - | - | - | - | - | - | - | - | - | - | - | - | - | - | - | - | - | - | - | - | - | - | - | - | - | - |
| Town of Grafton | - | - | - | - | - | - | - | - | - | - | - | - | - | - | - | - | - | - | - | - | - | - | - | - | - | - | - |
| Town of Hardwick | 144 | 144 | 143 | 143 | 143 | 129 | 129 | 129 | 129 | 108 | 1 | 1 | - | - | - | - | - | - | - | - | - | - | - | - | - | - | - |
| Town of Harvard | - | - | - | - | - | - | - | - | - | - | - | - | - | - | - | - | - | - | - | - | - | - | - | - | - | - | - |
| Town of Holden | - | - | - | - | - | - | - | - | - | - | - | - | - | - | - | - | - | - | - | - | - | - | - | - | - | - | - |
| Town of Hubbardston | - | - | - | - | - | - | - | - | - | - | - | - | - | - | - | - | - | - | - | - | - | - | - | - | - | - | - |
| Town of Lancaster | - | - | - | - | - | - | - | - | - | - | - | - | - | - | - | - | - | - | - | - | - | - | - | - | - | - | - |
| Town of Leicester | - | - | - | - | - | - | - | - | - | - | - | - | - | - | - | - | - | - | - | - | - | - | - | - | - | - | - |
| Town of Leominster | 128 | 128 | 128 | 130 | 128 | 116 | 116 | 113 | 116 | 116 | - | - | 1 | - | - | - | - | - | - | - | - | - | - | - | - | - | - |
| Town of Lunenberg | - | - | - | - | - | - | - | - | - | - | - | - | - | - | - | - | - | - | - | - | - | - | - | - | - | - | - |
| Town of Mendon | 33 | 33 | 33 | 33 | 33 | 275 | 275 | 275 | 275 | 275 | - | - | - | - | - | - | - | - | - | - | - | - | - | - | - | - | - |
| Town of Milford | - | - | - | - | - | - | - | - | - | - | - | - | - | - | - | - | - | - | - | - | - | - | - | - | - | - | - |
| Town of Millbury | - | - | - | - | - | - | - | - | - | - | - | - | - | - | - | - | - | - | - | - | - | - | - | - | - | - | - |
| Town of New Braintree | 120 | 119 | 120 | 120 | 119 | 30 | 30 | 30 | 29 | 30 | 1 | 2 | 1 | 1 | - | - | - | - | - | - | - | - | - | - | - | - | - |
| Town of North Brookfield | - | - | - | - | - | - | - | - | - | - | - | - | - | - | - | - | - | - | - | - | - | - | - | - | - | - | - |
| Town of Northborough | - | - | - | - | - | - | - | - | - | - | - | - | - | - | - | - | - | - | - | - | - | - | - | - | - | - | - |
| Town of Northbridge | - | - | - | - | - | - | - | - | - | - | - | - | - | - | - | - | - | - | - | - | - | - | - | - | - | - | - |
| Town of Oakham | - | - | - | - | - | - | - | - | - | - | - | - | - | - | - | - | - | - | - | - | - | - | - | - | - | - | - |
| Town of Oxford | - | - | - | - | - | - | - | - | - | - | - | - | - | - | - | - | - | - | - | - | - | - | - | - | - | - | - |
| Town of Paxton | 54 | 54 | 54 | 50 | 49 | 42 | 42 | 42 | 42 | 40 | - | - | - | - | - | - | - | - | - | - | - | - | - | - | - | - | - |
| Town of Petersham | - | - | - | - | - | - | - | - | - | - | - | - | - | - | - | - | - | - | - | - | - | - | - | - | - | - | - |
| Town of Phillipston | - | - | - | - | - | - | - | - | - | - | - | - | - | - | - | - | - | - | - | - | - | - | - | - | - | - | - |
| Town of Princetown | 177 | 177 | 176 | 176 | 177 | 25 | 25 | 25 | 25 | 25 | - | - | - | - | - | - | - | - | - | - | - | - | - | - | - | - | - |
| Town of Royalston | - | - | - | - | - | - | - | - | - | - | - | - | - | - | - | - | - | - | - | - | - | - | - | - | - | - | - |
| Town of Rutland | - | - | - | - | - | - | - | - | - | - | - | - | - | - | - | - | - | - | - | - | - | - | - | - | - | - | - |
| Town of Shrewsbury | - | - | - | - | - | - | - | - | - | - | - | - | - | - | - | - | - | - | - | - | - | - | - | - | - | - | - |
| Town of Southbridge | - | - | - | - | - | - | - | - | - | - | - | - | - | - | - | - | - | - | - | - | - | - | - | - | - | - | - |
| Town of Southborough | - | - | - | - | - | - | - | - | - | - | - | - | - | - | - | - | - | - | - | - | - | - | - | - | - | - | - |
| Town of Spencer | 133 | 131 | 133 | 132 | 115 | 116 | 116 | 116 | 116 | 116 | - | 1 | 1 | 1 | - | - | - | - | - | - | - | - | - | - | - | - | - |
| Town of Sterling | 240 | 238 | 238 | 238 | 238 | 66 | 64 | 66 | 66 | 66 | - | - | - | - | 2 | - | - | - | - | - | - | - | - | - | - | - | - |
| Town of Sturbridge | - | - | - | - | - | - | - | - | - | - | - | - | - | - | - | - | - | - | - | - | - | - | - | - | - | - | - |
| Town of Sutton | - | - | - | - | - | - | - | - | - | - | - | - | - | - | - | - | - | - | - | - | - | - | - | - | - | - | - |
| Town of Templeton | - | - | - | - | - | - | - | - | - | - | - | - | - | - | - | - | - | - | - | - | - | - | - | - | - | - | - |
| Town of Upton | - | - | - | - | - | - | - | - | - | - | - | - | - | - | - | - | - | - | - | - | - | - | - | - | - | - | - |
| Town of Uxbridge | - | - | - | - | - | - | - | - | - | - | - | - | - | - | - | - | - | - | - | - | - | - | - | - | - | - | - |
| Town of Ward | - | - | - | - | - | - | - | - | - | - | - | - | - | - | - | - | - | - | - | - | - | - | - | - | - | - | - |
| Town of West Boylston | - | - | - | - | - | - | - | - | - | - | - | - | - | - | - | - | - | - | - | - | - | - | - | - | - | - | - |
| Town of Westborough | - | - | - | - | - | - | - | - | - | - | - | - | - | - | - | - | - | - | - | - | - | - | - | - | - | - | - |
| Town of Western | 112 | 112 | 112 | 112 | 112 | 64 | 64 | 64 | 64 | 64 | - | - | - | - | - | - | - | - | - | - | - | - | - | - | - | - | - |
| Town of Westminster | - | - | - | - | - | - | - | - | - | - | - | - | - | - | - | - | - | - | - | - | - | - | - | - | - | - | - |
| Town of Winchendon | - | - | - | - | - | - | - | - | - | - | - | - | - | - | - | - | - | - | - | - | - | - | - | - | - | - | - |
| Town of Worcester | 223 | 222 | 221 | 223 | 214 | 298 | 298 | 298 | 297 | 298 | - | - | - | 1 | - | 1 | - | - | - | - | - | - | 1 | - | 1 | - | - |
Notes:
References:
Governor's Council Records. Massachusetts State Archives, Boston.
Brookfield Town Records.
Charlton Town Records.
Dana Town Records.
Fitchburg Town Records. Vol. V. 253.
Hardwick Town Records.
Leominster Town Records. 120-121.
New Braintree Town Records
Paxton Town Records.
Princeton Town Records.
Spencer Town Records.
Sterling Town Records.
Warren Town Records. 197.
Worcester Town Records. 186.
Massachusetts Spy and Worcester Advertiser (Worcester, MA). April 7, 1824.
Columbian Centinel (Boston, MA). May 12, 1824.
Independent Chronicle and Boston Patriot (Boston, MA). May 12, 1824.
American Statesman and City Register (Boston, MA). May 13, 1824.
The Repertory (Boston, MA). May 13, 1824.
Hampden Journal (Springfield, MA). May 19, 1824.
Pittsfield Sun (Pittsfield, MA). May 20, 1824.
Metcalf, John G. Annals of the Town of Mendon, from 1659 to 1880. Providence: E. L. Freeman, 1880. 57.
Page Images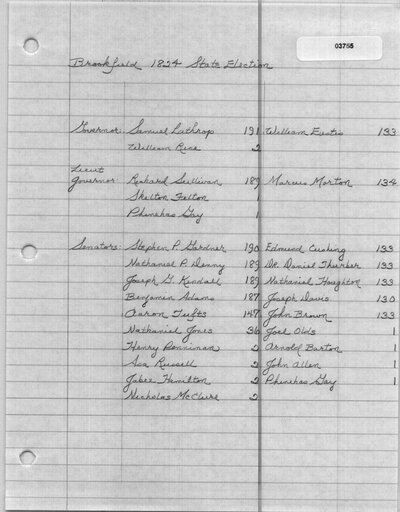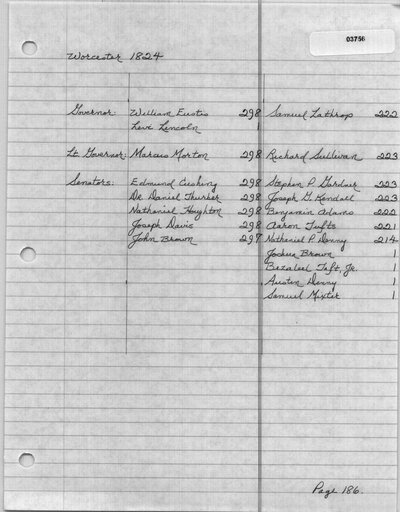 These election records were released on 11 January 2012. Versions numbers are assigned by state. Alabama, Arkansas, Delaware, Florida, Georgia, Illinois, Indiana, Kentucky, Louisiana, Maine, Maryland, Michigan, Missouri, North Carolina, Ohio, Rhode Island, South Carolina, Tennessee and Virginia are complete and are in Version 1.0. All other states are in a Beta version. For more information go to the about page.