Massachusetts 1824 Lieutenant Governor
Office:

Lieutenant Governor (State)

Title:

Lieutenant Governor

Jurisdiction:

State
Label:

Massachusetts 1824 Lieutenant Governor

Date:

1824

State:

Massachusetts

Type:

General

Iteration:

First Ballot

Office/Role:

Lieutenant Governor/Lieutenant Governor

Candidates:

Marcus Morton, Richard Sullivan, Skelton Felton, Phinehas Gay, William Phillips, Samuel Lathrop, James Fowler, John Mills, William Eustis, George Grennell, Jr., Solomon Hatch, Edward Pynchon, scattering
Candidates:
Marcus Morton[1]
Richard Sullivan
Skelton Felton
Phinehas Gay
William Phillips
Samuel Lathrop
James Fowler
John Mills
William Eustis
George Grennell, Jr.
Solomon Hatch
Edward Pynchon
scattering
Affiliation:
Final Result: [2]
38064
34017
-
-
-
-
-
-
-
-
-
-
-

Barnstable County

1191
482
-
-
-
-
-
-
-
-
-
-
3

Town of Barnstable

329
56
-
-
-
-
-
-
-
-
-
-
-

Town of Brewster

70
73
-
-
-
-
-
-
-
-
-
-
-

Town of Chatham

55
18
-
-
-
-
-
-
-
-
-
-
-

Town of Dennis

2
47
-
-
-
-
-
-
-
-
-
-
-

Town of Eastham

40
-
-
-
-
-
-
-
-
-
-
-
-

Town of Falmouth

205
38
-
-
-
-
-
-
-
-
-
-
-

Town of Harwich

105
7
-
-
-
-
-
-
-
-
-
-
-

Town of Orleans

93
10
-
-
-
-
-
-
-
-
-
-
3

Town of Provincetown

33
10
-
-
-
-
-
-
-
-
-
-
-

Town of Sandwich

221
102
-
-
-
-
-
-
-
-
-
-
-

Town of Truro

18
7
-
-
-
-
-
-
-
-
-
-
-

Town of Wellfleet

6
9
-
-
-
-
-
-
-
-
-
-
-

Town of Yarmouth

51
105
-
-
-
-
-
-
-
-
-
-
-

Berkshire County

2862
1894
-
-
-
-
-
-
-
-
-
-
25

Town of Adams

238
38
-
-
-
-
-
-
-
-
-
-
-

Town of Alford

64
29
-
-
-
-
-
-
-
-
-
-
-

Town of Becket

50
97
-
-
-
-
-
-
-
-
-
-
-

Town of Chesire

192
2
-
-
-
-
-
-
-
-
-
-
-

Town of Clarksburg

21
20
-
-
-
-
-
-
-
-
-
-
-

Town of Dalton

85
49
-
-
-
-
-
-
-
-
-
-
1

Town of Egremont

[3]
-
-
-
-
-
-
-
-
-
-
-
-
-

Town of Florida

[4]
-
-
-
-
-
-
-
-
-
-
-
-
-

Town of Great Barrington

93
125
-
-
-
-
-
-
-
-
-
-
2

Town of Hancock

48
43
-
-
-
-
-
-
-
-
-
-
-

Town of Hinsdale

47
81
-
-
-
-
-
-
-
-
-
-
-

Town of Lanesborough

90
78
-
-
-
-
-
-
-
-
-
-
4

Town of Lee

101
177
-
-
-
-
-
-
-
-
-
-
1

Town of Lenox

176
50
-
-
-
-
-
-
-
-
-
-
-

Town of Mount Washington

34
13
-
-
-
-
-
-
-
-
-
-
-

District of New Ashford

40
16
-
-
-
-
-
-
-
-
-
-
-

Town of New Marlborough

69
149
-
-
-
-
-
-
-
-
-
-
-

Town of Otis

64
55
-
-
-
-
-
-
-
-
-
-
-

Town of Peru

33
81
-
-
-
-
-
-
-
-
-
-
-

Town of Pittsfield

301
109
-
-
-
-
-
-
-
-
-
-
-

Town of Richmond

92
48
-
-
-
-
-
-
-
-
-
-
-

Town of Sandisfield

122
66
-
-
-
-
-
-
-
-
-
-
-

Town of Savoy

100
15
-
-
-
-
-
-
-
-
-
-
-

Town of Sheffield

141
141
-
-
-
-
-
-
-
-
-
-
1

Town of Stockbridge

108
107
-
-
-
-
-
-
-
-
-
-
1

Town of Tyringham

104
53
-
-
-
-
-
-
-
-
-
-
6

Town of Washington

75
46
-
-
-
-
-
-
-
-
-
-
6

Town of West Stockbridge

113
53
-
-
-
-
-
-
-
-
-
-
-

Town of Williamstown

158
84
-
-
-
-
-
-
-
-
-
-
1

Town of Windsor

103
69
-
-
-
-
-
-
-
-
-
-
2

Bristol County

2787
2681
-
-
-
-
-
-
-
-
-
-
75

Town of Attleborough

213
171
-
-
-
-
-
-
-
-
-
-
12

Town of Berkley

52
63
-
-
-
-
-
-
-
-
-
-
2

Town of Dartmouth

132
261
-
-
-
-
-
-
-
-
-
-
-

Town of Dighton

40
-
-
-
-
-
-
-
-
-
-
-
50

Town of Easton

161
103
-
-
-
-
-
-
-
-
-
-
-

Town of Fairhaven

200
106
-
-
-
-
-
-
-
-
-
-
1

Town of Freetown

248
63
-
-
-
-
-
-
-
-
-
-
-

Town of Mansfield

114
67
-
-
-
-
-
-
-
-
-
-
-

Town of New Bedford

150
355
-
-
-
-
-
-
-
-
-
-
-

Town of Norton

108
119
-
-
-
-
-
-
-
-
-
-
3

Town of Raynham

92
78
-
-
-
-
-
-
-
-
-
-
1

Town of Rehoboth

193
177
-
-
-
-
-
-
-
-
-
-
-

Town of Seekonk

214
175
-
-
-
-
-
-
-
-
-
-
-

Town of Somerset

81
55
-
-
-
-
-
-
-
-
-
-
-

Town of Swansea

151
85
-
-
-
-
-
-
-
-
-
-
1

Town of Taunton

306
366
-
-
-
-
-
-
-
-
-
-
5

Town of Troy

177
73
-
-
-
-
-
-
-
-
-
-
-

Town of Wellington

97
100
-
-
-
-
-
-
-
-
-
-
-

Town of Westport

58
264
-
-
-
-
-
-
-
-
-
-
-

Dukes County

145
99
-
-
-
-
-
-
-
-
-
-
-

Town of Chilmark

38
22
-
-
-
-
-
-
-
-
-
-
-

Town of Edgartown

54
41
-
-
-
-
-
-
-
-
-
-
-

Town of Tisbury

53
36
-
-
-
-
-
-
-
-
-
-
-

Essex County

5308
4696
-
-
-
-
-
-
-
-
-
-
6

Town of Amesbury

161
130
-
-
-
-
-
-
-
-
-
-
-

Town of Andover

328
260
-
-
-
-
-
-
-
-
-
-
2

Town of Beverly

109
284
-
-
-
-
-
-
-
-
-
-
-

Town of Boxford

30
128
-
-
-
-
-
-
-
-
-
-
1

Town of Bradford

101
179
-
-
-
-
-
-
-
-
-
-
1

Town of Danvers

257
343
-
-
-
-
-
-
-
-
-
-
-

Town of Essex

88
59
-
-
-
-
-
-
-
-
-
-
-

Town of Gloucester

509
309
-
-
-
-
-
-
-
-
-
-
-

Town of Hamilton

37
85
-
-
-
-
-
-
-
-
-
-
-

Town of Haverhill

273
217
-
-
-
-
-
-
-
-
-
-
-

Town of Ipswich

111
202
-
-
-
-
-
-
-
-
-
-
-

Town of Lynn

626
283
-
-
-
-
-
-
-
-
-
-
-

Town of Lynnfield

54
42
-
-
-
-
-
-
-
-
-
-
-

Town of Manchester

59
56
-
-
-
-
-
-
-
-
-
-
-

Town of Marblehead

523
72
-
-
-
-
-
-
-
-
-
-
-

Town of Metheun

164
90
-
-
-
-
-
-
-
-
-
-
-

Town of Middleton

66
53
-
-
-
-
-
-
-
-
-
-
-

Town of Newbury

252
236
-
-
-
-
-
-
-
-
-
-
-

Town of Newburyport

340
463
-
-
-
-
-
-
-
-
-
-
-

Town of Rowley

143
169
-
-
-
-
-
-
-
-
-
-
-

Town of Salem

602
541
-
-
-
-
-
-
-
-
-
-
1

Town of Salisbury

185
108
-
-
-
-
-
-
-
-
-
-
-

Town of Saugus

100
58
-
-
-
-
-
-
-
-
-
-
-

Town of Topsfield

40
82
-
-
-
-
-
-
-
-
-
-
1

Town of Wenham

32
60
-
-
-
-
-
-
-
-
-
-
-

Town of West Newbury

38
179
-
-
-
-
-
-
-
-
-
-
-

Franklin County

1527
2379
-
-
-
2
-
-
-
1
-
-
7

Town of Ashfield

75
133
-
-
-
-
-
-
-
-
-
-
-

Town of Bernardston

94
55
-
-
-
-
-
-
-
-
-
-
-

Town of Buckland

32
95
-
-
-
-
-
-
-
-
-
-
2

Town of Charlemont

26
127
-
-
-
2
-
-
-
1
-
-
-

Town of Colrain

137
157
-
-
-
-
-
-
-
-
-
-
-

Town of Conway

76
122
-
-
-
-
-
-
-
-
-
-
-

Town of Deerfield

39
183
-
-
-
-
-
-
-
-
-
-
-

Ervings Grant

[5]
16
20
-
-
-
-
-
-
-
-
-
-
-

Town of Gill

49
56
-
-
-
-
-
-
-
-
-
-
-

Town of Greenfield

63
105
-
-
-
-
-
-
-
-
-
-
-

Town of Hawley

20
126
-
-
-
-
-
-
-
-
-
-
-

Town of Heath

31
121
-
-
-
-
-
-
-
-
-
-
-

Town of Leverett

84
46
-
-
-
-
-
-
-
-
-
-
-

Town of Leyden

67
57
-
-
-
-
-
-
-
-
-
-
-

Town of Monroe

29
-
-
-
-
-
-
-
-
-
-
-
-

Town of Montague

50
101
-
-
-
-
-
-
-
-
-
-
-

Town of New Salem

94
145
-
-
-
-
-
-
-
-
-
-
1

Town of Northfield

120
76
-
-
-
-
-
-
-
-
-
-
1

Town of Orange

93
29
-
-
-
-
-
-
-
-
-
-
3

Town of Rowe

25
78
-
-
-
-
-
-
-
-
-
-
-

Town of Shelburne

18
143
-
-
-
-
-
-
-
-
-
-
-

Town of Shutesbury

72
30
-
-
-
-
-
-
-
-
-
-
-

Town of Sunderland

30
75
-
-
-
-
-
-
-
-
-
-
-

Town of Warwick

57
113
-
-
-
-
-
-
-
-
-
-
-

Town of Wendell

48
87
-
-
-
-
-
-
-
-
-
-
-

Town of Whately

82
99
-
-
-
-
-
-
-
-
-
-
-

Hampden County

2101
1653
-
-
1
3
5
5
1
-
1
1
5

Town of Blandford

87
123
-
-
-
3
5
5
1
-
1
1
-

Town of Brimfield

53
164
-
-
-
-
-
-
-
-
-
-
-

Town of Chester

[6]
-
-
-
-
-
-
-
-
-
-
-
-
-

Town of Granville

108
94
-
-
-
-
-
-
-
-
-
-
1

Town of Holland

[7]
30
10
-
-
1
-
-
-
-
-
-
-
-

Town of Longmeadow

81
138
-
-
-
-
-
-
-
-
-
-
-

Town of Ludlow

111
79
-
-
-
-
-
-
-
-
-
-
-

Town of Monson

140
124
-
-
-
-
-
-
-
-
-
-
-

Town of Montgomery

54
37
-
-
-
-
-
-
-
-
-
-
1

Town of Palmer

65
67
-
-
-
-
-
-
-
-
-
-
-

Town of Russell

45
22
-
-
-
-
-
-
-
-
-
-
-

Town of South Brimfield

52
28
-
-
-
-
-
-
-
-
-
-
-

Town of Southwick

219
8
-
-
-
-
-
-
-
-
-
-
-

Town of Springfield

336
319
-
-
-
-
-
-
-
-
-
-
-

Town of Tolland

40
49
-
-
-
-
-
-
-
-
-
-
1

Town of West Springfield

342
132
-
-
-
-
-
-
-
-
-
-
-

Town of Westfield

226
128
-
-
-
-
-
-
-
-
-
-
-

Town of Wilbraham

104
131
-
-
-
-
-
-
-
-
-
-
2

Hampshire County

1390
2841
-
-
-
-
-
-
-
-
-
-
7

Town of Amherst

98
170
-
-
-
-
-
-
-
-
-
-
-

Town of Belchertown

135
288
-
-
-
-
-
-
-
-
-
-
-

Town of Chesterfield

119
76
-
-
-
-
-
-
-
-
-
-
-

Town of Cummington

69
120
-
-
-
-
-
-
-
-
-
-
-

Town of Easthampton

5
115
-
-
-
-
-
-
-
-
-
-
-

Town of Enfield

27
112
-
-
-
-
-
-
-
-
-
-
-

Town of Goshen

17
71
-
-
-
-
-
-
-
-
-
-
-

Town of Granby

37
148
-
-
-
-
-
-
-
-
-
-
-

Town of Greenwich

50
75
-
-
-
-
-
-
-
-
-
-
-

Town of Hadley

28
179
-
-
-
-
-
-
-
-
-
-
-

Town of Hatfield

65
55
-
-
-
-
-
-
-
-
-
-
1

Town of Middlefield

63
79
-
-
-
-
-
-
-
-
-
-
-

Town of Northampton

168
273
-
-
-
-
-
-
-
-
-
-
2

Town of Norwich

36
84
-
-
-
-
-
-
-
-
-
-
-

Town of Pelham

93
37
-
-
-
-
-
-
-
-
-
-
3

Town of Plainfield

26
125
-
-
-
-
-
-
-
-
-
-
-

Town of Prescott

69
41
-
-
-
-
-
-
-
-
-
-
-

Town of South Hadley

31
123
-
-
-
-
-
-
-
-
-
-
-

Town of Southampton

21
100
-
-
-
-
-
-
-
-
-
-
-

Town of Ware

92
112
-
-
-
-
-
-
-
-
-
-
-

Town of Westhampton

26
118
-
-
-
-
-
-
-
-
-
-
-

Town of Williamsburg

33
129
-
-
-
-
-
-
-
-
-
-
1

Town of Worthington

76
131
-
-
-
-
-
-
-
-
-
-
-

Middlesex County

5812
3244
-
-
-
-
-
-
-
-
-
-
23

Town of Acton

125
30
-
-
-
-
-
-
-
-
-
-
-

Town of Ashby

111
109
-
-
-
-
-
-
-
-
-
-
-

Town of Bedford

80
34
-
-
-
-
-
-
-
-
-
-
-

Town of Billerica

74
124
-
-
-
-
-
-
-
-
-
-
-

District of Boxboro

45
8
-
-
-
-
-
-
-
-
-
-
1

Town of Brighton

63
70
-
-
-
-
-
-
-
-
-
-
-

Town of Burlington

43
24
-
-
-
-
-
-
-
-
-
-
-

Town of Cambridge

313
305
-
-
-
-
-
-
-
-
-
-
3

Town of Carlisle

128
-
-
-
-
-
-
-
-
-
-
-
1

Town of Charlestown

538
307
-
-
-
-
-
-
-
-
-
-
-

Town of Chelmsford

138
151
-
-
-
-
-
-
-
-
-
-
1

Town of Concord

146
101
-
-
-
-
-
-
-
-
-
-
-

Town of Dracut

151
39
-
-
-
-
-
-
-
-
-
-
-

Town of Dunstable

91
14
-
-
-
-
-
-
-
-
-
-
-

Town of East Sudbury

121
38
-
-
-
-
-
-
-
-
-
-
1

Town of Framingham

170
135
-
-
-
-
-
-
-
-
-
-
-

Town of Groton

144
83
-
-
-
-
-
-
-
-
-
-
1

Town of Holliston

70
86
-
-
-
-
-
-
-
-
-
-
1

Town of Hopkinton

163
61
-
-
-
-
-
-
-
-
-
-
1

Town of Lexington

216
36
-
-
-
-
-
-
-
-
-
-
-

Town of Lincoln

113
26
-
-
-
-
-
-
-
-
-
-
-

Town of Littleton

123
29
-
-
-
-
-
-
-
-
-
-
4

Town of Malden

204
77
-
-
-
-
-
-
-
-
-
-
1

Town of Marlborough

202
47
-
-
-
-
-
-
-
-
-
-
-

Town of Medford

55
143
-
-
-
-
-
-
-
-
-
-
-

Town of Natick

76
37
-
-
-
-
-
-
-
-
-
-
-

Town of Newton

111
171
-
-
-
-
-
-
-
-
-
-
1

Town of Pepperell

125
85
-
-
-
-
-
-
-
-
-
-
-

Town of Reading

44
250
-
-
-
-
-
-
-
-
-
-
-

Town of Sherborn

59
88
-
-
-
-
-
-
-
-
-
-
-

Town of Shirley

79
31
-
-
-
-
-
-
-
-
-
-
-

Town of South Reading

183
10
-
-
-
-
-
-
-
-
-
-
-

Town of Stoneham

132
1
-
-
-
-
-
-
-
-
-
-
1

Town of Stow

123
26
-
-
-
-
-
-
-
-
-
-
2

Town of Sudbury

168
51
-
-
-
-
-
-
-
-
-
-
-

Town of Tewksbury

87
10
-
-
-
-
-
-
-
-
-
-
2

Town of Townsend

[8]
-
-
-
-
-
-
-
-
-
-
-
-
-

Town of Tyngsborough

[9]
-
-
-
-
-
-
-
-
-
-
-
-
-

Town of Waltham

141
110
-
-
-
-
-
-
-
-
-
-
1

Town of Watertown

121
83
-
-
-
-
-
-
-
-
-
-
-

Town of West Cambridge

180
23
-
-
-
-
-
-
-
-
-
-
-

Town of Westford

159
35
-
-
-
-
-
-
-
-
-
-
-

Town of Weston

[10]
93
79
-
-
-
-
-
-
-
-
-
-
-

Town of Wilmington

70
42
-
-
-
-
-
-
-
-
-
-
1

Town of Woburn

228
35
-
-
-
-
-
-
-
-
-
-
-

Nantucket County

253
108
-
-
-
-
-
-
-
-
-
-
-

Town of Nantucket

253
108
-
-
-
-
-
-
-
-
-
-
-

Norfolk County

3300
1922
-
-
-
-
-
-
-
-
-
-
9

Town of Bellingham

140
28
-
-
-
-
-
-
-
-
-
-
1

Town of Braintree

108
78
-
-
-
-
-
-
-
-
-
-
-

Town of Brookline

53
73
-
-
-
-
-
-
-
-
-
-
-

Town of Canton

122
31
-
-
-
-
-
-
-
-
-
-
-

Town of Cohasset

57
82
-
-
-
-
-
-
-
-
-
-
-

Town of Dedham

308
130
-
-
-
-
-
-
-
-
-
-
-

Town of Dorchester

289
224
-
-
-
-
-
-
-
-
-
-
-

District of Dover

57
33
-
-
-
-
-
-
-
-
-
-
-

Town of Foxborough

87
45
-
-
-
-
-
-
-
-
-
-
-

Town of Franklin

86
124
-
-
-
-
-
-
-
-
-
-
2

Town of Medfield

78
91
-
-
-
-
-
-
-
-
-
-
-

Town of Medway

130
80
-
-
-
-
-
-
-
-
-
-
2

Town of Milton

144
67
-
-
-
-
-
-
-
-
-
-
-

Town of Needham

144
58
-
-
-
-
-
-
-
-
-
-
-

Town of Quincy

70
140
-
-
-
-
-
-
-
-
-
-
1

Town of Randolph

130
69
-
-
-
-
-
-
-
-
-
-
-

Town of Roxbury

454
196
-
-
-
-
-
-
-
-
-
-
1

Town of Sharon

101
54
-
-
-
-
-
-
-
-
-
-
-

Town of Stoughton

174
26
-
-
-
-
-
-
-
-
-
-
1

Town of Walpole

142
77
-
-
-
-
-
-
-
-
-
-
-

Town of Weymouth

198
102
-
-
-
-
-
-
-
-
-
-
-

Town of Wrentham

228
114
-
-
-
-
-
-
-
-
-
-
1

Plymouth County

3154
2271
-
-
-
-
-
-
-
-
-
-
2

Town of Abington

232
114
-
-
-
-
-
-
-
-
-
-
-

Town of Bridgewater

121
138
-
-
-
-
-
-
-
-
-
-
1

Town of Carver

127
41
-
-
-
-
-
-
-
-
-
-
-

Town of Duxbury

65
172
-
-
-
-
-
-
-
-
-
-
-

Town of East Bridgewater

103
148
-
-
-
-
-
-
-
-
-
-
-

Town of Halifax

118
24
-
-
-
-
-
-
-
-
-
-
1

Town of Hanover

132
34
-
-
-
-
-
-
-
-
-
-
-

Town of Hanson

83
75
-
-
-
-
-
-
-
-
-
-
-

Town of Hingham

290
165
-
-
-
-
-
-
-
-
-
-
-

Town of Hull

15
8
-
-
-
-
-
-
-
-
-
-
-

Town of Kingston

63
116
-
-
-
-
-
-
-
-
-
-
-

Town of Marshfield

73
105
-
-
-
-
-
-
-
-
-
-
-

Town of Middleborough

536
227
-
-
-
-
-
-
-
-
-
-
-

Town of North Bridgewater

220
34
-
-
-
-
-
-
-
-
-
-
-

Town of Pembroke

103
46
-
-
-
-
-
-
-
-
-
-
-

Town of Plymouth

233
259
-
-
-
-
-
-
-
-
-
-
-

Town of Plympton

79
88
-
-
-
-
-
-
-
-
-
-
-

Town of Rochester

198
184
-
-
-
-
-
-
-
-
-
-
-

Town of Scituate

212
152
-
-
-
-
-
-
-
-
-
-
-

Town of Wareham

100
43
-
-
-
-
-
-
-
-
-
-
-

Suffolk County

3104
3388
-
-
-
-
-
-
-
-
-
-
13

City of Boston

[11]
3038
3347
-
-
-
-
-
-
-
-
-
-
13

Ward One

296
161
-
-
-
-
-
-
-
-
-
-
-

Ward Two

263
123
-
-
-
-
-
-
-
-
-
-
-

Ward Three

321
195
-
-
-
-
-
-
-
-
-
-
-

Ward Four

315
359
-
-
-
-
-
-
-
-
-
-
-

Ward Five

297
328
-
-
-
-
-
-
-
-
-
-
-

Ward Six

249
198
-
-
-
-
-
-
-
-
-
-
-

Ward Seven

225
418
-
-
-
-
-
-
-
-
-
-
-

Ward Eight

195
411
-
-
-
-
-
-
-
-
-
-
-

Ward Nine

165
279
-
-
-
-
-
-
-
-
-
-
-

Ward Ten

233
343
-
-
-
-
-
-
-
-
-
-
-

Ward Eleven

193
287
-
-
-
-
-
-
-
-
-
-
-

Ward Twelve

296
245
-
-
-
-
-
-
-
-
-
-
-

Town of Chelsea

66
41
-
-
-
-
-
-
-
-
-
-
-

Worcester County

5130
6359
2
2
-
1
-
-
-
-
-
-
25

Town of Ashburnham

95
119
-
-
-
-
-
-
-
-
-
-
-

Town of Athal

60
156
-
-
-
-
-
-
-
-
-
-
-

Town of Barre

186
181
-
-
-
-
-
-
-
-
-
-
-

Town of Berlin

14
95
-
-
-
-
-
-
-
-
-
-
-

Town of Bolton

53
134
-
-
-
-
-
-
-
-
-
-
-

Town of Boylston

38
100
-
-
-
-
-
-
-
-
-
-
-

Town of Brookfield

[12]
134
189
2
2
-
-
-
-
-
-
-
-
-

Town of Charlton

245
78
-
-
-
-
-
-
-
-
-
-
2

Town of Dana

77
19
-
-
-
-
-
-
-
-
-
-
1

Town of Douglas

92
84
-
-
-
-
-
-
-
-
-
-
-

Town of Dudley

126
105
-
-
-
-
-
-
-
-
-
-
-

Town of Fitchburg

142
123
-
-
-
-
-
-
-
-
-
-
-

Town of Gardner

29
103
-
-
-
-
-
-
-
-
-
-
1

Town of Grafton

132
108
-
-
-
-
-
-
-
-
-
-
-

Town of Hardwick

129
145
-
-
-
-
-
-
-
-
-
-
-

Town of Harvard

119
111
-
-
-
-
-
-
-
-
-
-
-

Town of Holden

40
187
-
-
-
-
-
-
-
-
-
-
-

Town of Hubbardston

95
115
-
-
-
-
-
-
-
-
-
-
1

Town of Lancaster

98
225
-
-
-
-
-
-
-
-
-
-
-

Town of Leicester

87
108
-
-
-
-
-
-
-
-
-
-
1

Town of Leominster

122
128
-
-
-
-
-
-
-
-
-
-
-

Town of Lunenberg

113
76
-
-
-
-
-
-
-
-
-
-
1

Town of Mendon

275
33
-
-
-
-
-
-
-
-
-
-
-

Town of Milford

130
46
-
-
-
-
-
-
-
-
-
-
1

Town of Millbury

78
136
-
-
-
-
-
-
-
-
-
-
1

Town of New Braintree

31
121
-
-
-
-
-
-
-
-
-
-
-

Town of North Brookfield

91
80
-
-
-
-
-
-
-
-
-
-
2

Town of Northborough

34
115
-
-
-
-
-
-
-
-
-
-
-

Town of Northbridge

77
46
-
-
-
-
-
-
-
-
-
-
-

Town of Oakham

53
104
-
-
-
-
-
-
-
-
-
-
-

Town of Oxford

84
122
-
-
-
-
-
-
-
-
-
-
7

Town of Paxton

41
55
-
-
-
-
-
-
-
-
-
-
-

Town of Petersham

153
114
-
-
-
-
-
-
-
-
-
-
-

Town of Phillipston

27
126
-
-
-
-
-
-
-
-
-
-
-

Town of Princetown

24
178
-
-
-
-
-
-
-
-
-
-
-

Town of Royalston

55
189
-
-
-
-
-
-
-
-
-
-
-

Town of Rutland

89
105
-
-
-
-
-
-
-
-
-
-
-

Town of Shrewsbury

98
151
-
-
-
-
-
-
-
-
-
-
-

Town of Southborough

41
130
-
-
-
-
-
-
-
-
-
-
-

Town of Southbridge

131
57
-
-
-
-
-
-
-
-
-
-
1

Town of Spencer

117
133
-
-
-
-
-
-
-
-
-
-
-

Town of Sterling

64
242
-
-
-
-
-
-
-
-
-
-
-

Town of Sturbridge

99
97
-
-
-
-
-
-
-
-
-
-
3

Town of Sutton

231
105
-
-
-
-
-
-
-
-
-
-
-

Town of Templeton

86
157
-
-
-
-
-
-
-
-
-
-
-

Town of Upton

78
101
-
-
-
-
-
-
-
-
-
-
2

Town of Uxbridge

[13]
-
-
-
-
-
-
-
-
-
-
-
-
-

Town of Ward

52
53
-
-
-
-
-
-
-
-
-
-
-

Town of West Boylston

36
109
-
-
-
-
-
-
-
-
-
-
-

Town of Westborough

100
98
-
-
-
-
-
-
-
-
-
-
-

Town of Western

63
116
-
-
-
1
-
-
1
-
-
-
-

Town of Westminster

73
199
-
-
-
-
-
-
-
-
-
-
1

Town of Winchendon

95
129
-
-
-
-
-
-
-
-
-
-
-

Town of Worcester

298
223
-
-
-
-
-
-
-
-
-
-
-
Notes:
References:
Original Election Returns. Massachusetts State Archives, Boston.
Blandford Town Records. Book Three. 343.
Brookfield Town Records.
Brookline Town Records. 551-552.
Charlemont Town Records. 134.
Chatham Town Records. 75.
Colrain Town Records. Book Two. 226.
Fitchburg Town Records. Vol. V. 253.
Holland Town Records.
Leominster Town Records. 120-121.
Leyden Town Records. 255-256.
Marshfield Town Records. 113.
South Hadley Town Records. 220.
Tisbury Town Records. 427.
Truro Town Records. 253.
Wareham Town Records. Book Two. 29.
Warren Town Records. 197.
Watertown Town Records. 324.
Weston Town Records. 486.
Worcester Town Records. 186.
Nantucket Inquirer (Nantucket, MA). April 5, 1824.
New-England Palladium and Commercial Advertiser (Boston, MA). April 6, 1824.
Newburyport Herald (Newburyport, MA). April 6, 1824.
The Salem Gazette (Salem, MA). April 6, 1824.
Columbian Centinel (Boston, MA). April 7, 1824.
The Repertory (Boston, MA). May 28, 1824.
Columbian Centinel (Boston, MA). May 29, 1824.
Concord Gazette and Middlesex Yeoman (Concord, MA). May 29, 1824.
The National Aegis (Worcester, MA). June 2, 1824.
Metcalf, John G. Annals of the Town of Mendon, from 1659 to 1880. Providence: E. L. Freeman, 1880. 517.
Page Images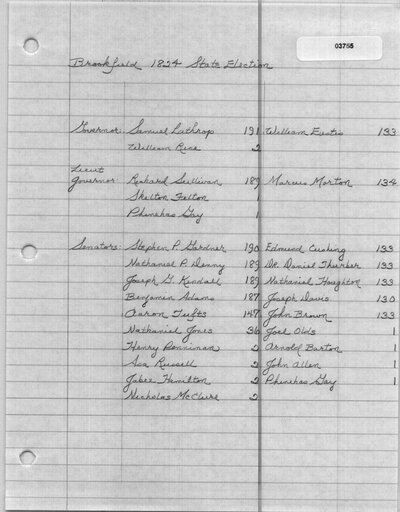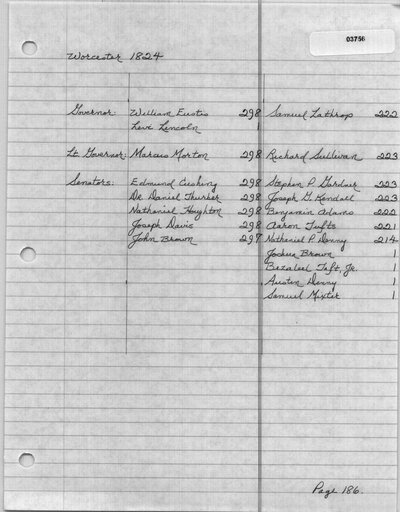 These election records were released on 11 January 2012. Versions numbers are assigned by state. Alabama, Arkansas, Delaware, Florida, Georgia, Illinois, Indiana, Kentucky, Louisiana, Maine, Maryland, Michigan, Missouri, North Carolina, Ohio, Rhode Island, South Carolina, Tennessee and Virginia are complete and are in Version 1.0. All other states are in a Beta version. For more information go to the about page.