Pennsylvania 1814 U.S. Senate, Special
Office:

U.S. Senate (Federal)

Title:

U.S. Senator

Jurisdiction:

Federal
Label:

Pennsylvania 1814 U.S. Senate, Special

Date:

1814

State:

Pennsylvania

Type:

Special

Iteration:

First Ballot

Office/Role:

U.S. Senate/U.S. Senator

Candidates:

Jonathan Roberts, Thomas Sergeant, Horace Binney, Horatio Gates Jones, John Steele, Isaac Wayne
Candidates:
Jonathan Roberts[1]
Thomas Sergeant
Horace Binney
Horatio Gates Jones
John Steele
Isaac Wayne
Affiliation:
Republican
Republican
Federalist
Federalist
Final Result: [2][3][4]
82
23
8
1
1
1

General Assembly

82
23
8
1
1
1

House of Representatives

[5]
61
21
5
-
-
1

Adams County

-
-
1
-
-
-

William Miller

[6]
-
-
-
-
-
-

James Robinette

-
-
1
-
-
-

District of Allegheny and Butler

3
-
-
-
-
-

William Courtney

1
-
-
-
-
-

William Marks, Jr.

1
-
-
-
-
-

John Potts

1
-
-
-
-
-

Samuel Scott

[7]
-
-
-
-
-
-

District of Armstrong, Indiana, and Jefferson Counties

-
1
-
-
-
-

James MacComb

-
1
-
-
-
-

Beaver County

1
-
-
-
-
-

John Lawrence

1
-
-
-
-
-

Bedford County

2
-
-
-
-
-

Jacob Hart

1
-
-
-
-
-

Joseph S. Morrison

1
-
-
-
-
-

District of Berks and Schuylkill

4
1
-
-
-
-

John Addams

1
-
-
-
-
-

Conrad Feger

1
-
-
-
-
-

Jonathan Hudson

-
1
-
-
-
-

Jacob Krebs

1
-
-
-
-
-

George Marx

1
-
-
-
-
-

District of Bradford, Lycoming, Potter, and Tioga Counties

1
1
-
-
-
-

John Forster

-
1
-
-
-
-

Henry Welles

1
-
-
-
-
-

Bucks County

4
-
-
-
-
-

Joseph Clunn

1
-
-
-
-
-

Michael Fackenthall

1
-
-
-
-
-

William H. Rowland

1
-
-
-
-
-

Samuel Smith

1
-
-
-
-
-

District of Cambria and Somerset Counties

1
1
-
-
-
-

James Mitchell

-
1
-
-
-
-

Daniel Stoy

1
-
-
-
-
-

District of Centre, Clearfield, and McKean Counties

1
-
-
-
-
-

Michael Bollinger

1
-
-
-
-
-

Chester County

5
-
-
-
-
-

James Brooke

1
-
-
-
-
-

Edward Darlington

1
-
-
-
-
-

John Harris

1
-
-
-
-
-

James Hindman

1
-
-
-
-
-

John Reed

1
-
-
-
-
-

District of Crawford, Erie, and Warren Counties

2
-
-
-
-
-

James Burchfield

1
-
-
-
-
-

James Weston

1
-
-
-
-
-

Cumberland County

1
1
-
-
-
-

John Maclay

[8]
-
-
-
-
-
-

George Metzger

-
1
-
-
-
-

Moses Watson

1
-
-
-
-
-

District of Dauphin and Lebanon

3
-
-
-
-
-

Amos Ellmaker

1
-
-
-
-
-

David Ferguson

1
-
-
-
-
-

Peter Shindel

1
-
-
-
-
-

Delaware County

-
-
1
-
-
1

William Cheyney

-
-
1
-
-
-

John Thomson

-
-
-
-
-
1

Fayette County

1
2
-
-
-
-

Henry Heaton

-
1
-
-
-
-

John Shreve

1
-
-
-
-
-

John St. Clair

-
1
-
-
-
-

Franklin County

3
-
-
-
-
-

Jacob Dechert

1
-
-
-
-
-

David Maclay

1
-
-
-
-
-

Robert Smith

1
-
-
-
-
-

Greene County

-
1
-
-
-
-

William T. Hays

-
1
-
-
-
-

Huntingdon County

2
-
-
-
-
-

John Crum

1
-
-
-
-
-

R. James Law

1
-
-
-
-
-

Lancaster County

-
1
3
-
-
-

John Graff

-
-
1
-
-
-

Jacob Grosh

-
-
1
-
-
-

Henry Hambright

[9]
-
-
-
-
-
-

Joel Lightner

[10]
-
-
-
-
-
-

Robert Maxwell

-
-
1
-
-
-

Emanuel Reigart

-
1
-
-
-
-

District of Luzerne and Susquehanna Counties

2
-
-
-
-
-

Jabez Hyde, Jr.

1
-
-
-
-
-

Joseph Pruner

1
-
-
-
-
-

District of Mercer and Venango

1
1
-
-
-
-

Samuel Hays

-
1
-
-
-
-

Jacob Herrington

1
-
-
-
-
-

Mifflin County

1
1
-
-
-
-

James Milliken

1
-
-
-
-
-

Jonathan Rothrock

-
1
-
-
-
-

Montgomery County

4
-
-
-
-
-

Jesse Bean

1
-
-
-
-
-

Wiliam Powell

1
-
-
-
-
-

Benjamin Reiff

1
-
-
-
-
-

Philip Reed

1
-
-
-
-
-

District of Northampton, Lehigh, Wayne and Pike

5
-
-
-
-
-

Daniel W. Dingman

1
-
-
-
-
-

James Hays

1
-
-
-
-
-

Abraham Rinker

1
-
-
-
-
-

Philip Sellers

1
-
-
-
-
-

Henry Winter

1
-
-
-
-
-

District of Northumberland, Union and Columbia

3
1
-
-
-
-

Samuel Bond

1
-
-
-
-
-

George Kremer

-
1
-
-
-
-

Thomas Murray, Jr.

1
-
-
-
-
-

Leonard Rupert

1
-
-
-
-
-

Philadelphia County

1
5
-
-
-
-

John Carter

-
1
-
-
-
-

Isaac Heston

1
-
-
-
-
-

John Holmes

-
1
-
-
-
-

Charles Souder

-
1
-
-
-
-

Joseph Starne

-
1
-
-
-
-

Joel B. Sutherland

-
1
-
-
-
-

City of Philadelphia

2
2
-
-
-
-

John Connelly

1
-
-
-
-
-

William J. Duane

1
-
-
-
-
-

Joseph MacCoy

-
1
-
-
-
-

Jacob Mitchell

-
1
-
-
-
-

Thomas Sergeant

[11]
-
-
-
-
-
-

Washington County

2
1
-
-
-
-

Joshua Dickerson

1
-
-
-
-
-

Richard Donaldson

[12]
-
-
-
-
-
-

James Kerr

1
-
-
-
-
-

Thomas MacCall

-
1
-
-
-
-

Westmoreland County

3
-
-
-
-
-

Henry Allshouse

1
-
-
-
-
-

George Plumer

1
-
-
-
-
-

Peter Wallace

1
-
-
-
-
-

York County

3
1
-
-
-
-

George Frysinger

1
-
-
-
-
-

Jacob Heckert

1
-
-
-
-
-

Archibald Steele Jordan

-
1
-
-
-
-

James S. Mitchell

1
-
-
-
-
-

State Senate

[13]
21
2
3
1
1
-

District of One

[14]
2
-
-
-
-
-

John Barclay

[15]
-
-
-
-
-
-

Charles Biddle

[16]
-
-
-
-
-
-

Jacob Shearer

1
-
-
-
-
-

Joseph Worrell

1
-
-
-
-
-

District of Two

[17]
1
-
-
-
-
-

John Gemill

1
-
-
-
-
-

John Newbold

[18]
-
-
-
-
-
-

District of Three

[19]
-
-
1
-
-
-

William Erwin

-
-
1
-
-
-

District of Four

[20]
1
-
1
-
-
-

William Hamilton

-
-
1
-
-
-

Nathaniel Watson

1
-
-
-
-
-

District of Five

[21]
2
-
-
-
-
-

Peter Frailey

1
-
-
-
-
-

Charles Shoemaker, Jr.

1
-
-
-
-
-

District of Six

[22]
1
-
-
-
-
-

Melchior Rahm

1
-
-
-
-
-

District of Seven

[23]
1
-
-
-
-
-

Samuel Gross

1
-
-
-
-
-

District of Eight

[24]
1
1
-
-
-
-

Henry Jarrett

1
-
-
-
-
-

James Ralston

-
1
-
-
-
-

District of Nine

[25]
2
-
-
-
-
-

James Laird

1
-
-
-
-
-

William Ross

1
-
-
-
-
-

District of Ten

[26]
1
-
-
-
-
-

Thomas Burnside

1
-
-
-
-
-

District of Eleven

[27]
-
-
1
-
1
-

James MacSherry

-
-
1
-
-
-

John Stroman

-
-
-
-
1
-

District of Twelve

[28]
-
1
-
-
-
-

William Beale

-
1
-
-
-
-

District of Thirteen

[29]
1
-
-
-
-
-

Isaiah Graham

1
-
-
-
-
-

District of Fourteen

[30]
1
-
-
-
-
-

John Tod

1
-
-
-
-
-

District of Fifteen

[31]
1
-
-
-
-
-

James Poe

1
-
-
-
-
-

District of Sixteen

[32]
-
-
-
1
-
-

James Brady

-
-
-
1
-
-

District of Seventeen

[33]
1
-
-
-
-
-

Presley Carr Lane

1
-
-
-
-
-

District of Eighteen

[34]
2
-
-
-
-
-

Abel MacFarland

1
-
-
-
-
-

Isaac Weaver

1
-
-
-
-
-

District of Nineteen

[35]
2
-
-
-
-
-

Thomas Baird

1
-
-
-
-
-

Walter Lowrie

1
-
-
-
-
-

District of Twenty

[36]
1
-
-
-
-
-

Joseph Shannon

1
-
-
-
-
-
Notes:
References:
Journal of the Pennsylvania House of Representatives, 1813. 376-377.
Journal of the Pennsylvania State Senate.
The Democratic Press (Philadelphia, PA). February 28, 1814.
Pennsylvania Republican (Harrisburg, PA). March 1, 1814.
Kline's Weekly Carlisle Gazette (Carlisle, PA). March 4, 1814.
Page Images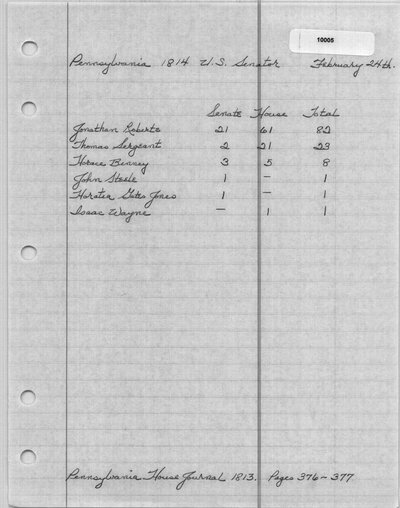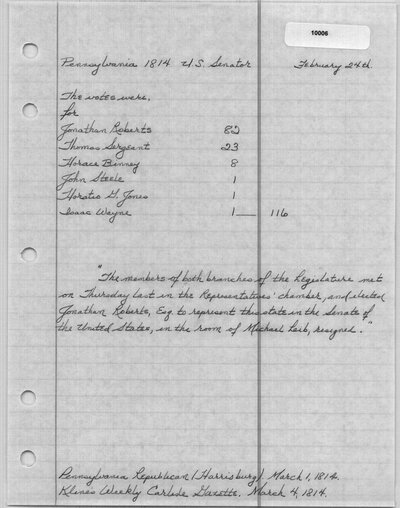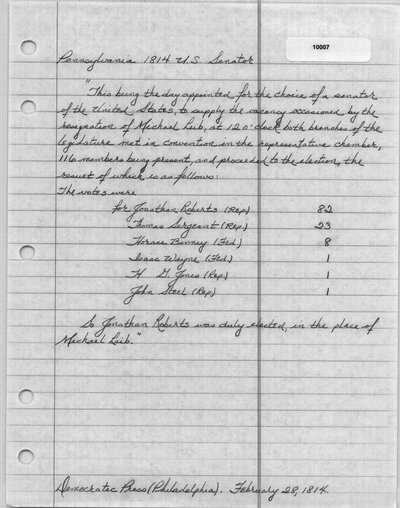 These election records were released on 11 January 2012. Versions numbers are assigned by state. Alabama, Arkansas, Delaware, Florida, Georgia, Illinois, Indiana, Kentucky, Louisiana, Maine, Maryland, Michigan, Missouri, North Carolina, Ohio, Rhode Island, South Carolina, Tennessee and Virginia are complete and are in Version 1.0. All other states are in a Beta version. For more information go to the about page.