Maryland 1789 U.S. House of Representatives
Office:

U.S. House of Representatives (Federal)

Title:

U.S. Congressman

Jurisdiction:

Federal
Label:

Maryland 1789 U.S. House of Representatives

Date:

1789

State:

Maryland

Type:

General

Iteration:

First Ballot

Office/Role:

U.S. House of Representatives/U.S. Congressman

Candidates:

Joshua Seney, Daniel Carroll, Benjamin Contee, George Gale, William Smith, Michael J. Stone, George Dent, Samuel Sterett, John F. Mercer, Abraham Faw, John Done, William V. Murray, Nathaniel Ramsay, Samuel Chase, Thomas Johnson, James MacHenry, John Scott, William Paca
Candidates:
Joshua Seney[1]
Daniel Carroll[2]
Benjamin Contee[3]
George Gale[4]
William Smith[5]
Michael J. Stone[6]
George Dent
Samuel Sterett
John F. Mercer
Abraham Faw
John Done
William V. Murray
Nathaniel Ramsay
Samuel Chase
Thomas Johnson
James MacHenry
John Scott
William Paca
Affiliation:
Federalist
Federalist
Federalist
Federalist
Federalist
Federalist
Anti-Federalist
Anti-Federalist
Anti-Federalist
Anti-Federalist
Anti-Federalist
Anti-Federalist
Federalist
Final Result: [7][8][9]
7616
5819
5476
5456
5415
5154
2731
2424
2339
1964
1832
425
36
10
7
2
1
1

City of Annapolis

206
112
96
119
105
93
115
139
164
120
72
17
-
-
-
-
-
-

Anne Arundel County

463
120
117
118
118
107
357
323
363
342
333
11
-
-
-
-
-
-

Town of Baltimore

746
497
475
490
455
465
381
448
360
364
367
-
-
-
-
-
-
-

Baltimore County

841
158
145
146
141
141
603
673
610
596
600
-
-
-
-
-
-
-

Calvert County

180
170
150
169
166
161
98
87
106
82
-
83
-
-
-
-
-
-

Caroline County

128
128
128
129
120
127
2
-
1
1
-
-
-
-
-
-
-
-

Cecil County

516
519
520
520
519
519
1
1
-
1
-
-
-
-
-
-
-
-

Charles County

170
192
177
143
139
70
258
21
17
1
1
24
-
-
-
-
-
-

Dorchester County

112
106
108
16
108
10
101
-
-
5
-
108
-
-
-
-
-
-

Frederick County

790
782
784
790
786
770
4
6
2
7
-
-
-
-
-
-
-
-

Harford County

[10]
444
206
205
205
204
203
241
240
239
236
238
-
-
-
-
-
-
-

Kent County

223
166
166
171
164
166
46
55
48
42
-
47
-
-
-
-
-
-

Montgomery County

353
362
318
316
310
278
84
51
42
2
-
42
-
-
-
-
-
-

Prince George's County

[11]
493
362
248
253
241
231
288
268
272
146
221
9
-
-
-
-
-
-

Queen Anne's County

68
40
37
48
33
30
24
9
14
13
-
4
-
-
-
-
-
-

Saint Mary's County

111
119
97
94
96
92
35
25
23
3
-
26
-
-
-
-
-
-

Somerset County

211
212
212
211
212
211
-
-
-
-
-
-
-
-
-
-
-
-

Talbot County

245
253
254
203
254
250
4
-
-
-
-
51
-
-
-
-
-
-

Washington County

1164
1164
1164
1164
1164
1164
-
-
-
-
-
-
-
-
-
-
-
-

Worcester County

152
150
75
151
71
66
89
78
78
3
-
3
-
-
-
-
-
-
Notes:
References:
Original Election Returns. Maryland State Archives, Annapolis.
The Maryland Gazette (Annapolis, MD). January 22, 1789.
DenBoer, Gordon and Lucy Trumbull Brown, ed. The Documentary History of the First Federal Elections: 1788-1790. Vol. II. Madison, WI: University of Wisconsin Press, 1976. 206.
Dubin, Michael J. United States Congressional Elections, 1788-1997: The Official Results of the Elections of the 1st through 105th Congresses. Jefferson, NC: McFarland and Company, 1998. 3.
Scharf, J. Thomas. History of Maryland from the Earliest Period to the Present Day. Vol. II. Baltimore: J.B. Piet, 1879. 550.
Page Images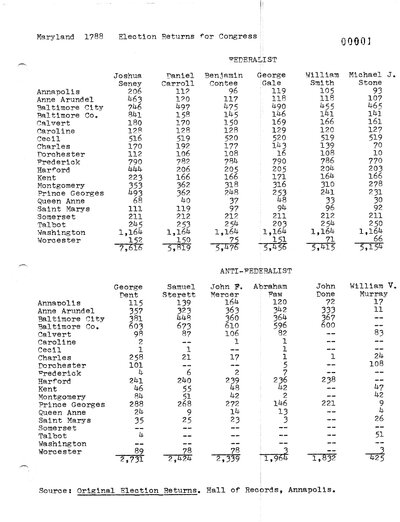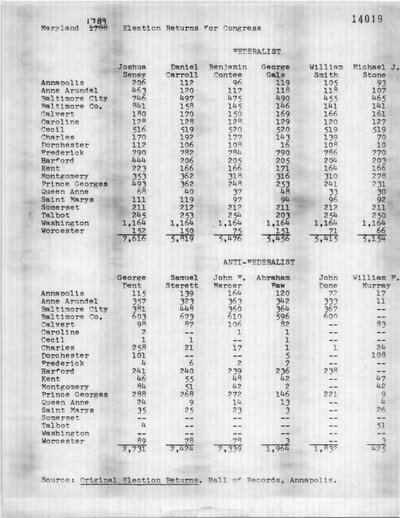 These election records were released on 11 January 2012. Versions numbers are assigned by state. Alabama, Arkansas, Delaware, Florida, Georgia, Illinois, Indiana, Kentucky, Louisiana, Maine, Maryland, Michigan, Missouri, North Carolina, Ohio, Rhode Island, South Carolina, Tennessee and Virginia are complete and are in Version 1.0. All other states are in a Beta version. For more information go to the about page.