Massachusetts 1800 U.S. House of Representatives, District Middle 2
Office:

U.S. House of Representatives (Federal)

Title:

U.S. Congressman

Jurisdiction:

Federal
Label:

Massachusetts 1800 U.S. House of Representatives, District Middle 2

Date:

1800

State:

Massachusetts

Type:

General

Iteration:

First Ballot

Office/Role:

U.S. House of Representatives/U.S. Congressman

Candidates:

Joseph B. Varnum, Timothy Bigelow, Ebenezer Bridge, Elijah Brigham, Nathan Fisher, Elbridge Gerry, Joshua Parks, Matthew Scribner, Parker Varnum, Artemas Ward, Ephraim Wood
| Candidates: | Joseph B. Varnum[1] | Timothy Bigelow | Ebenezer Bridge | Elijah Brigham | Nathan Fisher | Elbridge Gerry | Joshua Parks | Matthew Scribner | Parker Varnum | Artemas Ward | Ephraim Wood |
| --- | --- | --- | --- | --- | --- | --- | --- | --- | --- | --- | --- |
| Affiliation: | Republican | Federalist | Republican | Federalist | | Republican | | | | Federalist | |
| Final Result: | 1930 | 730 | 12 | 9 | 1 | 1 | 1 | 1 | 1 | 1 | 1 |
| District of Middle Two | 1930 | 730 | 12 | 9 | 1 | 1 | 1 | 1 | 1 | 1 | 1 |
| Middlesex County | 1666 | 490 | 12 | - | - | 1 | 1 | 1 | 1 | 1 | 1 |
| Town of Acton | 58 | 9 | - | - | - | 1 | - | - | - | - | - |
| Town of Ashby | 43 | 13 | - | - | - | - | - | - | - | - | - |
| District of Boxboro | 27 | 5 | - | - | - | - | - | - | - | - | - |
| Town of Cambridge | 164 | 107 | - | - | - | - | 1 | - | - | - | - |
| District of Carlisle | 68 | 2 | - | - | - | - | - | - | - | - | - |
| Town of Charlestown | 229 | 64 | - | - | - | - | - | - | - | - | - |
| Town of Chelmsford | 77 | 8 | 3 | - | - | - | - | - | - | - | - |
| Town of Concord | 80 | 58 | - | - | - | - | - | - | - | - | 1 |
| Town of Dracut | 139 | 3 | - | - | - | - | - | - | - | - | - |
| Town of Dunstable | 33 | 10 | - | - | - | - | - | - | - | - | - |
| Town of Framingham | 33 | 33 | - | - | - | - | - | - | - | - | - |
| Town of Groton | 51 | 24 | - | - | - | - | - | - | - | - | - |
| Town of Lexington | 88 | 12 | - | - | - | - | - | - | - | - | - |
| Town of Lincoln | 33 | 6 | 4 | - | - | - | - | - | - | - | - |
| Town of Littleton | 41 | 13 | - | - | - | - | - | - | - | - | - |
| Town of Marlborough | 113 | 10 | 1 | - | - | - | - | - | - | 1 | - |
| Town of Pepperell | 48 | 8 | - | - | - | - | - | - | - | - | - |
| Town of Shirley | 32 | 4 | - | - | - | - | - | - | - | - | - |
| Town of Stow | 22 | 15 | - | - | - | - | - | - | - | - | - |
| Town of Sudbury | 68 | 10 | - | - | - | - | - | - | - | - | - |
| Town of Townsend | 70 | 7 | - | - | - | - | - | - | - | - | - |
| District of Tyngsborough | 10 | 22 | - | - | - | - | - | - | - | - | - |
| Town of Waltham | 23 | 16 | - | - | - | - | - | - | - | - | - |
| Town of Watertown | 20 | 29 | 2 | - | - | - | - | - | - | - | - |
| Town of Westford | 96 | 2 | 2 | - | - | - | - | 1 | 1 | - | - |
| Worcester County | 264 | 240 | - | 9 | 1 | - | - | - | - | - | - |
| Town of Ashburnham | 56 | 22 | - | - | - | - | - | - | - | - | - |
| District of Berlin | - | 28 | - | - | - | - | - | - | - | - | - |
| Town of Bolton | 8 | 40 | - | - | - | - | - | - | - | - | - |
| Town of Fitchburg | 56 | 7 | - | - | - | - | - | - | - | - | - |
| Town of Harvard | 79 | 12 | - | - | - | - | - | - | - | - | - |
| Town of Lunenberg | 34 | 26 | - | 1 | - | - | - | - | - | - | - |
| Town of Northborough | 11 | 37 | - | - | - | - | - | - | - | - | - |
| Town of Southborough | 8 | 40 | - | - | - | - | - | - | - | - | - |
| Town of Westborough | 12 | 28 | - | 8 | 1 | - | - | - | - | - | - |
References:
Original Election Returns. Massachusetts State Archives, Boston.
The Salem Impartial Register (Salem, MA). November 6, 1800.
Massachusetts Mercury (Boston, MA). November 7, 1800.
Page Images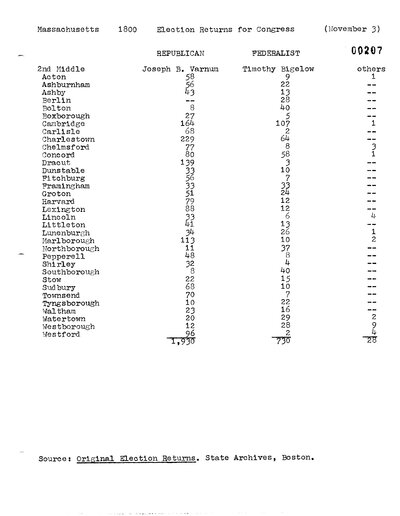 These election records were released on 11 January 2012. Versions numbers are assigned by state. Alabama, Arkansas, Delaware, Florida, Georgia, Illinois, Indiana, Kentucky, Louisiana, Maine, Maryland, Michigan, Missouri, North Carolina, Ohio, Rhode Island, South Carolina, Tennessee and Virginia are complete and are in Version 1.0. All other states are in a Beta version. For more information go to the about page.