New York 1808 U.S. House of Representatives, District 12
Office:

U.S. House of Representatives (Federal)

Title:

U.S. Congressman

Jurisdiction:

Federal
Label:

New York 1808 U.S. House of Representatives, District 12

Date:

1808

State:

New York

Type:

General

Iteration:

First Ballot

Office/Role:

U.S. House of Representatives/U.S. Congressman

Candidates:

Erastus Root, Gabriel North, Ebenezer Foote, Francis Henry, Asa Emmons, Isaac Hays, Henry Lowther, Charles Mason, Robert North, Luther Rich, John Root, William Slack
Candidates:
Erastus Root[1]
Gabriel North
Ebenezer Foote
Francis Henry
Asa Emmons
Isaac Hays
Henry Lowther
Charles Mason
Robert North
Luther Rich
John Root
William Slack
Affiliation:
Republican
Federalist
Federalist
Final Result: [2]
2205
1634
619
4
1
1
1
1
1
1
1
1

District of Twelve

2205
1634
619
4
1
1
1
1
1
1
1
1

Delaware County

552
549
134
-
1
-
1
-
1
-
1
-

Town of Colchester

-
-
-
-
-
-
-
-
-
-
-
-

Town of Delhi

-
-
-
-
-
-
-
-
-
-
-
-

Town of Franklin

-
-
-
-
-
-
-
-
-
-
-
-

Town of Hancock

-
-
-
-
-
-
-
-
-
-
-
-

Town of Harpersfield

-
-
-
-
-
-
-
-
-
-
-
-

Town of Kortright

-
-
-
-
-
-
-
-
-
-
-
-

Town of Meredith

-
-
-
-
-
-
-
-
-
-
-
-

Town of Middletown

-
-
-
-
-
-
-
-
-
-
-
-

Town of Pinesfield

-
-
-
-
-
-
-
-
-
-
-
-

Town of Roxbury

-
-
-
-
-
-
-
-
-
-
-
-

Town of Sidney

-
-
-
-
-
-
-
-
-
-
-
-

Town of Stamford

-
-
-
-
-
-
-
-
-
-
-
-

Town of Tompkins

[3]
19
41
-
-
-
1
-
-
-
-
-
-

Town of Walton

-
-
-
-
-
-
-
-
-
-
-
-

Otsego County

[4][5][6]
1653
1085
485
4
-
1
-
1
-
1
-
1

Town of Burlington

117
19
112
-
-
-
-
-
-
-
-
-

Town of Butternuts

141
-
95
-
-
-
-
-
-
-
-
-

Town of Cherry Valley

128
141
2
-
-
-
-
-
-
-
-
-

Town of Exeter

76
44
-
-
-
-
-
-
-
-
-
-

Town of Hartwick

146
84
9
-
-
-
-
-
-
-
-
-

Town of Lisbon

62
-
40
-
-
-
-
-
-
-
-
-

Town of Middlefield

52
185
1
-
-
-
-
-
-
-
-
-

Town of Milford

68
19
31
-
-
-
-
-
-
-
-
-

Town of Otego

64
101
-
-
-
-
-
-
-
-
-
-

Town of Otsego

168
241
9
-
-
-
-
-
-
-
-
-

Town of Pittsfield

53
-
11
-
-
-
-
-
-
-
-
-

Town of Plainfield

64
41
37
-
-
-
-
-
-
-
-
-

Town of Richfield

117
80
-
-
-
-
-
-
-
-
-
-

Town of Springfield

74
130
-
-
-
-
-
-
-
-
-
-

Town of Unadilla

80
-
27
-
-
-
-
-
-
-
-
-

Town of Worcester

243
-
112
-
-
-
-
-
-
-
-
-
Notes:
References:
Tompkins Town Records. Delaware County Court House, Delhi.
Republican Watch-Tower (New York, NY). May 13, 1808.
Otsego Herald (Cooperstown, NY). May 14, 1808.
American Citizen (New York, NY). May 21, 1808.
The Albany Register (Albany, NY). June 7, 1808.
Dubin, Michael J. United States Congressional Elections, 1788-1997: The Official Results of the Elections of the 1st through 105th Congresses. Jefferson, NC: McFarland and Company, 1998. 57.
Page Images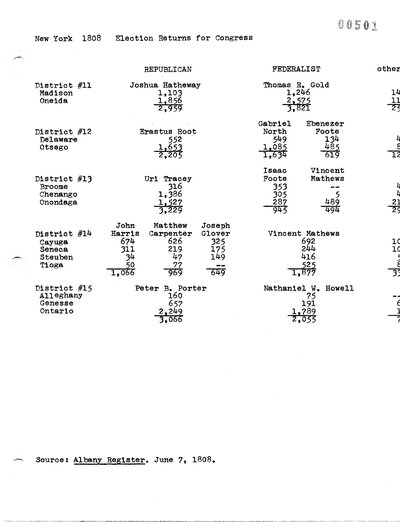 These election records were released on 11 January 2012. Versions numbers are assigned by state. Alabama, Arkansas, Delaware, Florida, Georgia, Illinois, Indiana, Kentucky, Louisiana, Maine, Maryland, Michigan, Missouri, North Carolina, Ohio, Rhode Island, South Carolina, Tennessee and Virginia are complete and are in Version 1.0. All other states are in a Beta version. For more information go to the about page.