New York 1824 U.S. House of Representatives, District 20
Office:

U.S. House of Representatives (Federal)

Title:

U.S. Congressman

Jurisdiction:

Federal
Label:

New York 1824 U.S. House of Representatives, District 20

Date:

1824

State:

New York

Type:

General

Iteration:

First Ballot

Office/Role:

U.S. House of Representatives/U.S. Congressman

Candidates:

Nicoll Fosdick, Daniel Hugunin, Jr., Egbert Ten Eyck, Horace Allen, George White, DeWitt Clinton, John B. Esselstyn, Richard Goodell, Titus Ives, John Macomber, George Brayton, Samuel Young, George Andrus, Erastus Root, Truman Enos, James Tallmadge, Chester Hayden, Artemas Leonard, William D. Ford, Jacob A. Vanden Heuvell, E. Wood, Jason Fenton, J. Place, Elisha Camp, George Andruss, John Crary, George W. Ford, Nathaniel Picher, Worden Griffin
Candidates:
Nicoll Fosdick[1]
Daniel Hugunin, Jr.
Egbert Ten Eyck[2]
Horace Allen
George White
DeWitt Clinton
John B. Esselstyn
Richard Goodell
Titus Ives
John Macomber
George Brayton
Samuel Young
George Andrus
Erastus Root
Truman Enos
James Tallmadge
Chester Hayden
Artemas Leonard
William D. Ford
Jacob A. Vanden Heuvell
E. Wood
Jason Fenton
J. Place
Elisha Camp
George Andruss
John Crary
George W. Ford
Nathaniel Picher
Worden Griffin
Affiliation:
Clintonian/Federalist
Clintonian/Federalist
Republican
Republican
Final Result: [3][4]
5677
5665
5488
5473
7
7
6
6
6
6
6
5
5
4
4
7
3
3
2
2
2
2
2
1
1
1
1
1
1

District of Twenty

5677
5665
5486
5473
7
7
6
6
6
6
6
5
5
4
4
7
3
3
2
2
2
2
2
1
1
1
1
1
1

Jefferson County

[5][6][7][8][9]
2662
2644
2650
2645
6
3
6
6
6
6
3
1
5
1
1
3
-
-
2
-
-
-
-
1
-
-
-
-
-

Town of Adams

204
198
176
176
-
-
-
-
-
-
-
-
-
-
-
-
-
-
-
-
-
-
-
-
-
-
-
-
-

Town of Alexandria

41
40
147
147
-
-
-
-
-
-
-
-
-
-
-
-
-
-
-
-
-
-
-
-
-
-
-
-
-

Town of Antwerp

172
171
184
183
-
-
-
-
-
-
-
-
-
-
-
-
-
-
-
-
-
-
-
-
-
-
-
-
-

Town of Brownville

180
179
171
171
-
-
-
-
-
-
-
-
-
-
-
-
-
-
-
-
-
-
-
-
-
-
-
-
-

Town of Champion

176
176
128
128
-
-
-
-
-
-
-
-
-
-
-
-
-
-
-
-
-
-
-
-
-
-
-
-
-

Town of Ellisburgh

287
287
231
231
-
-
-
-
-
-
-
-
-
-
-
-
-
-
-
-
-
-
-
-
-
-
-
-
-

Town of Henderson

111
111
134
134
-
-
-
-
-
-
-
-
-
-
-
-
-
-
-
-
-
-
-
-
-
-
-
-
-

Town of Hounsfield

312
307
73
71
-
-
-
-
-
-
-
-
-
-
-
-
-
-
-
-
-
-
-
-
-
-
-
-
-

Town of LeRay

112
112
176
176
-
-
-
-
-
-
-
-
-
-
-
-
-
-
-
-
-
-
-
-
-
-
-
-
-

Town of Lorraine

115
115
40
40
-
-
-
-
-
-
-
-
-
-
-
-
-
-
-
-
-
-
-
-
-
-
-
-
-

Town of Lyme

101
99
103
105
-
-
-
-
-
-
-
-
-
-
-
-
-
-
-
-
-
-
-
-
-
-
-
-
-

Town of Orleans

170
169
263
262
-
-
-
-
-
-
-
-
-
-
-
-
-
-
-
-
-
-
-
-
-
-
-
-
-

Town of Parmelia

72
71
134
133
-
-
-
-
-
-
-
-
-
-
-
-
-
-
-
-
-
-
-
-
-
-
-
-
-

Town of Philadelphia

40
40
42
42
-
-
-
-
-
-
-
-
-
-
-
-
-
-
-
-
-
-
-
-
-
-
-
-
-

Town of Rodman

87
86
158
158
-
-
-
-
-
-
-
-
-
-
-
-
-
-
-
-
-
-
-
-
-
-
-
-
-

Town of Rutland

108
108
192
194
-
-
-
-
-
-
-
-
-
-
-
-
-
-
-
-
-
-
-
-
-
-
-
-
-

Town of Watertown

274
271
260
256
-
-
-
-
-
-
-
-
-
-
-
-
-
-
-
-
-
-
-
-
-
-
-
-
-

Town of Wilna

100
100
38
38
-
-
-
-
-
-
-
-
-
-
-
-
-
-
-
-
-
-
-
-
-
-
-
-
-

Lewis County

[10][11]
444
444
681
676
1
1
-
-
-
-
1
-
-
-
-
1
-
-
-
-
-
-
-
-
1
-
-
-
-

Oswego County

[12][13][14]
966
1002
942
931
-
2
-
-
-
-
2
3
-
2
3
2
3
3
-
-
-
-
-
-
-
-
-
-
-

Town of Constantia

46
46
74
74
-
-
-
-
-
-
-
-
-
-
-
-
-
-
-
-
-
-
-
-
-
-
-
-
-

Town of Granby

64
65
27
26
-
-
-
-
-
-
-
-
-
-
-
-
-
-
-
-
-
-
-
-
-
-
-
-
-

Town of Hannibal

67
67
85
85
-
-
-
-
-
-
-
-
-
-
-
-
-
-
-
-
-
-
-
-
-
-
-
-
-

Town of Mexico

187
187
62
61
-
-
-
-
-
-
-
-
-
-
-
-
-
-
-
-
-
-
-
-
-
-
-
-
-

Town of New Haven

68
67
73
73
-
-
-
-
-
-
-
-
-
-
-
-
-
-
-
-
-
-
-
-
-
-
-
-
-

Town of Oswego

92
99
44
44
-
-
-
-
-
-
-
-
-
-
-
-
-
-
-
-
-
-
-
-
-
-
-
-
-

Town of Orwell

22
22
64
64
-
-
-
-
-
-
-
-
-
-
-
-
-
-
-
-
-
-
-
-
-
-
-
-
-

Town of Richland

220
219
238
236
-
-
-
-
-
-
-
-
-
-
-
-
-
-
-
-
-
-
-
-
-
-
-
-
-

Town of Redfield

5
6
35
34
-
-
-
-
-
-
-
-
-
-
-
-
-
-
-
-
-
-
-
-
-
-
-
-
-

Town of Scriba

16
38
70
65
-
-
-
-
-
-
-
-
-
-
-
-
-
-
-
-
-
-
-
-
-
-
-
-
-

Town of Volney

138
140
107
106
-
-
-
-
-
-
-
-
-
-
-
-
-
-
-
-
-
-
-
-
-
-
-
-
-

Town of Williamstown

40
40
63
63
-
-
-
-
-
-
-
-
-
-
-
-
-
-
-
-
-
-
-
-
-
-
-
-
-

Saint Lawrence County

[15][16]
1605
1575
1215
1221
-
1
-
-
-
-
-
1
-
1
-
1
-
-
-
2
2
2
2
-
-
1
1
1
1

Town of Louisville

48
48
40
40
-
-
-
-
-
-
-
-
-
-
-
-
-
-
-
-
2
-
2
-
-
-
-
-
-

Town of Madrid

93
93
139
137
-
-
-
-
-
-
-
-
-
-
-
-
-
-
-
-
-
2
-
-
-
-
-
-
-
Notes:
References:
Manuscript Depositions relating to the contested election of Daniel Hugunin, Jr. and Egbert Ten Eyck. The National Archives, Washington, DC.
Oswego Palladium (Oswego, NY). November 13, 1824.
Oswego Palladium (Oswego, NY). November 20, 1824.
Madison Observer (Morrisville, NY). November 24, 1824.
The Albany Argus (Albany, NY). December 14, 1824.
Page Images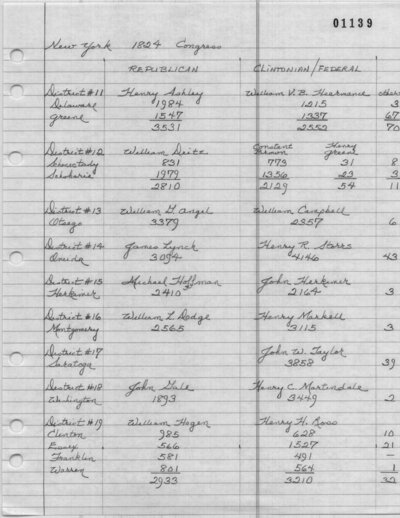 These election records were released on 11 January 2012. Versions numbers are assigned by state. Alabama, Arkansas, Delaware, Florida, Georgia, Illinois, Indiana, Kentucky, Louisiana, Maine, Maryland, Michigan, Missouri, North Carolina, Ohio, Rhode Island, South Carolina, Tennessee and Virginia are complete and are in Version 1.0. All other states are in a Beta version. For more information go to the about page.