New York 1823 U.S. House of Representatives, District 28, Special
Office:

U.S. House of Representatives (Federal)

Title:

U.S. Congressman

Jurisdiction:

Federal
Label:

New York 1823 U.S. House of Representatives, District 28, Special

Date:

1823

State:

New York

Type:

Special

Iteration:

First Ballot

Office/Role:

U.S. House of Representatives/U.S. Congressman

Candidates:

William Woods, Daniel Cruger, Jabez A. Beebe, Joel Pratt, Grattan H. Wheeler, William H. Bull, Joseph Gilman, Samuel Scofield, Libel Goodrich, Samuel B. Chidsey, Victor Putnam, Bob Cruger
Candidates:
William Woods[1]
Daniel Cruger
Jabez A. Beebe
Joel Pratt
Grattan H. Wheeler
William H. Bull
Joseph Gilman
Samuel Scofield
Libel Goodrich
Samuel B. Chidsey
Victor Putnam
Bob Cruger
Affiliation:
Bucktail
Clintonian
Final Result: [2]
2546
2091
3
3
1
1
1
1
1
1
1
1

District of Twenty Eight

2546
2091
3
3
1
1
1
1
1
1
1
1

Allegany County

834
789
-
-
-
-
-
-
-
-
-
-

Cattaraugus County

[3]
522
266
-
-
-
-
-
-
-
-
-
-

Steuben County

1190
1036
3
3
1
1
1
1
1
1
1
1

Town of Addison

25
17
-
-
1
1
-
-
-
-
-
-

Town of Barrington

[4]
52
44
-
-
-
-
-
-
-
-
-
-

Town of Bath

143
154
-
-
-
-
1
-
-
-
-
-

Town of Cameron

36
18
-
-
-
-
-
-
-
-
-
-

Town of Canisteo

24
24
-
-
-
-
-
-
-
-
-
-

Town of Conhocton

87
5
-
-
-
-
-
-
-
-
-
-

Town of Dansville

76
18
-
-
-
-
-
-
-
-
-
-

Town of Hornellsville

37
31
-
-
-
-
-
-
-
-
-
-

Town of Howard

99
28
3
-
-
-
-
-
-
-
-
-

Town of Jersey

78
30
-
-
-
-
-
1
-
-
-
-

Town of Painted Post

62
132
-
-
-
-
-
-
-
-
-
-

Town of Prattsburgh

97
39
-
2
-
-
-
-
-
-
-
-

Town of Pulteney

54
79
-
-
-
-
-
-
-
-
-
-

Town of Reading

62
168
-
-
-
-
-
-
-
-
-
-

Town of Troupsburgh

57
20
-
-
-
-
-
-
-
-
-
-

Town of Tyrone

27
81
-
-
-
-
-
-
1
1
-
-

Town of Urbana

25
69
-
-
-
-
-
-
-
-
-
-

Town of Wayne

55
56
-
-
-
-
-
-
-
-
1
-

Town of Wheeler

97
23
-
1
-
-
-
-
-
-
-
1
Notes:
References:
Original Election Return. National Archives, Washington, DC.
The Farmers' Advocate, and Steuben Advertiser (Bath, NY). November 20, 1823.
The Albany Argus (Albany, NY). December 9, 1823.
The Cayuga Patriot (Auburn, NY). December 17, 1823.
Spirit of the Times (Batavia, NY). December 26, 1823.
Page Images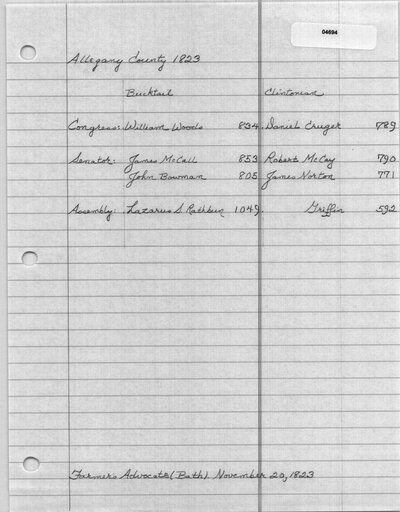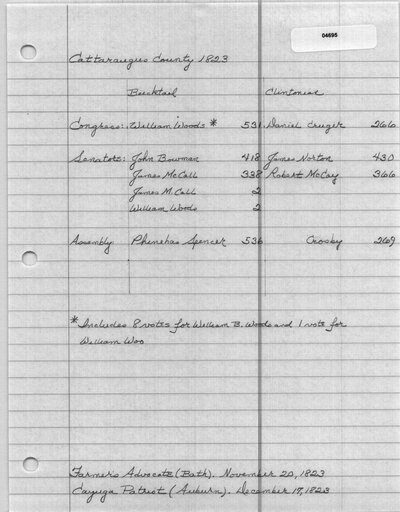 These election records were released on 11 January 2012. Versions numbers are assigned by state. Alabama, Arkansas, Delaware, Florida, Georgia, Illinois, Indiana, Kentucky, Louisiana, Maine, Maryland, Michigan, Missouri, North Carolina, Ohio, Rhode Island, South Carolina, Tennessee and Virginia are complete and are in Version 1.0. All other states are in a Beta version. For more information go to the about page.